In stock in our Brisbane warehouse - ships within 1-2 business days.



12 month warranty
Paddle Sold Separately
Paddle Sold Separately
Frequently Bought Together
The Rigid AirVolution2 Kayak
Totally rigid, all the way up to it's 249kg capacity

Removable fin helps you paddle straight

Stable with a wide-open cockpit - great for dogs, kids, fishing

Simple set up - inflate 2 chambers, clip on the seat, insert fin, go!

Full drop-stitch material is tough as nails

Quick to dry and pack away - just wipe down with a towel

Ideal for travelling - bag comes with wheels and backpack straps
Fast and straight on the water
The performance on the water of the AirVolution2 kayak is very impressive. The sleek, rigid hull, combined with the deep fin (removable for shallow water) allow the kayak to glide effortlessly through the water.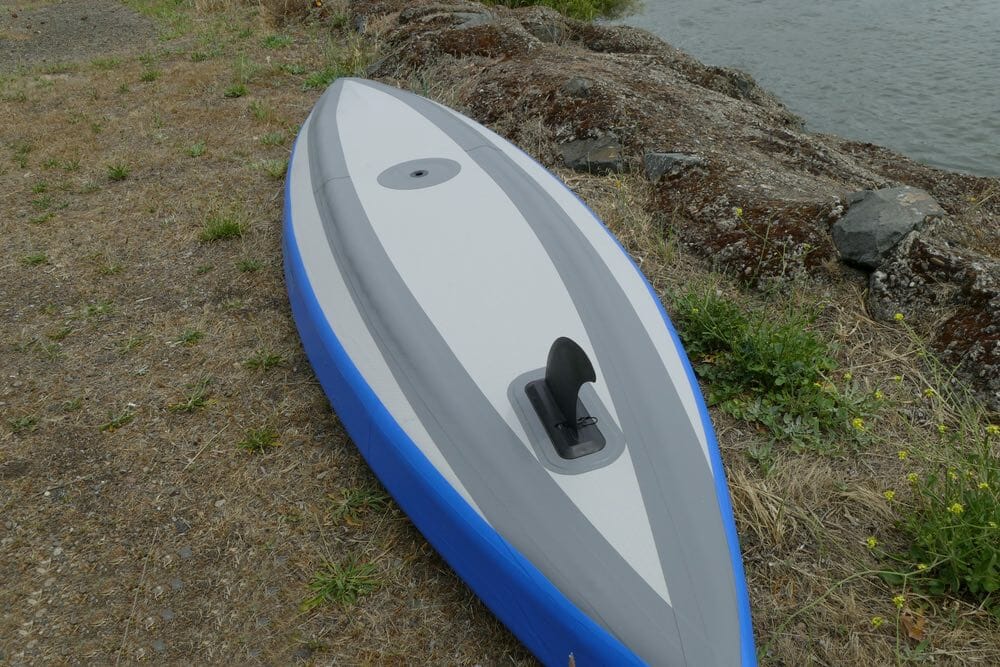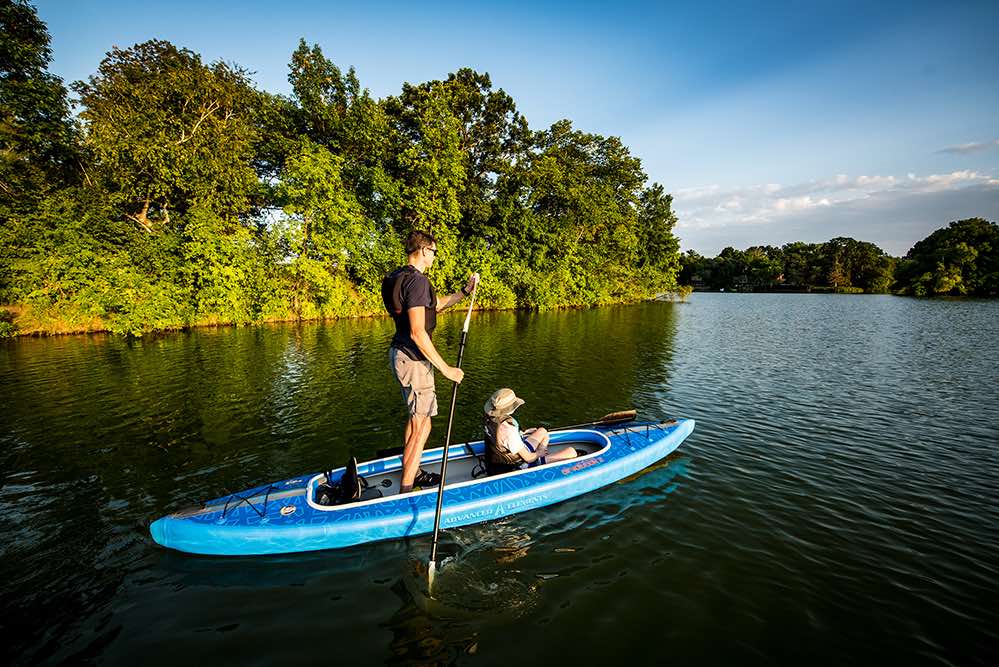 Although the AirVolution2 kayak is a sit-in kayak, it has a nice, wide-open cockpit.
This makes it very easy to get in and out of, and great for taking kids and dogs.
Note that you can NOT use a spray skirt with this kayak.
The stability really helps if you want to take your dog(s) kayaking.
The wide open cockpit gives them plenty of space.
The drop-stitch material is as tough as it gets – you don't need to worry about claws.

The Airvolution2 Kayak is very stable and extremely durable, making it excellent for fishing.
The wide open cockpit gives you easy access to your gear.
You can put one seat in the middle of the kayak for even more room, if you want to go solo.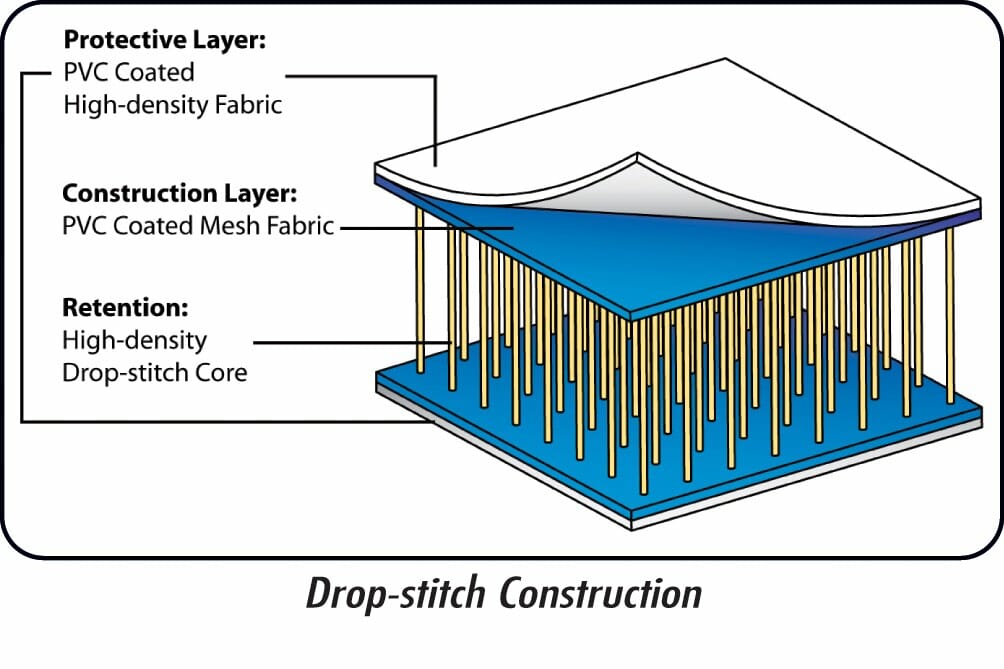 Drop-stitch is about as tough as it gets when it comes to inflatable kayaks.
It has to be tough, to withstand the high pressure.
If you are going to be encountering submerged objects, or taking a dog or doing some fishing, you don't need to worry about scratches or punctures.
Lightweight for Easy Handling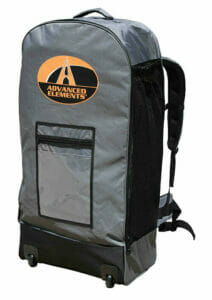 The Airvolutions comes with a bag about the size of a small suitcase and weighs only 23.5kg.
The bag has plenty of space for the pump and a side pocket for your paddle (sold separately).
Not only are there backpack straps on the bag, there are also wheels, so it's easy to get it to and from the water.
Weight: 52 lbs (23.5 kg)

Length: 14'6" (4.45m)

Colour: Blue

Brand: Advanced Elements

Lake, Bays, Inland Waterways: Yes

Coastal / Open Water: Only Coastal, not Open Water

Self-bailing: No
Width: 37" (94 cm)

Maximum Capacity: 550lbs (249kg)

Max. Paddler Height: 6'2"

Deflated and Packed Dimensions: 98cm x 50cm x 38cm

Warranty Period: 12 Months

River (Class): II

Compatible with Rudder Kit: No

Set-up Time: 7.5 minutes
The AirVolution2 has a very satisfying cruising speed.
It's one of our heavier kayaks, but it's full drop-stitch, so the rigidity is exceptional. This rigidity helps it to glide across the water nicely.
It is, however, quite buoyant, so if you are out in strong winds, you may find that it is more wind affected than our other models.
AirVolution2 kayak - Kayaking at Broadbeach from TE Peters Park to Isle of Capri
All kayaks are wind affected to some degree.
You can generally predict how wind affected it's going to be based on the ratio of kayak above the waterline to kayak below the waterline.
The AirVolution2 kayak is very buoyant and sits quite high in the water, compared to our other kayaks, so it gets a little more wind affected.
The seat (included) has a stiff, high back, which gives you excellent support, IF you get the angle right. Note – this video is for the AdvancedFrame seat, but the same principle applies for the AirVolution2 seat.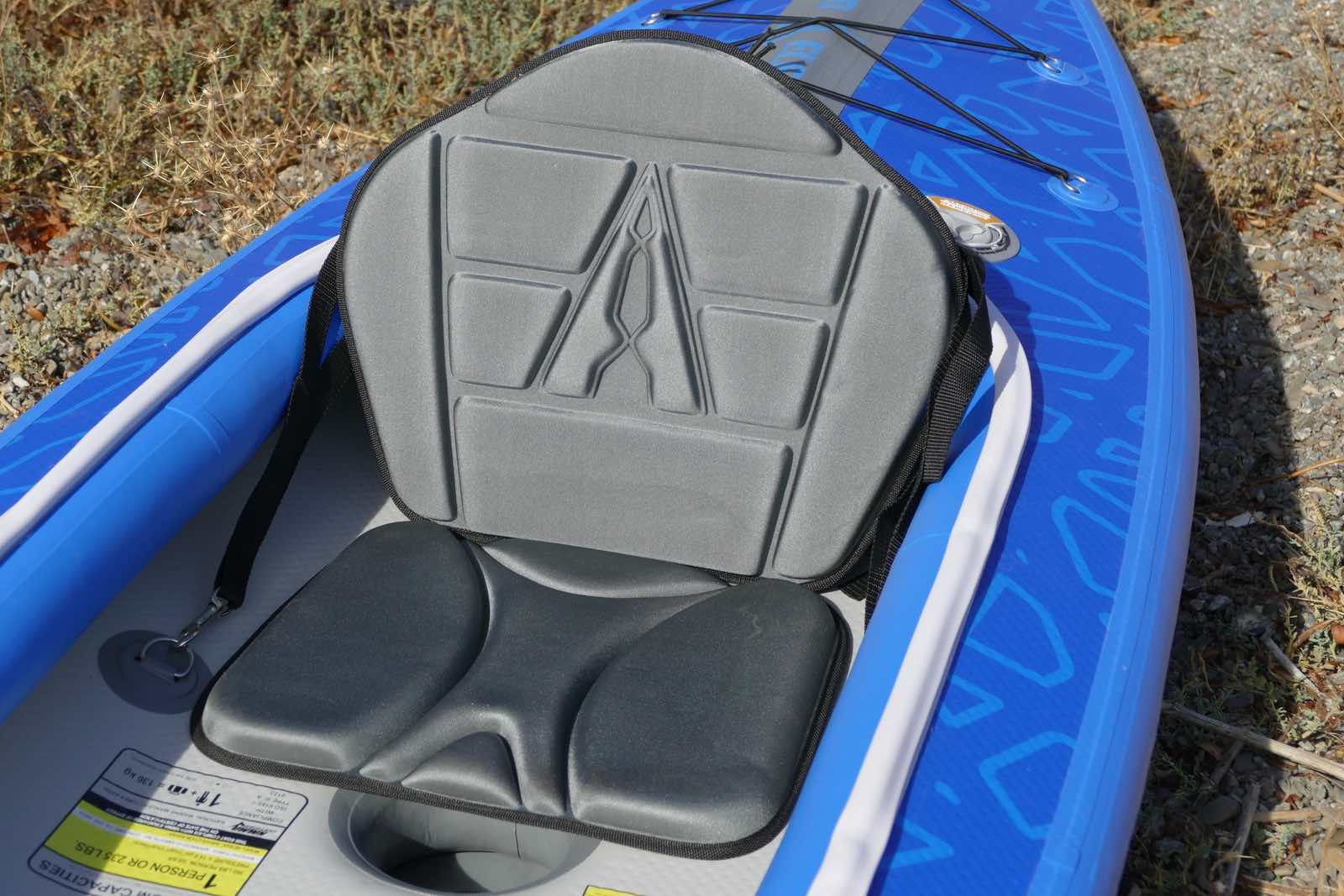 The base of the AirVolution2 seat has some padding, but not as much lift as I would like, considering the drop-stitch floor is quite firm.
The kayak comes with an inflatable foot brace for the front paddler.
It's more a cushion that wedges into the gap at the front of the cockpit, it is not as good as the foot braces in our other kayaks, but if you just want something to push against, it will do the trick.
There is no brace for the rear paddler, but they might be able to use the seat of the front paddler.
The seats have a high back and are adjustable, they provide good support.
About the AirVolution2 Kayak
Advanced Elements have been making inflatable kayaks for well over 20 years – you don't have to worry about quality.
All kayaks are inflated at the factory and left for 24 hours to ensure there are no slow leaks.
The main hull material used is drop-stitch and it's VERY tough.
It can handle dog claws, fish hooks, rocks and even oysters.
In the extremely rare case that you damage the hull, the kayak comes with a repair kit, so you can put on a patch.
The AirVolution2 is a sit-in kayak, but…
You can NOT put on a spray skirt because the coaming around the cockpit is too wide.
In fact, it's so wide that it feels like a sit-on-top kayak.
It is NOT self-bailing – any water that gets into the cockpit is staying in the cockpit (unless you get a bilge pump).
The AirVolution2 kayak is 23.5kg.
There is a detachable fin included with the kayak.
There is no rudder on the AirVolution2 kayak, and the Rudder Kit we sell is NOT compatible with this kayak.
Yes, the ePropulsion Vaquita can be used with the ratchet straps (included with the propeller).
• High Performance Drop-stitch Construction
• Pressure Relief Valves for proper inflation
• Bungee deck lacing and d-rings for securing gear
• Soft Grip Carry Handles
• Supportive High-back Adjustable Seats
• Below Deck Storage Compartments for small items
• Backpack Roller Duffel for easy transport
The AirVolution2 Kayak is manufacted by Advanced Elements (an American company), in their factory in China
All kayaks are inflated and left overnight on the factory floor to ensure they are fully functional before shipping out.
How to use the AirVolution2 Kayak