Qualifies for Free Shipping

If you want a no-fuss way to improve the rigidity and tracking of your inflatable kayak, the high pressure Drop-Stitch floor is ideal. This super tough DS floor is also great for dogs and fishing. The Drop-stitch floor comes in two sizes: one is compatible with the AdvancedFrame Kayak AE1012-R & the AdvancedFrame Sport Kayak AE1017-O and the other one is compatible with the AdvancedFrame Convertible AE1007-R.
How does the Drop-Stitch Floor for AdvancedFrame Kayaks work?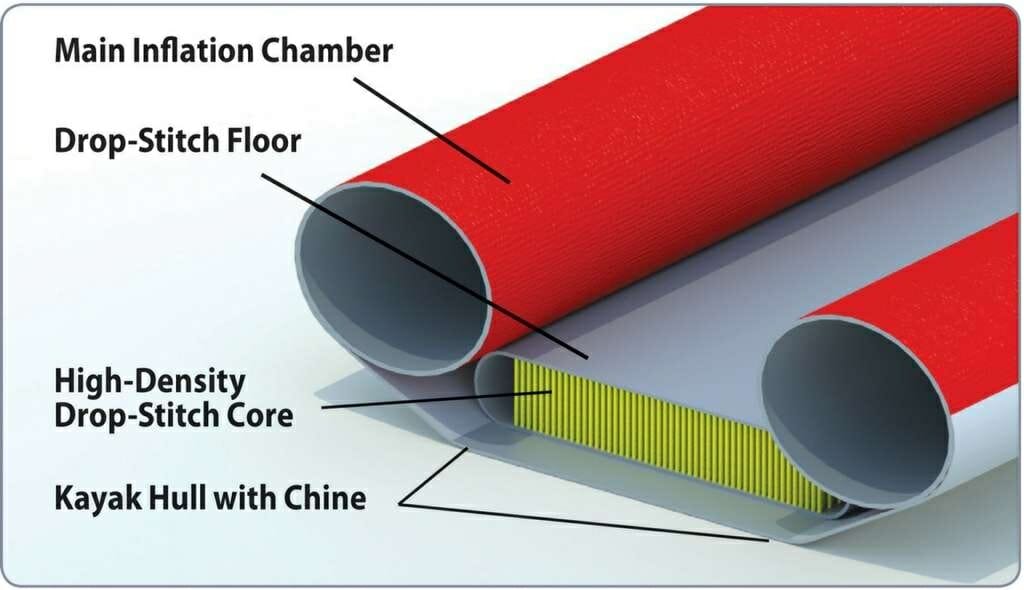 Drop-stitch has become pretty famous lately because of inflatable stand-up paddle boards.
'Drop-stitch' is basically a technique of running thousands of stitches from the top to the bottom of the board, all at the same fixed length.
When the air pressure goes up and the board wants to go round, the stitches hold the flat shape.
Advanced Elements have taken drop-stitch technology and used it to create rigid, high-pressure floors for the AdvancedFrame line of inflatable kayaks.
You can see from this image that the high pressure DS floor creates a kayak hull with corners (called chines).
The chines make the kayak track straighter.
The high pressure floor spreads the weight of the paddlers more evenly, so the hull is flatter and glides better through the water.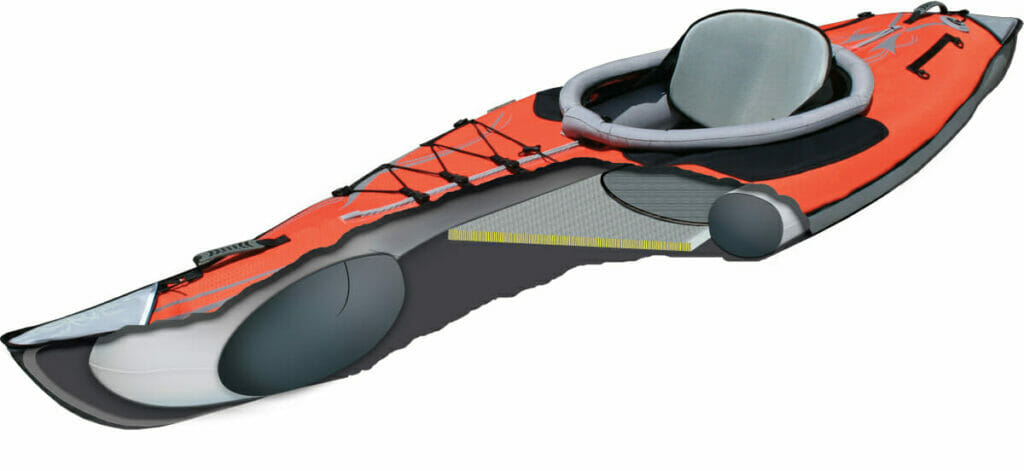 How do I install the Drop-Stitch Floor in my kayak?
It's easy to install – simply replace the original floor with the DS floor and you are ready to inflate.
NOTE – the DS floor can NOT be inflated with the Bellows Foot Pump – you must use a pump that can achieve the 6 PSI required, such as the Double Action Hand Pump with Gauge.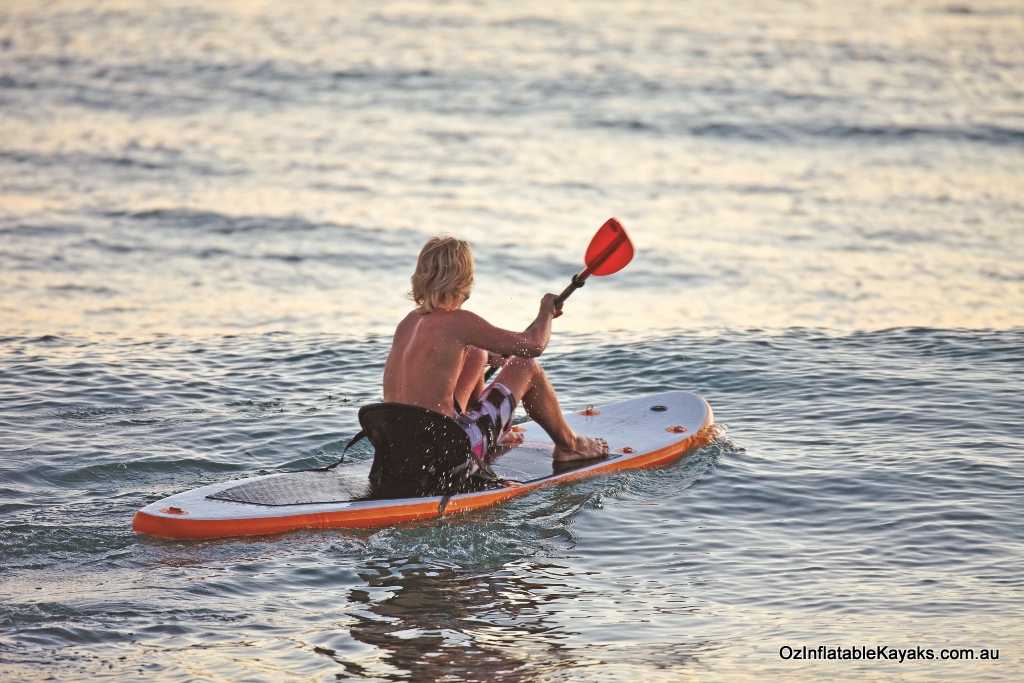 What does the Drop-Stitch floor feel like?
The drop-stitch floor is like sitting on an inflatable SUP.
If you've never sat on an inflatable SUP, click here to buy the Hula11. Just kidding…
It feels like sitting on high density foam. There is a bit of give to it, but I wouldn't call it a cushion.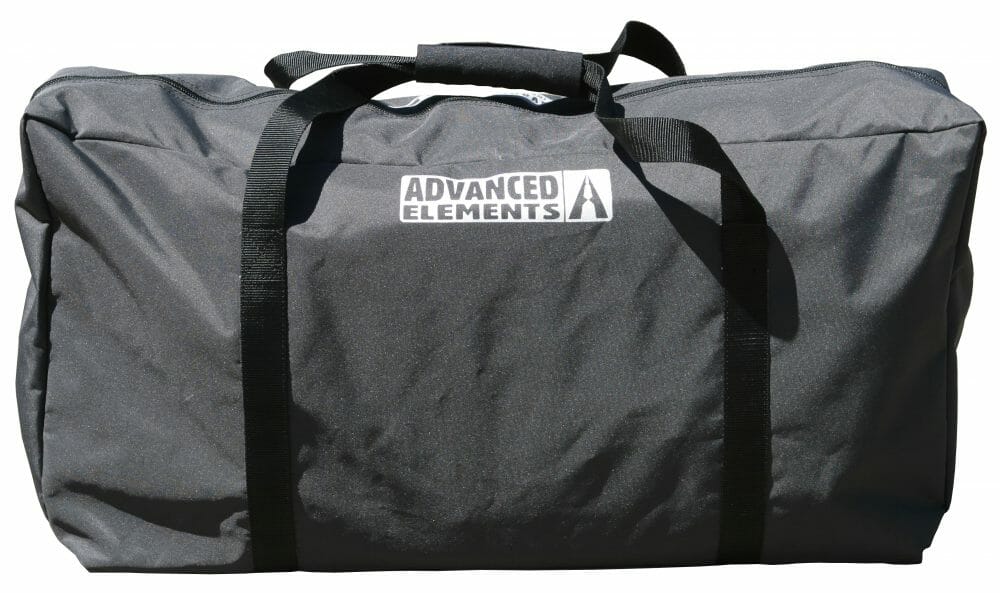 How compact is the Drop-Stitch Floor for storage and transport?
The Drop-stitch floor can stay inside your inflatable kayak when you fold it up. You can then pack up your kayak into it's bag. It's a bit more bulky than the regular floor, but about the same weight.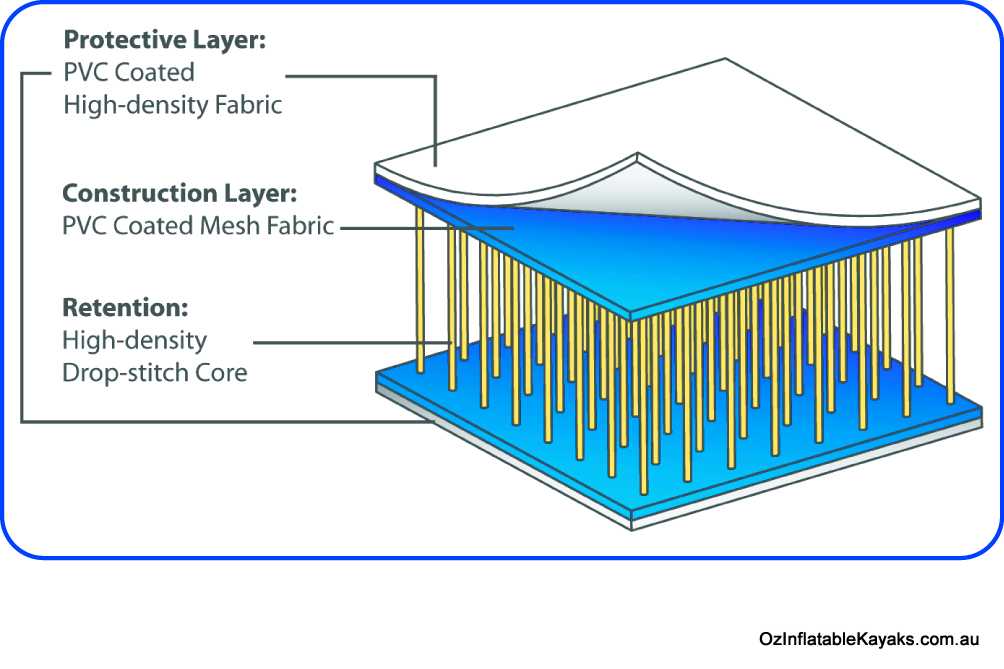 How durable is the Drop-Stitch Floor
Advanced Elements use Korean drop-stitch because it is the best. It's more expensive than Chinese drop-stitch, but it's worth paying for. You don't want to be putting very high pressure into something that doesn't have the best seams, the best stitching and the thickest materials.
Quality is guaranteed with a 12 month manufacturer's warranty from Advanced Elements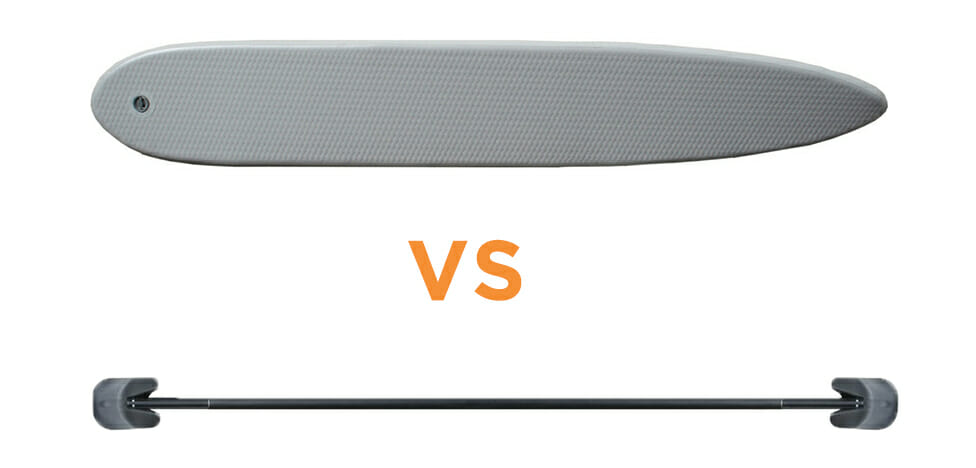 How does the Drop-Stitch Floor compare to the Backbone?
Drop-Stitch Floor for AdvancedFrame Kayaks Specifications
For AdvancedFrame Convertible
MODEL: AE-DS1007
COMPATIBLE WITH: AE1007-R – AdvancedFrame Convertible Kayak
BRAND: Advanced Elements
COLOUR: Grey
WEIGHT: 3.2kg
WARRANTY PERIOD: 12 months
For AdvancedFrame Kayak & AdvancedFrame Sport Kayak
MODEL: AE-DS1012
COMPATIBLE WITH: AE1012 – AdvancedFrame or AE1017 – AdvancedFrame Sport
BRAND: Advanced Elements
COLOUR: Grey
WEIGHT: 1.3kg
WARRANTY PERIOD: 12 months
[Woo_stamped_io type="widget"]