If you want a no-fuss way to improve the rigidity and tracking of your inflatable kayak, the high pressure Drop-Stitch floor is ideal. This super tough DS floor is also great for dogs and fishing. The Drop-stitch floor comes in two sizes: one is compatible with the AdvancedFrame Kayak AE1012-R & the AdvancedFrame Sport Kayak AE1017-O and the other one is compatible with the AdvancedFrame Convertible AE1007-R.
How does the Drop-Stitch Floor for AdvancedFrame Kayaks work?
Drop-stitch has become pretty famous lately because of inflatable stand-up paddle boards.
'Drop-stitch' is basically a technique of running thousands of stitches from the top to the bottom of the board, all at the same fixed length.
When the air pressure goes up and the board wants to go round, the stitches hold the flat shape.
Advanced Elements have taken drop-stitch technology and used it to create rigid, high-pressure floors for the AdvancedFrame line of inflatable kayaks.
You can see from this image that the high pressure DS floor creates a kayak hull with corners (called chines).
The chines make the kayak track straighter.
The high pressure floor spreads the weight of the paddlers more evenly, so the hull is flatter and glides better through the water.
How do I install the Drop-Stitch Floor in my kayak?
It's easy to install – simply replace the original floor with the DS floor and you are ready to inflate.
NOTE – the DS floor can NOT be inflated with the Bellows Foot Pump – you must use a pump that can achieve the 6 PSI required, such as the Double Action Hand Pump with Gauge.
What does the Drop-Stitch floor feel like?
The drop-stitch floor is like sitting on an inflatable SUP.
If you've never sat on an inflatable SUP, click here to buy the Hula11. Just kidding…
It feels like sitting on high density foam. There is a bit of give to it, but I wouldn't call it a cushion.
How compact is the Drop-Stitch Floor for storage and transport?
The Drop-stitch floor can stay inside your inflatable kayak when you fold it up. You can then pack up your kayak into it's bag. It's a bit more bulky than the regular floor, but about the same weight.
How durable is the Drop-Stitch Floor
Advanced Elements use Korean drop-stitch because it is the best. It's more expensive than Chinese drop-stitch, but it's worth paying for. You don't want to be putting very high pressure into something that doesn't have the best seams, the best stitching and the thickest materials.
Quality is guaranteed with a 12 month manufacturer's warranty from Advanced Elements
How does the Drop-Stitch Floor compare to the Backbone?
Drop-Stitch Floor for AdvancedFrame Kayaks Specifications
For AdvancedFrame Convertible
MODEL: AE-DS1007
COMPATIBLE WITH: AE1007-R – AdvancedFrame Convertible Kayak
BRAND: Advanced Elements
COLOUR: Grey
WEIGHT: 3.2kg
WARRANTY PERIOD: 12 months
For AdvancedFrame Kayak & AdvancedFrame Sport Kayak
MODEL: AE-DS1012
COMPATIBLE WITH: AE1012 – AdvancedFrame or AE1017 – AdvancedFrame Sport
BRAND: Advanced Elements
COLOUR: Grey
WEIGHT: 1.3kg
WARRANTY PERIOD: 12 months
Customer Reviews
12/07/2021
Sally O.

AU
Advanced Elements Drop Stitch Floor
The drop stitch floor is an excellent addition to my Sports Kayak. I sit higher, the kayak is more rigid and faster and my paddle stroke is easier because I'm higher. Thanks for your advice, Emily, so glad I bought it.
04/08/2020
John W.

AU
Drop stitch floor.
You have to go the extra mile and get yourself one of these, they make an incredible difference all round, and are pretty well dog proof.
14/02/2020
Donald

Australia
Advanced Element Kayak Drop-Stitch Floor
The drop stitch floor makes the kayak floor much solid and much better for kayaking . I can paddle much faster than before. It help me a lot to get in and out from the kayak. I use an Advanced Element Hand pump to pump up the floor only up to 3 psi , I do not have strength to push it up further. A electric pump could do a better job, However 3 PSI is good enough for me to enjoy my padding . It is an excellent product.
12/02/2020
Frances R.

AU
Advanceframe and advanceframe sports kayaks with dropstitch floors
I have an advanceframe sports kayak which I purchased in October last year. It was great for me but my husband was too heavy for it so we purchased an advanceframe for him. He was happier with that one but was still getting wet, it was suggested to us by a kayaking teacher that we needed to increase the air pressure in our floors, as we thought we'd pumped them to capacity we decided to try the drop stitch floors instead, this worked much better and we are now enjoying our kayaks much more. We are both novices and look extremely awkward getting in and out of our kayaks but looking better on the water thanks to the drop stitch floors. We did need to buy a 12v pump to inflate the floors, our foot pump from our kayaks was not able to inflate the floors. We have not had a problem packing them back into their respective bags with the new floors, which we thought we may have. Hope this review helps in some way if you the reader are considering purchasing any of these products.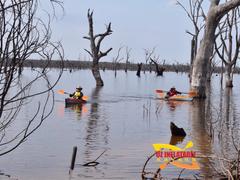 Kayak and Service
I bought an AF kayak and was delighted. I then decided to add the 'Backbone'. After I got it I changed my mind and decided I'd prefer the Drop Stitch as it better fitted how I used my Kayak. Through all this Emily has been a star supplier. Great service. Great support and the Kayak is super - just love it.