In stock in our Brisbane warehouse - ships within 1-2 business days.



12 month warranty
Paddle & Pump Sold Separately
Paddle & Pump Sold Separately
Frequently Bought Together
The Original AdvancedFrame Kayak
Cruises beautifully in the water - a real delight to paddle

High-backed supportive seat and cushy floor are wonderfully comfortable

Versatile - good for a quick, casual paddle or a multi-day expedition in open ocean

Stable and easy to paddle - ideal for beginners

Quick and easy to set up

Durable materials and design
Goes Straight and Fast – Even for Beginners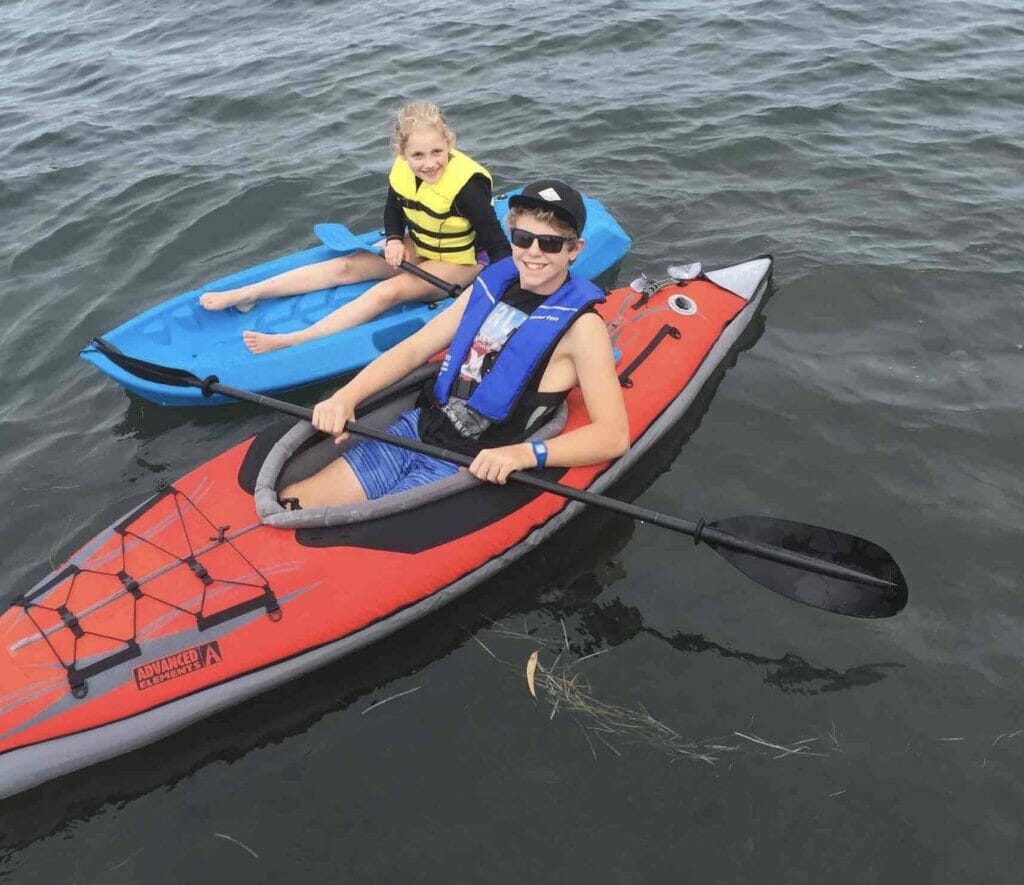 There's nothing more annoying than a kayak that goes in circles… except maybe a kayak that doesn't go anywhere!
Glide straight and cuts through chop with the patented AdvancedFrame design – no waggling when you paddle.
Built-in fin to help you paddle straight.
Low centre of gravity and a flat hull make the AdvancedFrame kayak very stable.  Save your strength and relax!
There's nothing worse than a hard seat giving you a numb bum and an aching lower back from lack of support.
Whether you are jumping in the AdvancedFrame kayak for half an hour, or going out on a multi-day expedition, you want to be comfortable and supported. Fortunately, Advanced Elements have done a wonderful job of making the AdvancedFrame kayak a delight to sit in!
Your back is supported by the clip-in seat so you are comfortable all day
Your bum is cushioned by the low pressure inflatable floor reducing the risk of numbness
Optional foot brace to assist paddling technique
Let's be clear – the AdvancedFrame kayak is NOT a pool toy! Advanced Elements have crafted a puncture-resistant inflatable kayak that won't let you down. I have been paddling the AdvancedFrame range for over a decade now, and I have never had to do a repair.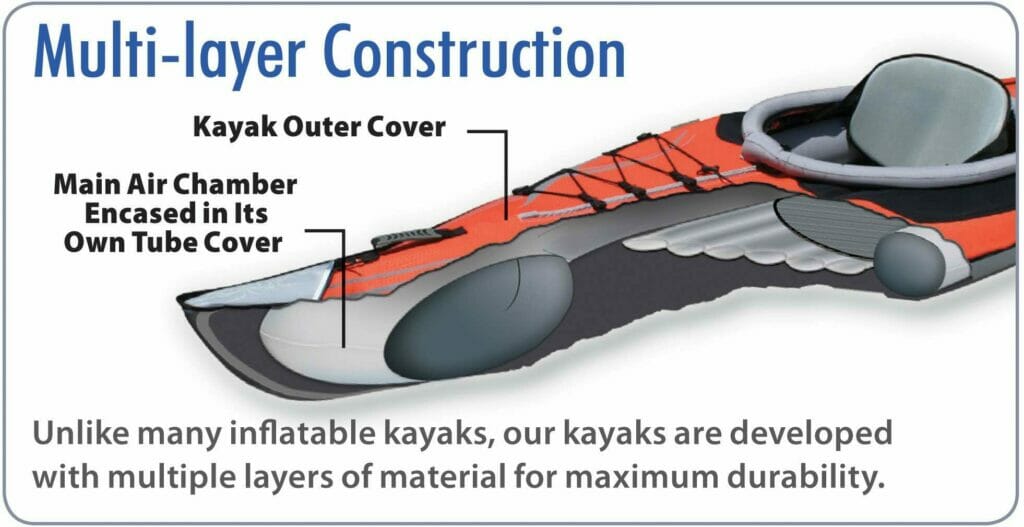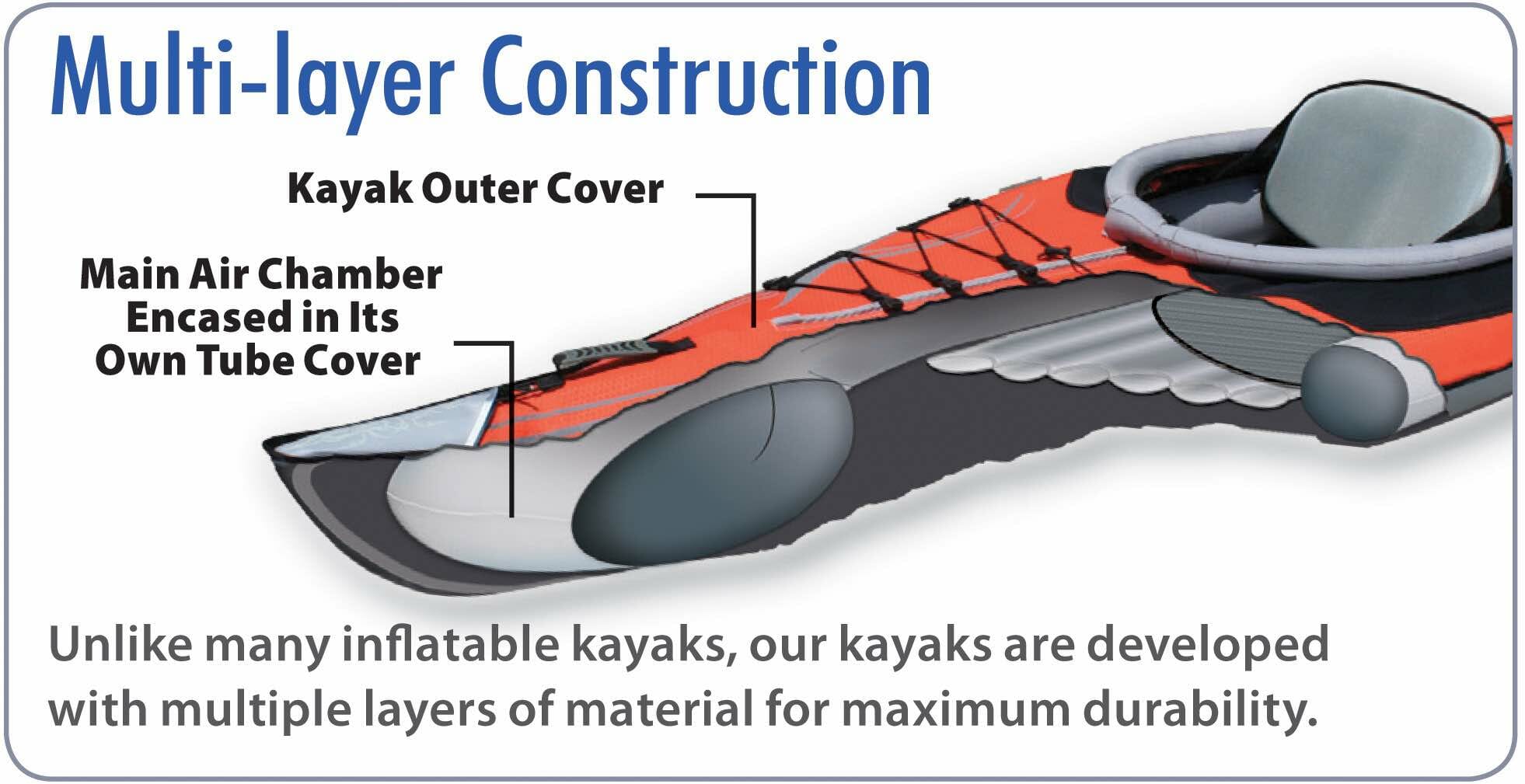 Multi-layer material design for protection of the inner tubes – there is very little risk of puncture.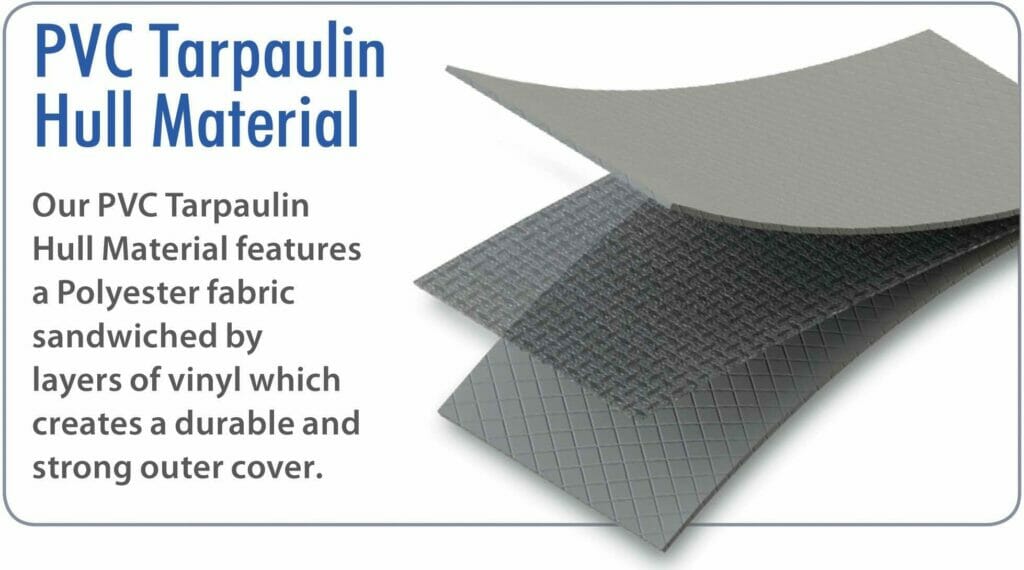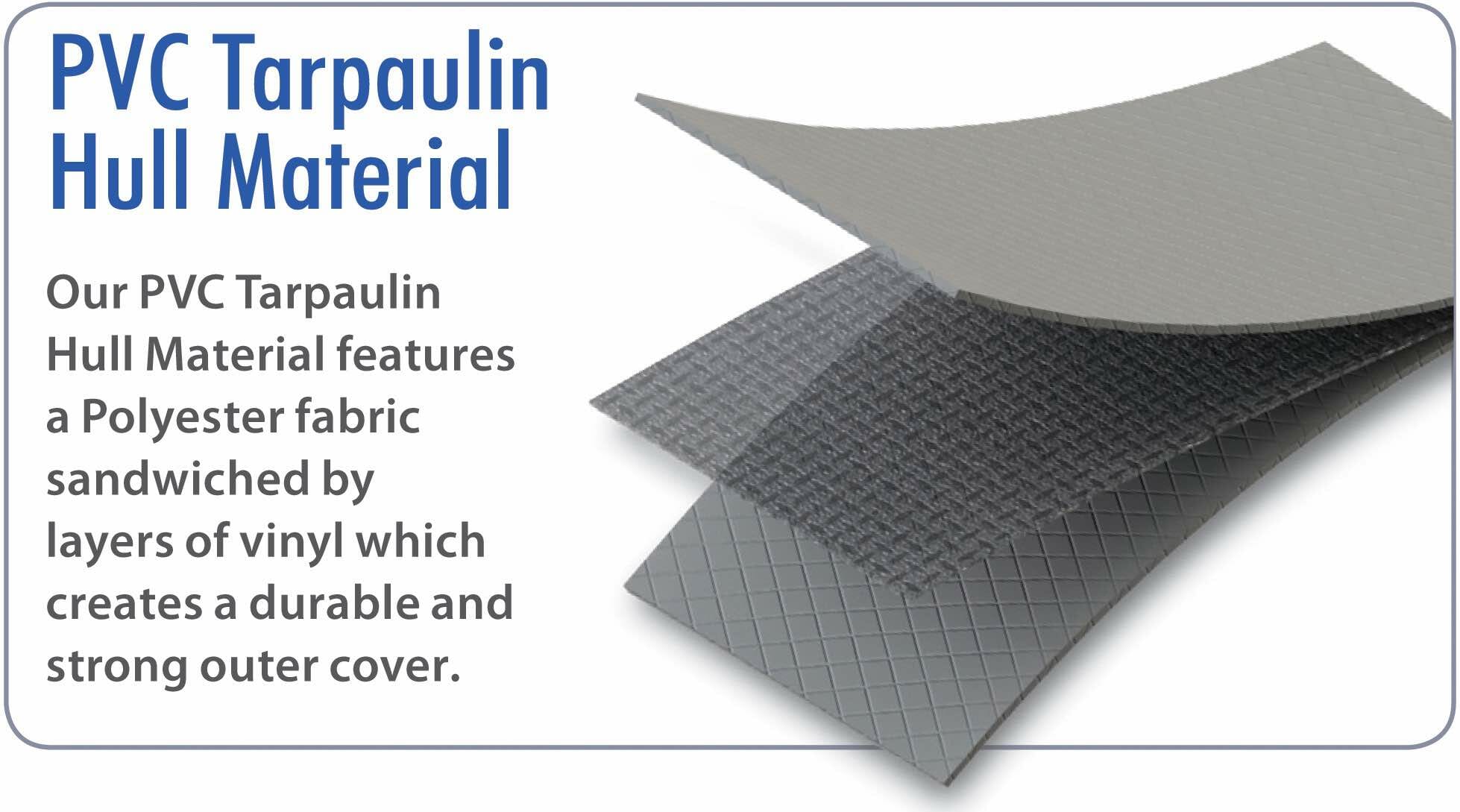 Durable triple layer PVC tarpaulin hull so you don't have to worry about damage on rocks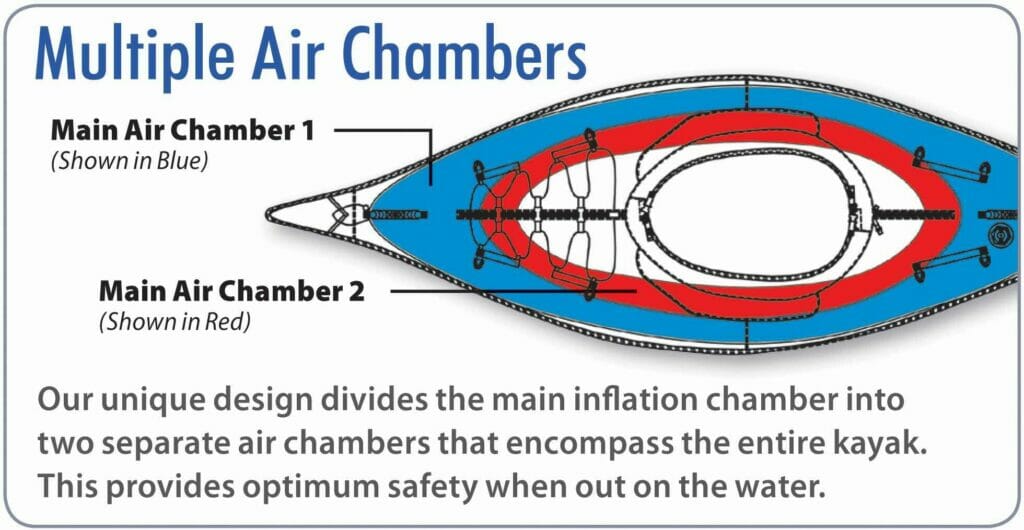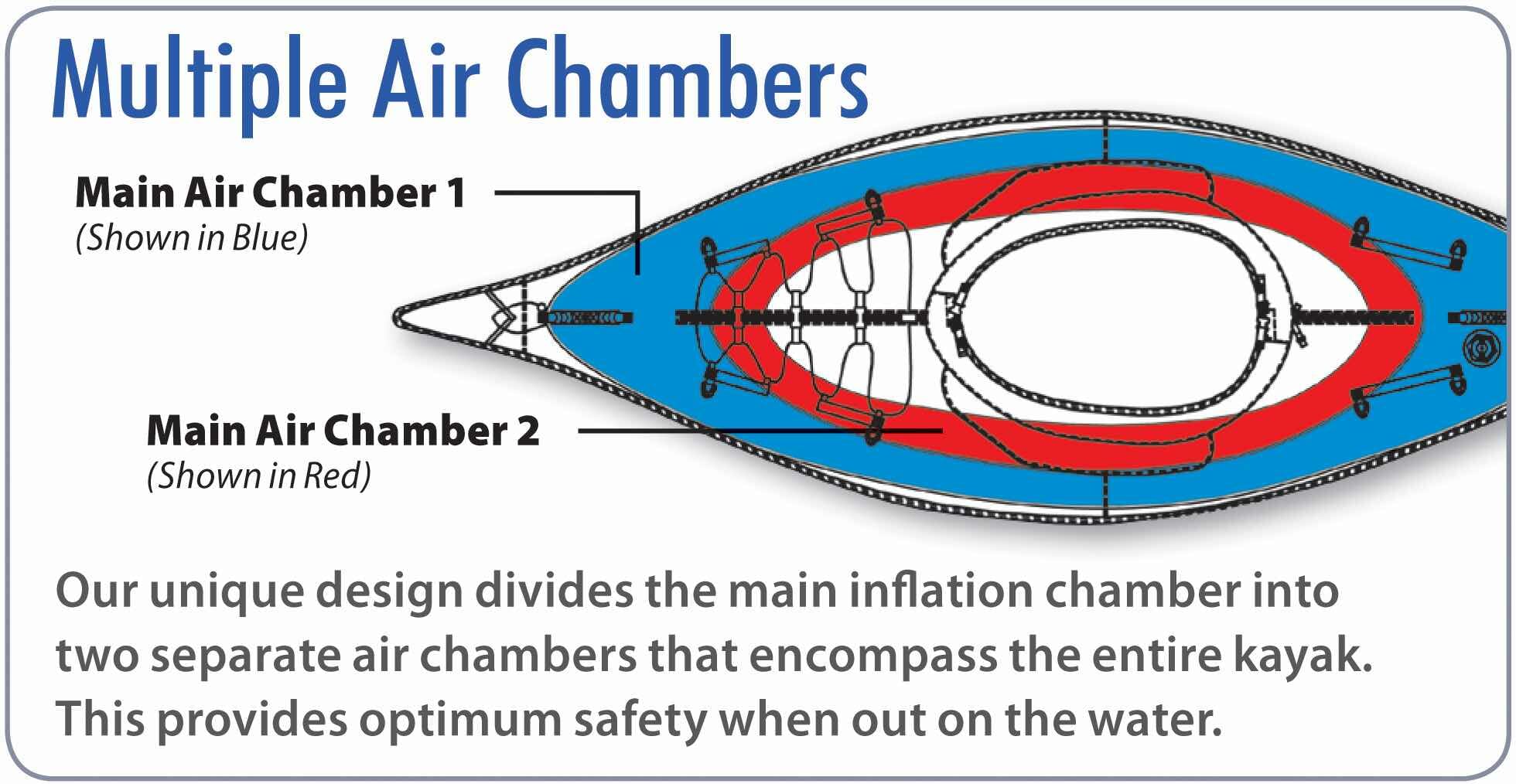 Dual main air chambers for safety – if one chamber of the inner tube is compromised, the other will still function
Length: 10'5″ (3.18m)

Weight: 36 lbs (16.3 kg)

Colour: Red/Gray

Brand: Advanced Elements

Lakes, Bays, Inland Waterways: Yes

Coastal/Open Water: Yes

Self-bailing: No
Width: 32" (81cm)

Maximum Capacity: 300 lbs (136 kg)

Max. Paddler Height: 6'2"

Deflated and Packed Dimensions: 32″ x 17″ x 10″ (76cm x 43cm x 25cm)

Warranty Period: 12 Months

River Class: II

Compatible with Rudder Kit: Yes

Set-up Time: 5 minutes
The seat (included) has a stiff, high back, which gives you excellent support, IF you get the angle right. Check out our video below..
High Back Kayak Seat in the Advanced Elements Kayaks
The optional inflatable foot brace adds to your comfort by supporting your lower back as you paddle.
You can purchase the inflatable foot brace to go with your AdvancedFrame Kayak. A lot of paddlers swear by foot braces for encouraging good paddling technique and for supporting the lower back.
The AdvancedFrame kayak has very good back support – the seat backs are high and stiff with adjustable straps to get the angle right.
Who is the AdvancedFrame Kayak good for?
Yes!
In fact, it's so good for beginners, we put it in our Beginners Choice Kayak Package.
The key feature for beginners is stability, and the AdvancedFrame kayak is wonderfully stable, so no dramas there.
The design is so good, that it's super-easy to paddle straight.
At 16kgs, it's light enough for most people to lift.
The zipper on the deck makes it easy for people to get in and out.
And best of all, it's incredibly versatile, so if you find yourself going from beginner to adventurer, you can do open ocean and multi-day expeditions in it!
In my experience, seniors are looking for a lightweight kayak, and at 16kg, the AdvancedFrame kayak is fairly lightweight.
We have other kayaks that are lighter, but the AdvancedFrame does give a great balance of versatility and performance. So if you think you can handle the weight, it's a great choice for seniors.
The other key features for seniors are stability and ease of getting in and out – the AdvancedFrame kayak ticks both of these boxes.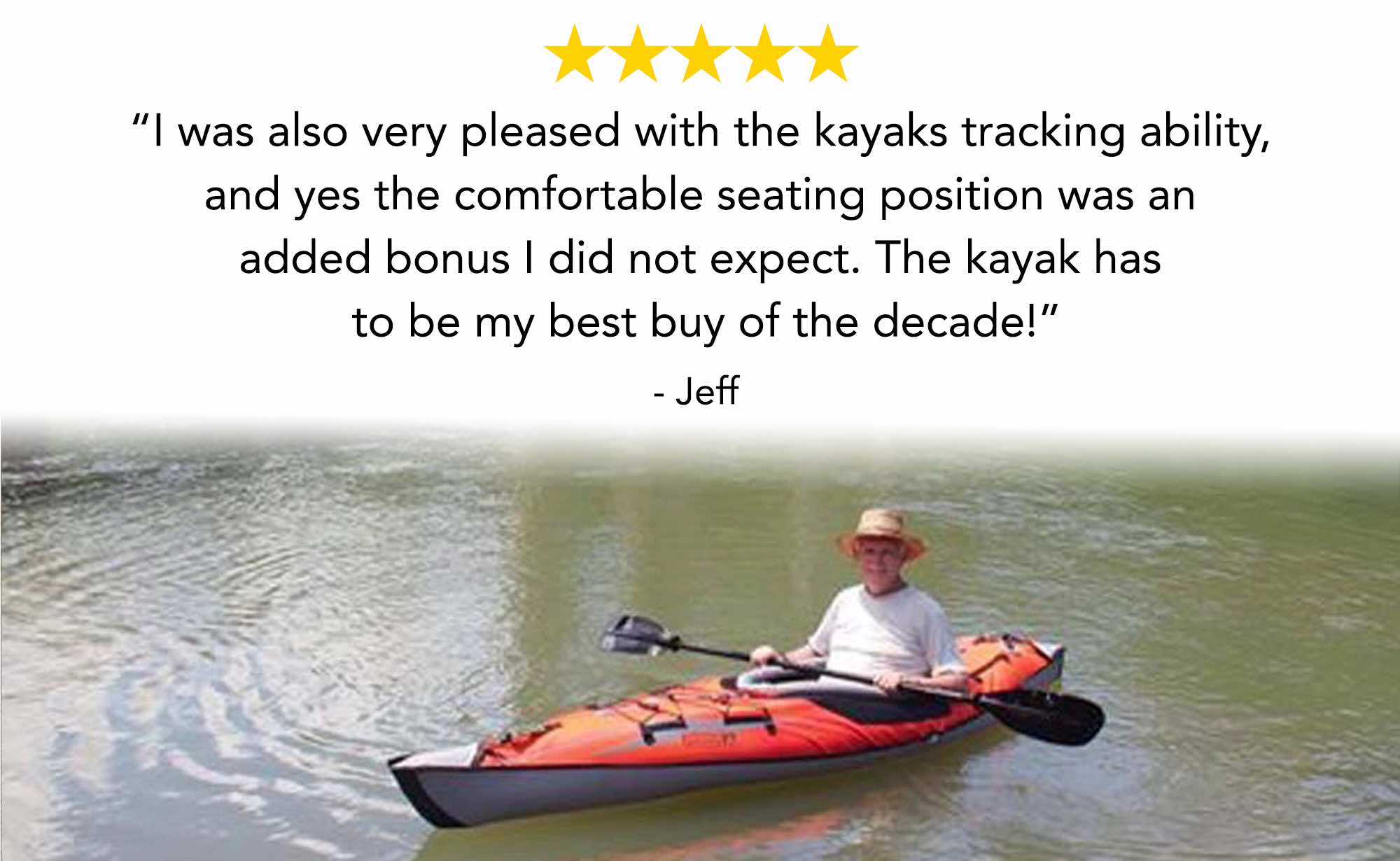 The AdvancedFrame kayak has an awesome zipper in front of the cockpit that allows you to swing your legs in and out.
Getting Out Of Your AdvancedFrame Kayak from Advanced Elements
No.
It's good up to about 6'2″, but beyond that, you want to consider the AdvancedFrame Expedition Elite kayak.
You can adjust the seat straps to bring the seat closer to the front of the kayak, or further back in the cockpit to give you more leg room.
When I say "about 6'2", it's hard to be precise. Whether you fit in the kayak is more a function of leg length, rather than overall height. It also depends on how you like to sit in the kayak – legs straight requires more space than legs bent.
The maximum capacity is 136kg / 300lbs.
I have found that the rigidity of the kayak starts to drop off at around 90kg, at which point I recommend getting the high-pressure drop-stitch floor. This floor dramatically increases the rigidity (and therefore performance) of the kayak in the higher weight ranges.
About the AdvancedFrame Kayak
Advanced Elements have been making inflatable kayaks for well over 20 years – you don't have to worry about quality.
All kayaks are inflated at the factory and left for 24 hours to ensure there are no slow leaks.
The main hull material used is called PVC tarpaulin and it is super thick and tough.
In the extremely rare case that you damage the hull, the kayak comes with a repair kit, so you can put on a patch.
The AdvancedFrame Kayak is a sit-in kayak.
You can put on a spray skirt and stay warm and dry if the conditions are rough or cold.
Of course, this means that any water you get in the kayak is staying in the kayak (unless you get a bilge pump).
But on the upside, you get a kayak that glides beautifully through the water, tracks straight and is minimally wind affected.
It's very stable… this video demonstrates the AdvancedFrame Expedition kayak, but the AdvancedFrame kayak is just as stable:
How stable are the Advanced Elements inflatable kayaks?
There is a fin – it is part of the hull.
There is no rudder on the AdvancedFrame  kayak.
Although the Rudder Kit we sell is technically compatible with this kayak, you would have to be exceptionally short for that to be viable.
Note that the AdvancedFrame kayak is easy to paddle, tracks very well and is not very wind affected, so you are not likely to need a rudder.
Yes, the ePropulsion Vaquita can be used with the ratchet straps (included with the propeller).
Yes.
The AdvancedFrame kayak is a sit-in style kayak, so you can hook our Touring Spray Skirt around the inflatable coaming.
This allows you to stay warm and dry inside the cockpit.
Advanced Elements spring valves
High-back adjustable seat
Inflatable coaming for attaching a spray skirt
Moulded rubber handles
Hard edge bow and stern
Welded seams
Neoprene knuckle guard
Storage compartment
Bungee deck lacing
Reinforced bow and stern
Skeg/tracking fin
D-ring tie downs
The hull is PVC tarpaulin – an extremely tough multi-layer material.
The deck and inner tube covers are rip-stop polyester.
The inner tube is PVC, with a baffle down the middle of the tube.
There is an aluminium rib inside the bow and stern.
There are rubber moulded handles at each end and some elastic bungee lacing.
I think that covers everything!
The AdvancedFrame Kayak is manufacted by Advanced Elements (an American company), in their factory in Indonesia.
All kayaks are inflated and left overnight on the factory floor to ensure they are fully functional before shipping out.
How to use the AdvancedFrame Kayak
Any double bladed kayak paddle will work, but I would strongly suggest getting a LONG one, so you can easily get over the side tubes. Ours start at 230cm.
Pretty well any pump on the market capable of 2 PSI will work, but I would strongly suggest you purchase our Double Action Hand Pump with Gauge because it has all the right adapters and comes with a 12 month warranty.