In stock in our Brisbane warehouse - ships within 1-2 business days.



12 month warranty
Paddle & Pump Sold Separately
Paddle & Pump Sold Separately
Frequently Bought Together
The Impressive AdvancedFrame Expedition Elite Kayak
Huge capacity and lots of deck space for multi-day kayak expeditions

Comfortable for long trips - inflatable lumbar support and adjustable foot brace included

Extra-long cockpit for extra-long legs

Awesome speed and tracking

Compatible with spray skirt and rudder kit for open ocean

Ruggedly durable and reliable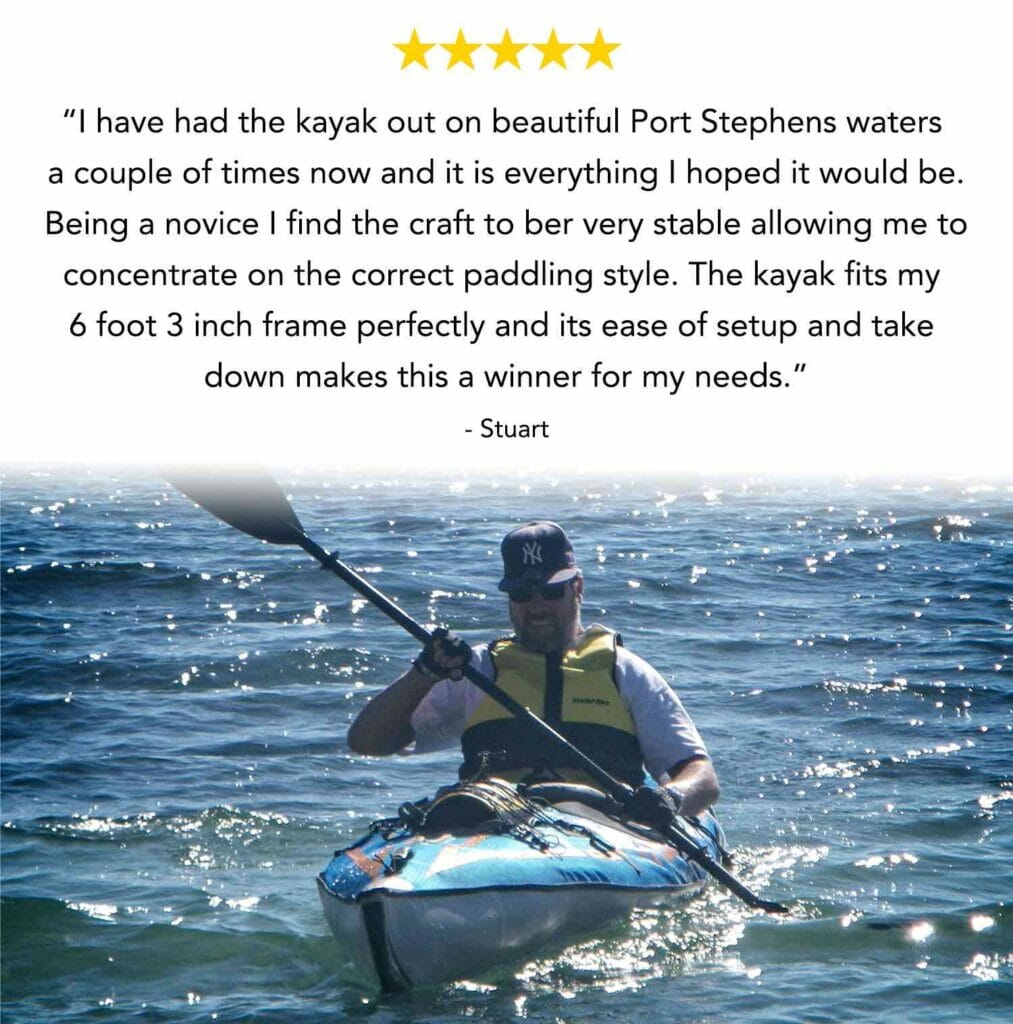 Amazing for Kayak Expeditions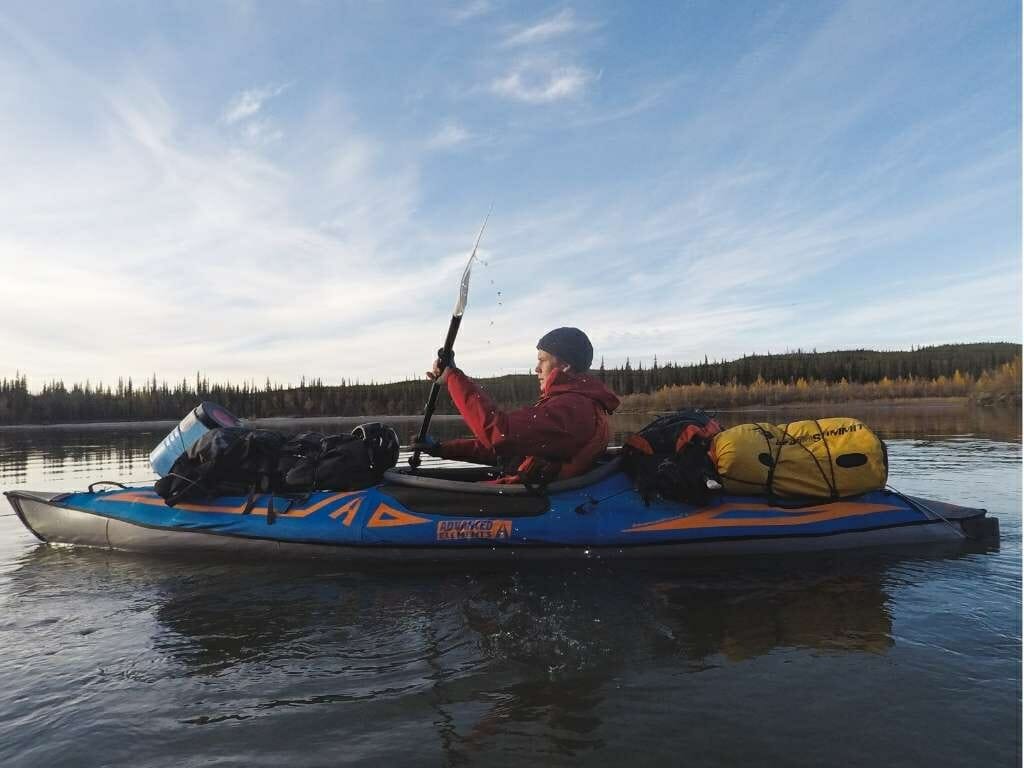 A whopping 204kg capacity means you can load this kayak up with gear for even the most extreme kayak expedition.
There are D-rings and bungee lacing on the large front deck for securing gear.
There is a roll-top hatch behind the seat for quick access to gear stored under the deck.
There are d-rings on the rear deck for even more gear!
Your back is supported by the inflatable lumbar seat so you are comfortable all day.
An adjustable foot brace is included to assist your paddling technique and support your lower back.
The Advancedframe Expedition Elite kayak has a low centre of gravity and a flat hull. This gives you effortless stability so you can save your strength on those long trips.
In this wonderful video, you can see the AdvancedFrame Expedition Elite kayak being put to the test in remote Alaska.
It's worth a watch for the stunning scenery alone!
A Long Cockpit for Long Legs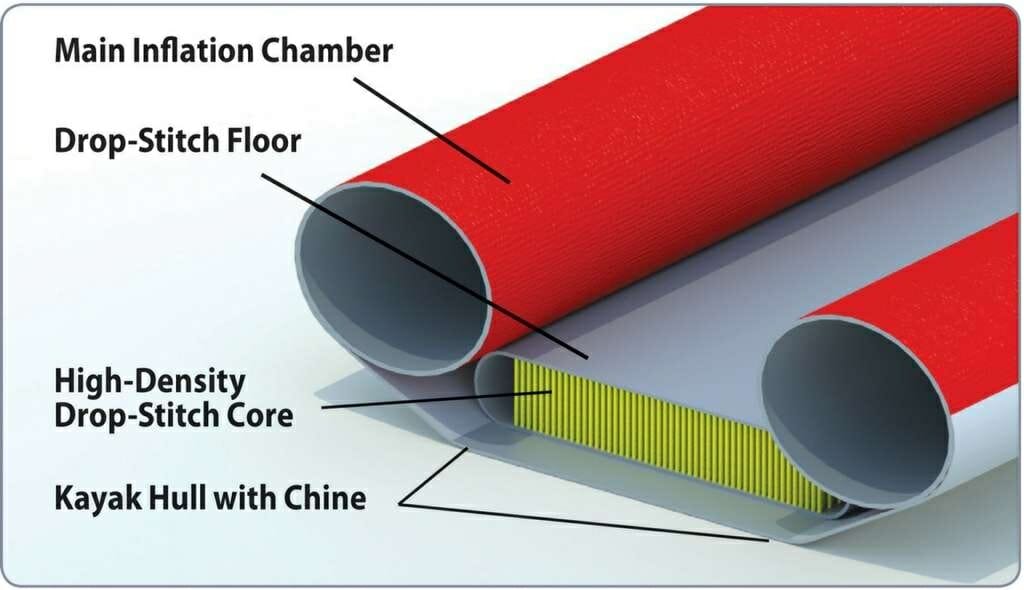 At nearly 4m long, the Expedition Elite kayak is FAST.
The drop-stitch floor helps you glide smoothly through the water.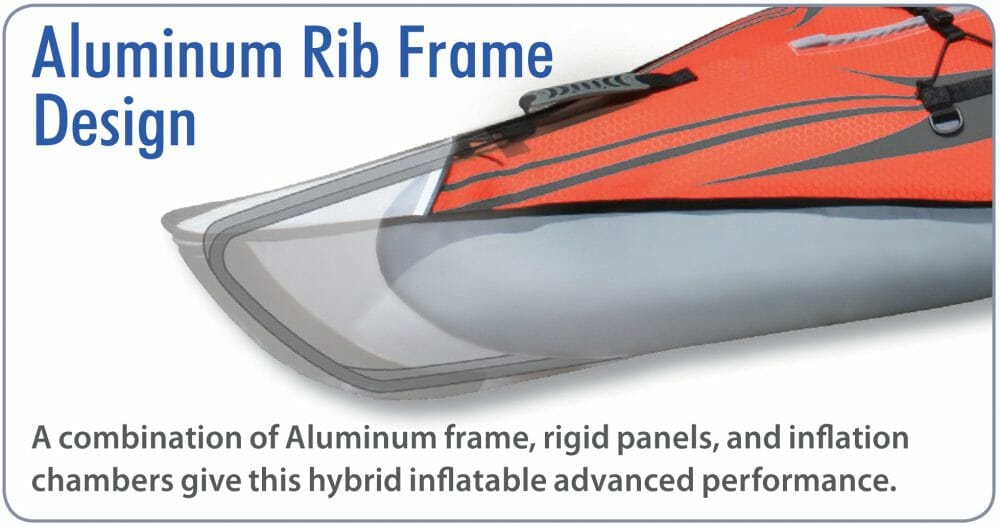 The patented AdvancedFrame design means no waggling when you paddle.
The built-in fin helps you paddle straight.
The AdvancedFrame Expedition Elite kayak comes with the rudder mount already installed if you would like to purchase the optional Rudder System.
Length: 13′ (3.96m)

Weight: 42 lbs (19.1 kg)

Colour: Blue with orange stripes

Brand: Advanced Elements

Lakes, Bays, Inland Waterways: Yes

Coastal/Open Water: Yes

Self-bailing: No
Width: 32″ (81cm)

Maximum Capacity: 450 lbs (204 kg)

Max. Paddler Height: 6'8"

Deflated and Packed Dimensions: 32″ x 20″ x 10″ (83cm x 52cm x 26cm)

Warranty Period: 12 Months

River Class: II

Compatible with Rudder Kit: Yes

Set-up Time: 8 minutes
AdvancedFrame Expedition Elite FAQs
Yes!
In fact, is our BEST tracking solo kayak.
Not much.
All kayaks are wind affected to some degree.
You can generally predict how wind affected it's going to be based on the ratio of kayak above the waterline to kayak below the waterline.
The AdvancedFrame Expedition Elite kayak sits quite low in the water, especially compare to other inflatables, so it performs quite well in wind.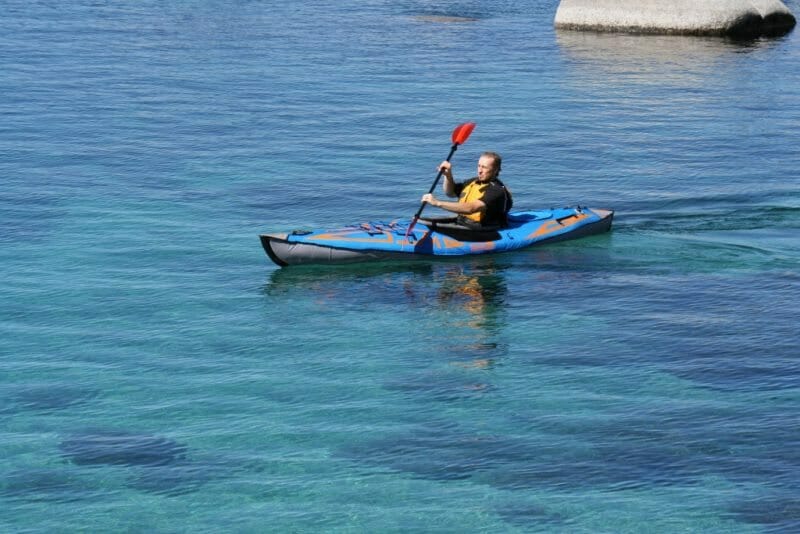 The seat (included) has a stiff, high back, which gives you excellent support, IF you get the angle right.
High Back Kayak Seat in the Advanced Elements Kayaks
The seat has inflatable lumbar support that you can inflate or deflate as you are paddling, via a mouthpiece.
The adjustable foot brace adds to your comfort by supporting your lower back as you paddle.
The kayak comes with an adjustable foot brace. A lot of paddles swear by foot braces for encouraging good paddling technique and for supporting the lower back.
The AdvancedFrame Expedition Elite kayak has excellent back support – the seat backs are high and stiff and there is an inflatable lumbar cushion included for extra support.
About the AdvancedFrame Expedition Kayak
Advanced Elements have been making inflatable kayaks for well over 20 years – you don't have to worry about quality.
All kayaks are inflated at the factory and left for 24 hours to ensure there are no slow leaks.
The main hull material used is called PVC tarpaulin and it is super thick and tough.
It can handle dog claws, fish hooks, rocks and even oysters.
In the extremely rare case that you damage the hull, the kayak comes with a repair kit, so you can put on a patch.
The AdvancedFrame Expedition Elite kayak is a sit-in kayak.
You can put on a spray skirt and stay warm and dry if the condition are rough or cold.
Of course this means that any water you get in the kayak is staying in the kayak (unless you get a bilge pump).
But on the upside, you get a kayak that glides beautifully through the water, tracks straight and is minimally wind affected.
At 19.1kg, the AdvancedFrame Expedition Elite is one of our heavier solo kayaks.
Most people in good shape can carry it down to the water by themselves.
But if you are not feeling strong, it might be better to look for one of our lightweight kayaks.
It's very stable… check out this video:
How stable are the Advanced Elements inflatable kayaks?
There is a fin – it is part of the hull.
There is no rudder on the AdvancedFrame Expedition Elite kayak, but the Rudder Kit we sell IS compatible with this kayak.
Note that the AdvancedFrame Expedition Elite kayak is easy to paddle, tracks very well and is not very wind affected, so you are not likely to need a rudder.
Yes, the ePropulsion Vaquita can be used with the ratchet straps (included with the propeller).
Yes.
The AdvancedFrame Expedition Elite kayak is a sit-in style kayak, so you can hook our Touring Spray Skirt around the inflatable coaming.
This allows you to stay warm and dry inside the cockpit.
Advanced Elements spring valves
Drop-stitch floor construction
Adjustable seat with inflatable lumbar support
Rudder Mount for adding the AdvancedTrak Kayak Rudder Kit
Inflatable coaming for attaching a spray skirt
Adjustable foot brace
Moulded rubber handles
Hard edge bow and stern
Welded seams
Neoprene knuckle guard
Massive storage compartment
Bungee deck lacing
Reinforced bow and stern
Skeg/tracking fin
D-ring tie downs
The hull is PVC tarpaulin – an extremely tough multi-layer material.
The floor chamber is Drop-stitch.
The deck and inner tube covers are rip-stop polyester.
The inner tube is PVC, with a baffle down the middle of the tube.
There is an aluminium rib inside the bow and stern.
There are rubber moulded handles at each end and some elastic bungee lacing.
I think that covers everything!
The AdvancedFrame Expedition Elite Kayak is manufacted by Advanced Elements (an American company), in their factory in Indonesia.
All kayaks are inflated and left overnight on the factory floor to ensure they are fully functional before shipping out.
How to use the AdvancedFrame Expedition Kayak
High pressure drop-Stitch floor
Duffel bag with detachable shoulder straps
High back lumbar seat
Adjustable foot brace
Repair kit
Owners manual
Any double bladed kayak paddle will work, but I would strongly suggest getting a LONG one, so you can easily get over the side tubes. Ours start at 230cm.
I would strongly suggest you purchase our Double Action Hand Pump with Gauge – it has exactly the right adapters and is capable of inflating the drop-stitch floor to the maximum pressure.