In stock in our Brisbane warehouse - ships within 1-2 business days.



 12 month warranty
Paddle & Pump included
Paddle & Pump included
Which of our 14 kayaks is the best kayak for beginners? And why? The Beginners Choice Kayak Package is designed to give you a delightful and easy experience as a beginner, but is also suitable for more adventurous paddling trips as your kayaking skills (and appetite) develop. The Beginners Choice Kayak package is perfect for men and women, young and mature, large and small.
Who is the Beginners Choice Kayak Package for?
Paddlers who need (or want) a compact kayak and
Here's why this is the best kayak for beginners: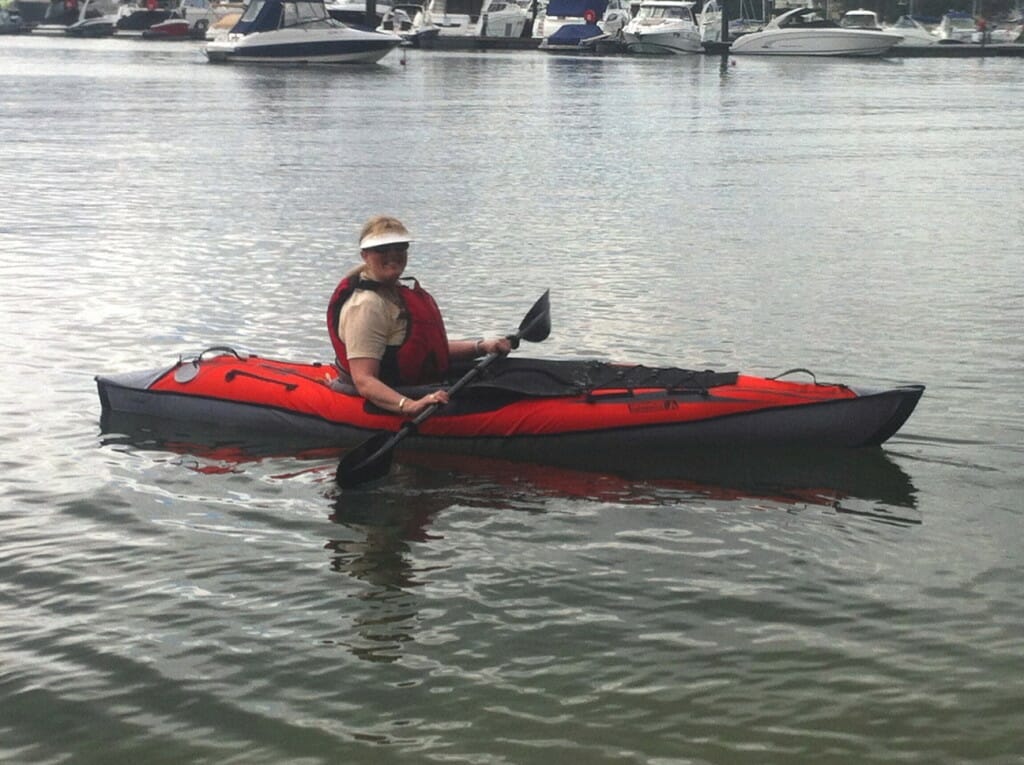 Falling in the water not only leaves you wet and cold, it can also be pretty scary if you are a beginner kayaker.
The AdvancedFrame has a wide flat hull, giving it excellent stability.
Not only are you less likely to fall out, it's easier to get back into if you do!
If you want a kayak you can relax in, the AdvancedFrame inflatable kayak is the best kayak for beginners when it comes to stability.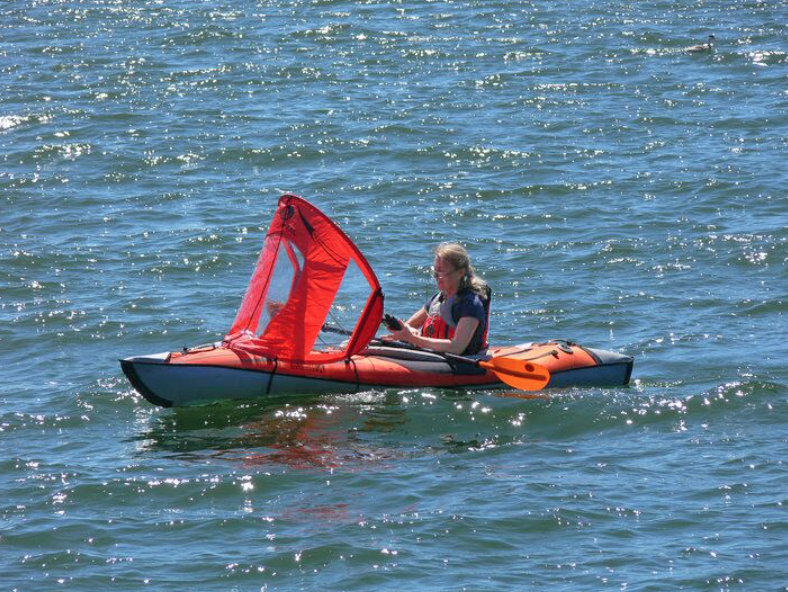 Professional kayakers make it look easy. But in most kayaks, trying to go in a straight line is really hard!
The frustration of not being able to get where you want to go will drive you insane. Or at least put you off paddling for the rest of your life…
The AdvancedFrame inflatable kayak is the best kayak for beginners because the hull has been designed to go straight on flat water. You don't have to worry about your skill level, just hop in and go!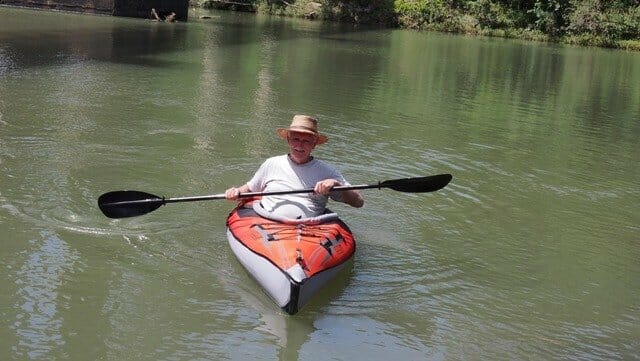 The AdvancedFrame has a nice cushy floor under your bum and a supportive seat for your back.
It's great for a beginner to be able to relax and take a break during kayaking.
Versatile – the Best Kayak for Beginners is One That Can Take You Hard-Core!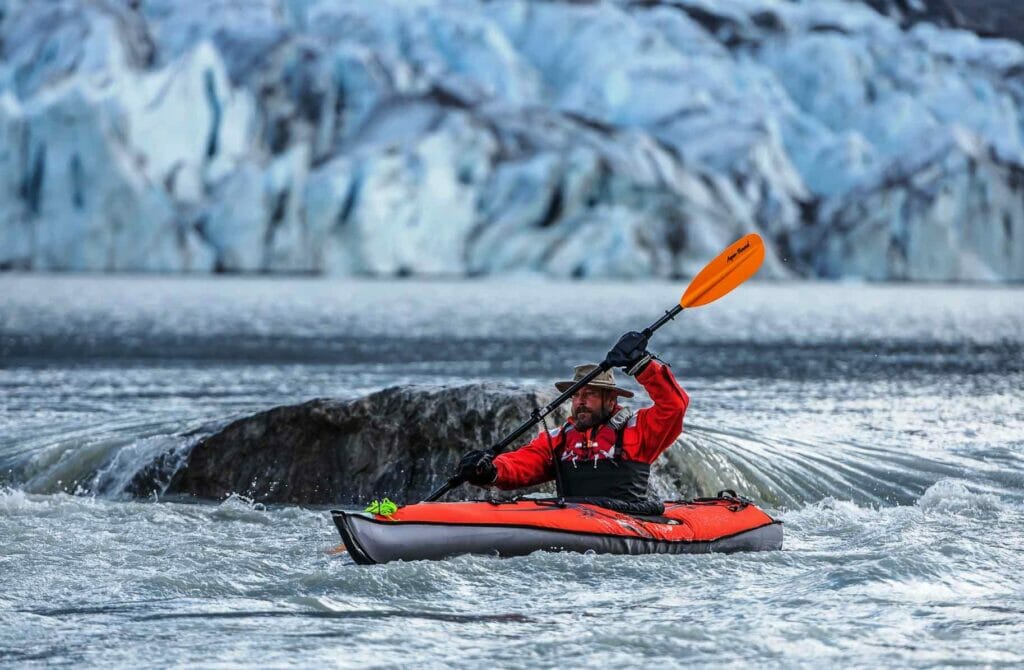 The AdvancedFrame is suitable for a wide variety of conditions, including open ocean. As your skill, stamina and passion for kayaking grow, the AdvancedFrame inflatable kayak will be able to take you to the next challenge!
You will probably start out enjoying a casual paddle on flat water.
You could end up taking it on an arctic expedition, who knows!
I'm not saying that all beginner kayakers paddle into things… but if it's your first time in a kayak, you might have a few collisions before you learn how to control it.
Sadly, most inflatable kayaks are like pool toys – one little bump against something sharp and it's all over.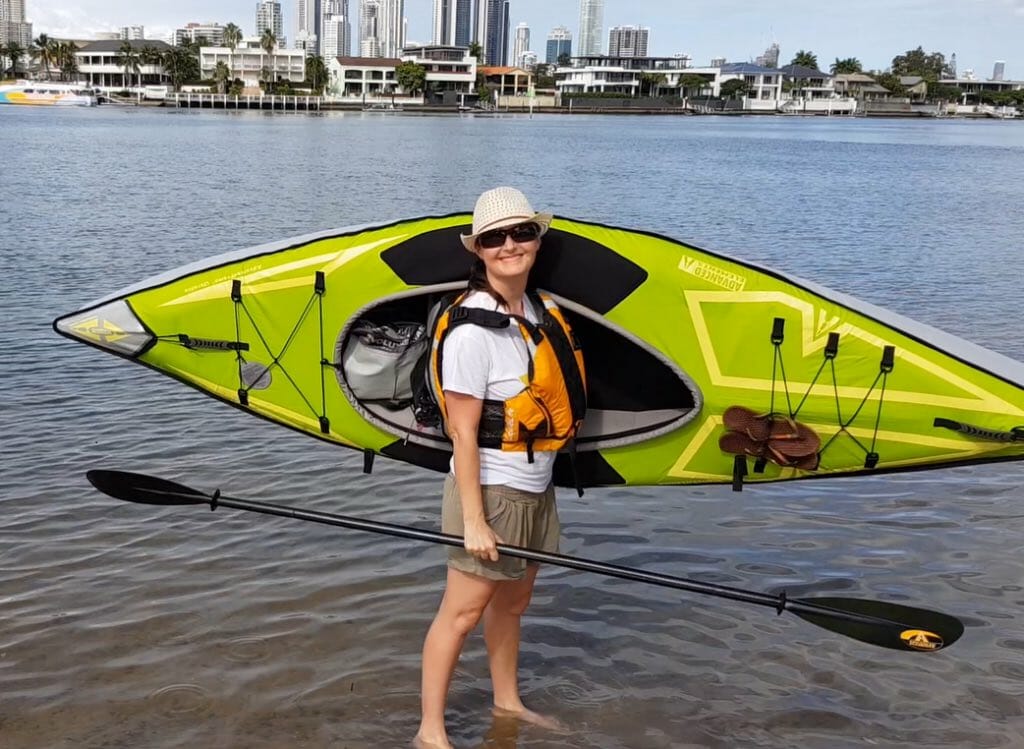 As a beginner, you might not want to start out with a multi-day kayaking expedition …
The best kayak for beginners is one that you can take out for a short paddle – maybe just 30 mins or so. Then as your strength and your confidence improves, you can go for longer paddles.
So what is the biggest turn-off for taking an inflatable kayak for a short paddle? Set up time.
If you want kayaking to be a regular part of your life, you need to be able to get out on the water in under 5 minutes. That is what you can do with the AdvancedFrame inflatable kayak.
AdvancedFrame Kayak Specifications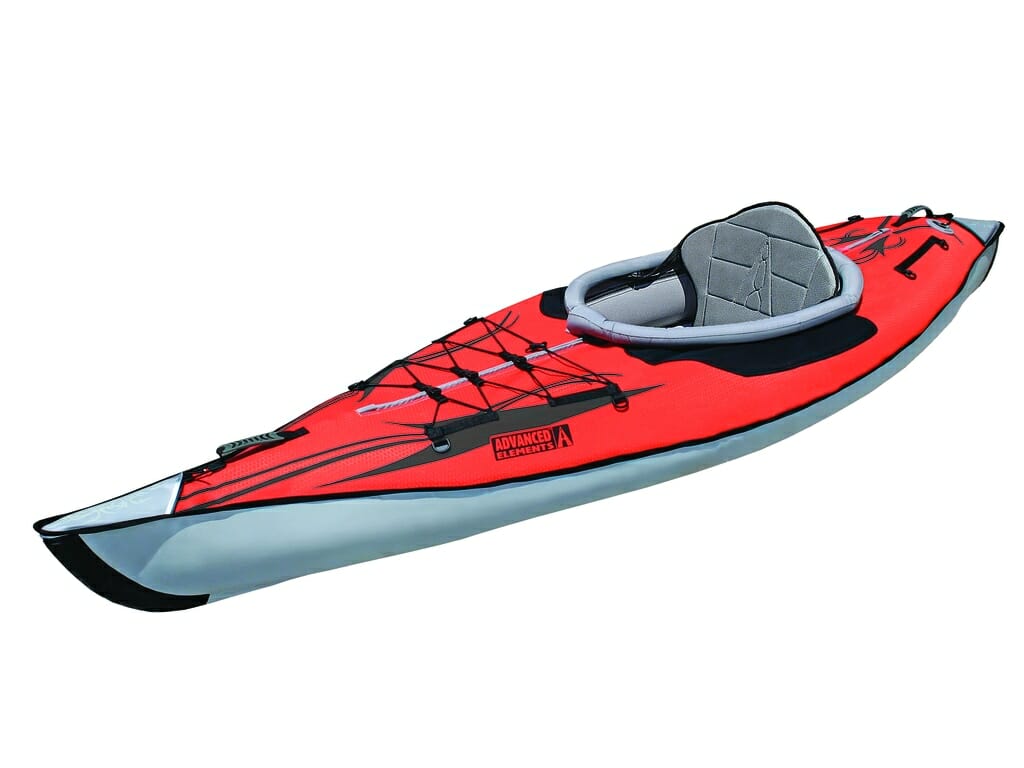 The seat (included) has a stiff, high back, which gives you excellent support, IF you get the angle right. Check out our video below..
High Back Kayak Seat in the Advanced Elements Kayaks
The optional inflatable foot brace adds to your comfort by supporting your lower back as you paddle.
You can purchase the inflatable foot brace to go with your AdvancedFrame Kayak. A lot of paddlers swear by foot braces for encouraging good paddling technique and for supporting the lower back.
The AdvancedFrame kayak has very good back support – the seat backs are high and stiff with adjustable straps to get the angle right.
Who is the AdvancedFrame Kayak good for?
Yes!
In fact, it's so good for beginners, we put it in our Beginners Choice Kayak Package.
The key feature for beginners is stability, and the AdvancedFrame kayak is wonderfully stable, so no dramas there.
The design is so good, that it's super-easy to paddle straight.
At 16kgs, it's light enough for most people to lift.
The zipper on the deck makes it easy for people to get in and out.
And best of all, it's incredibly versatile, so if you find yourself going from beginner to adventurer, you can do open ocean and multi-day expeditions in it!
In my experience, seniors are looking for a lightweight kayak, and at 16kg, the AdvancedFrame kayak is fairly lightweight.
We have other kayaks that are lighter, but the AdvancedFrame does give a great balance of versatility and performance. So if you think you can handle the weight, it's a great choice for seniors.
The other key features for seniors are stability and ease of getting in and out – the AdvancedFrame kayak ticks both of these boxes.
The AdvancedFrame kayak has an awesome zipper in front of the cockpit that allows you to swing your legs in and out.
Getting Out Of Your AdvancedFrame Kayak from Advanced Elements
No.
It's good up to about 6'2″, but beyond that, you want to consider the AdvancedFrame Expedition Elite kayak.
You can adjust the seat straps to bring the seat closer to the front of the kayak, or further back in the cockpit to give you more leg room.
When I say "about 6'2", it's hard to be precise. Whether you fit in the kayak is more a function of leg length, rather than overall height. It also depends on how you like to sit in the kayak – legs straight requires more space than legs bent.
The maximum capacity is 136kg / 300lbs.
I have found that the rigidity of the kayak starts to drop off at around 90kg, at which point I recommend getting the high-pressure drop-stitch floor. This floor dramatically increases the rigidity (and therefore performance) of the kayak in the higher weight ranges.
How to use the AdvancedFrame Kayak
What's included & what to buy
You need to purchase a life jacket at a minimum.
Check out our Fishing Gear section if you want to do some kayak fishing.