In stock in our Brisbane warehouse - ships within 1-2 business days.



12 month warranty
Paddle & Pump Sold Separately
Paddle & Pump Sold Separately
Frequently Bought Together
The Speedy AirFusion EVO Kayak
The v-shaped, narrow hull is super fast - paddles like a hard-shell sea kayak

Lightweight at only 14.5kg for a 4m kayak

Compact for easy travel and storage

Durable and reliable - tough materials and multiple air chambers
Goes Straight and Super Fast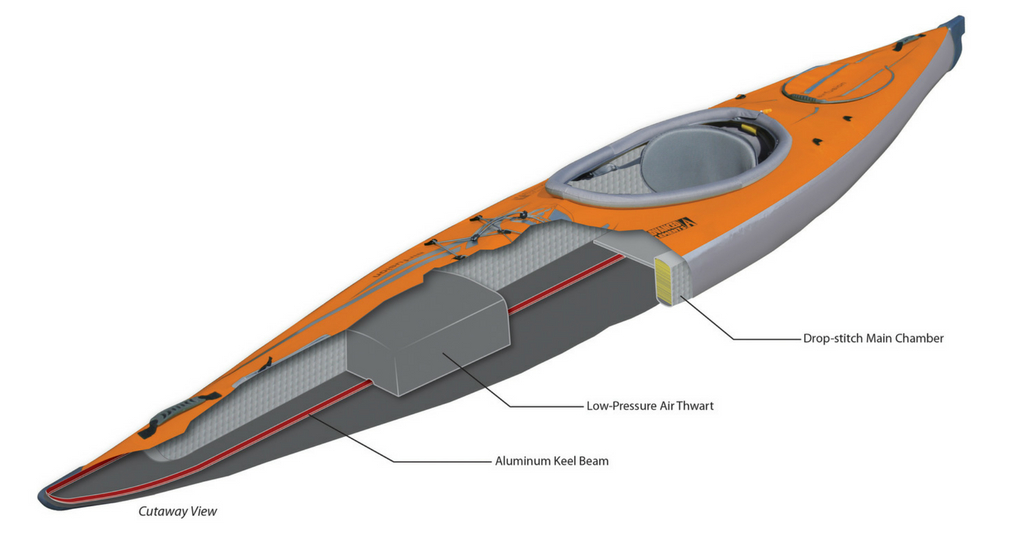 The streamlined design of the AirFusion Evo kayak makes it super fast.
In fact, it doesn't even look like an inflatable kayak!
Advanced Elements have used drop-stitch technology in the walls to give it buoyancy and rigidity without being bulky. It's so narrow, it cuts through the water easily.
The internal pole structure gives it a v-shaped hull, helping it to track straight through the water
Lightweight and Compact - Great for Travel and Storage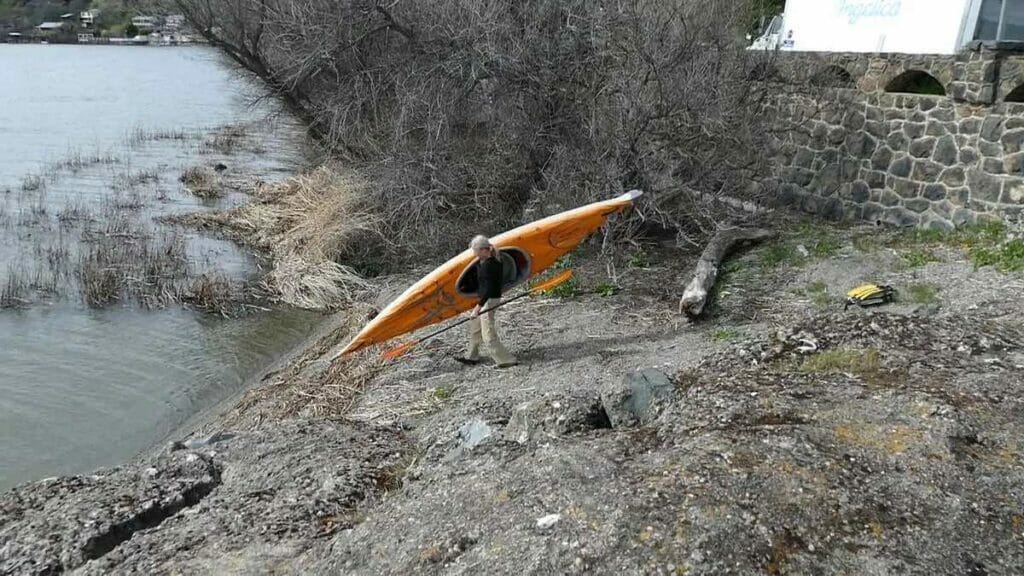 There's no point in having a compact, high performance kayak that is so heavy you can't lift it!
Advanced Elements have used the latest technology in the AirFusion Evo to create an inflatable kayak that is both lightweight (only 14.5kg) AND durable.
Finally, a 4m high performance kayak that most people can lift by themselves.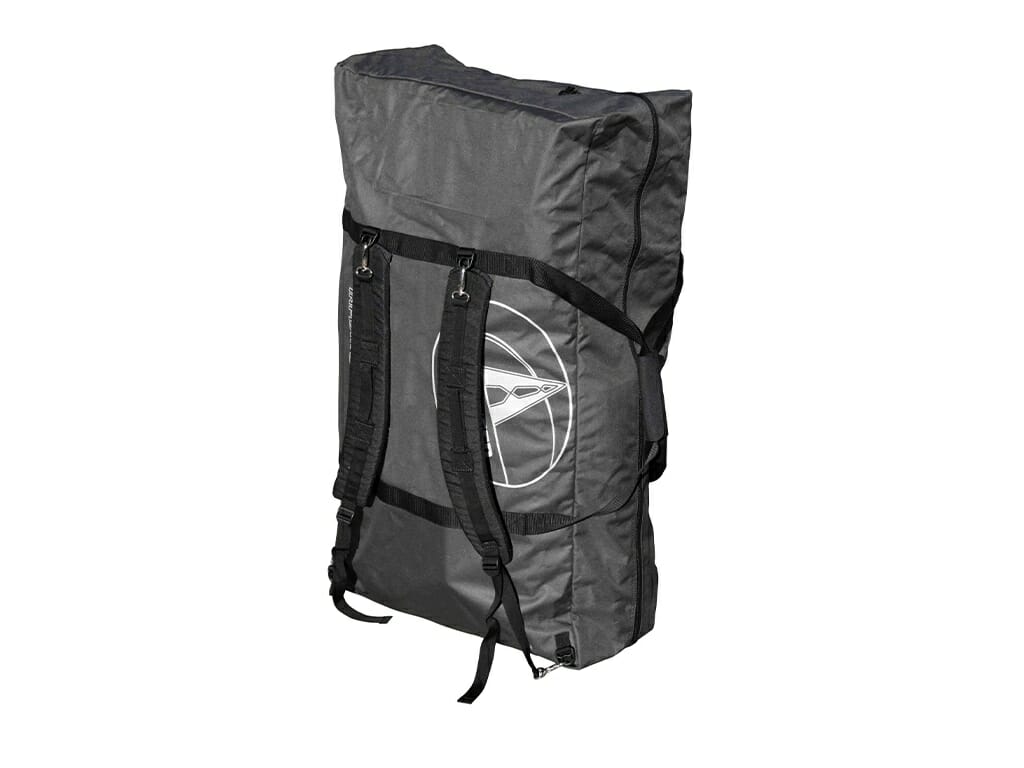 Packs up into a bag with detachable straps about the size of a suitcase for easy storage and transport – planes, trains and automobiles, the world is your oyster!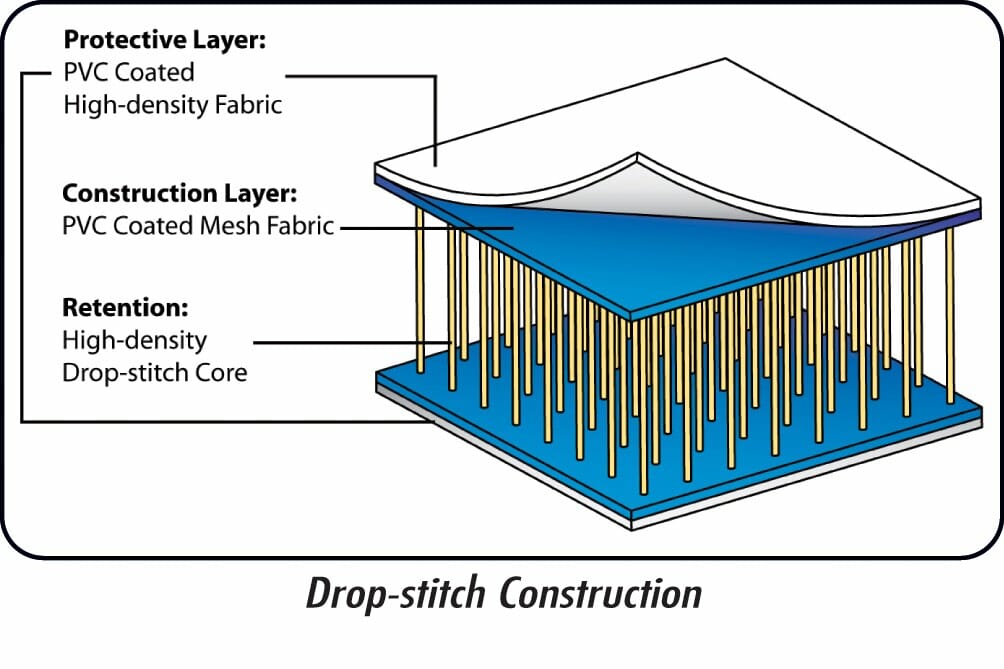 Super-tough drop-stitch side chambers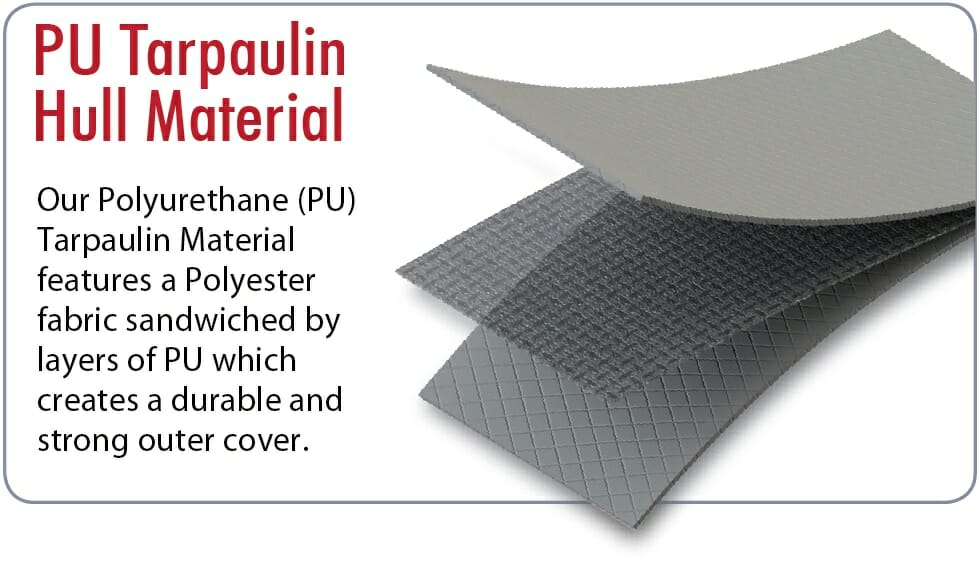 Durable triple-layer PU tarpaulin hull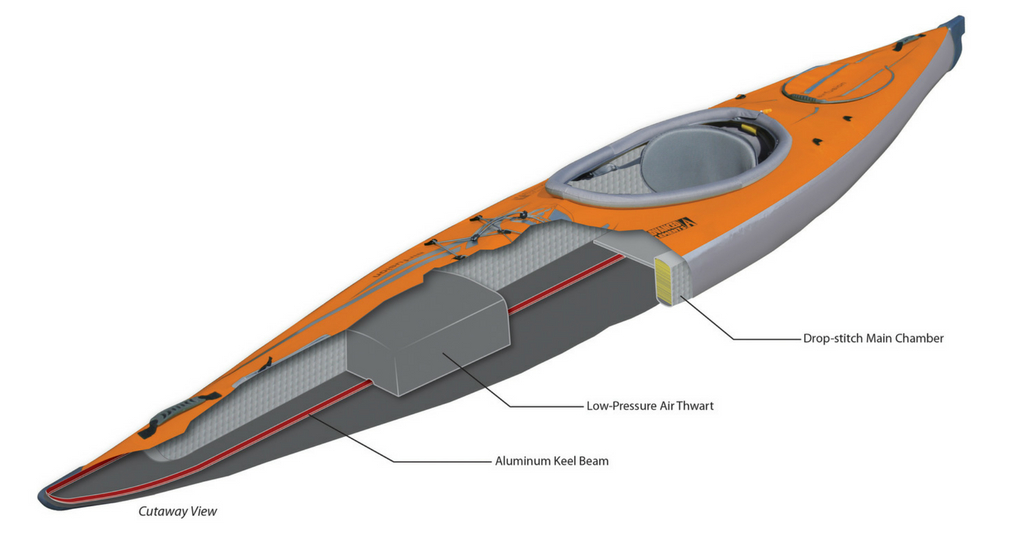 Multiple air chambers for safety
Length: 13′ (4m)

Weight: 32 lbs (14.5 kg)

Colour: Orange

Brand: Advanced Elements

Lakes, Bays and Inland Waterways: Yes

Coastal/Open Water: Yes

Self-bailing: No

Compatible with AirFusion Skeg: Yes
Width: 24" (61cm)

Maximum Capacity: 235 lbs (106 kg)

Max. Paddler Height: 6'2"

Deflated and Packed Dimensions: 35″ X 21″ X 9″ (89cm x 53cm x 23cm)

Warranty Period: 12 Months

River (Class): II

Compatible with Rudder Kit: No

Set-up Time: 13 minutes
Only a little.
All kayaks are wind affected to some degree.
You can generally predict how wind affected it's going to be based on the ratio of kayak above the waterline to kayak below the waterline.
The AirFusion EVO is a sit-in kayak, and it sits quite low in the water, especially compare to other inflatables, so it performs quite well in wind.
The seat (included) has a stiff, high back, which gives you excellent support, IF you get the angle right.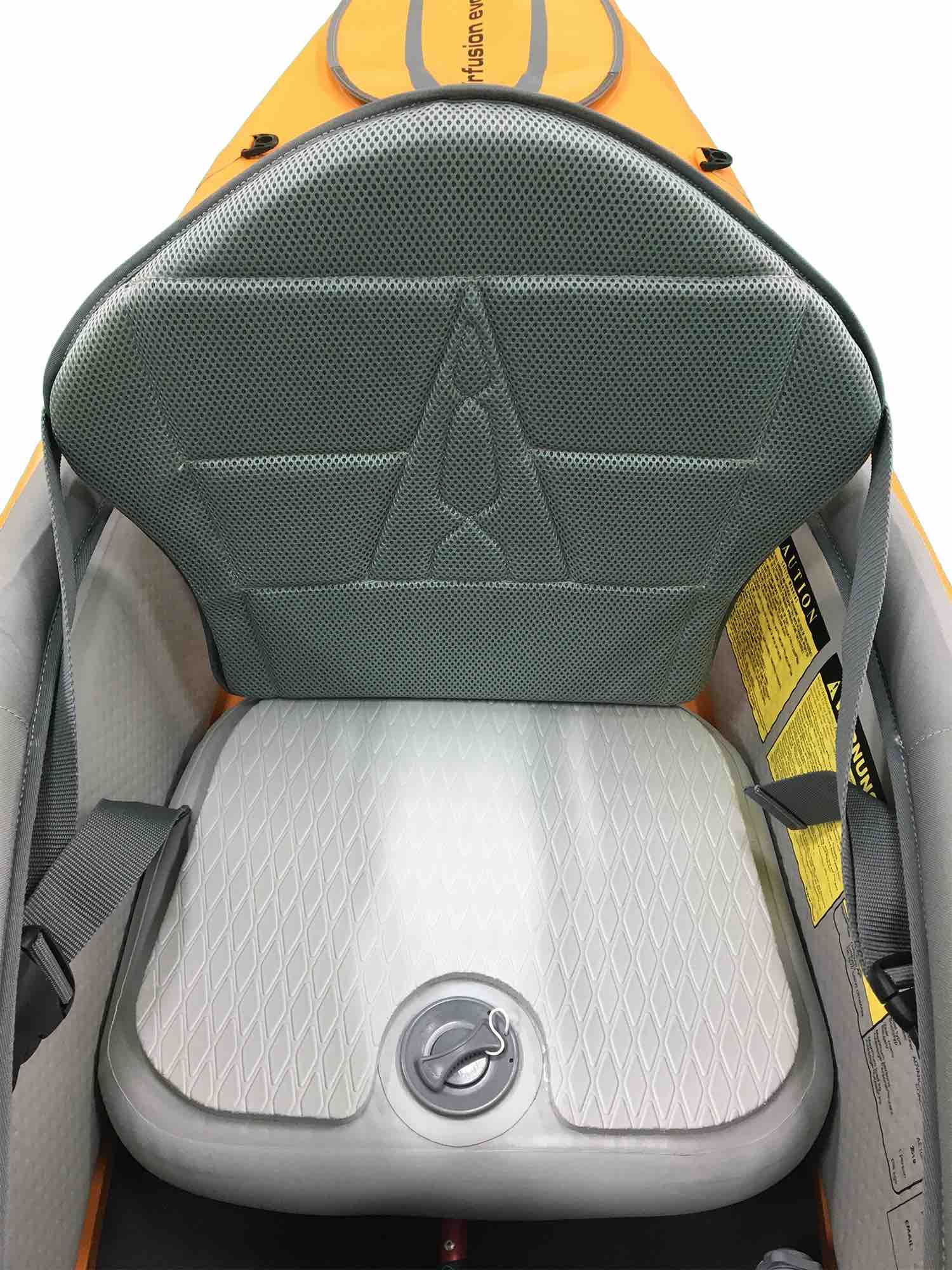 The seat includes an inflatable bum cushion, which gives you some nice lift off the floor of the kayak. I've found this lift takes the pressure off the hamstrings and lower back.
The front thwart acts as a foot brace, which adds to your comfort by supporting your lower back as you paddle.
The front thwart in the AirFusion EVO acts as a foot brace.
A lot of paddlers swear by foot braces for encouraging good paddling technique and for supporting the lower back.
The AirFusion EVO kayak has very good back support – the seat back is high and stiff with adjustable straps to get the angle right. It also includes an inflatable bum pad for comfort and lift.
Who is the AirFusion EVO Kayak good for?
It's not my first choice for a beginner, because it's not super stable and not as easy to paddle straight without the skeg.
If a beginner was interested in the AirFusion EVO kayak, I would recommend buying the skeg, and either Youtubing kayaking technique or getting some actual kayak lessons. It won't take long to master it and it's a wonderful kayak – well worth it!
In my experience, seniors are looking for a lightweight kayak, and at 14.5kg, the AirFusion EVO kayak is reasonably lightweight.
The other key features for seniors are stability and ease of getting in and out – the AirFusion EVO does NOT satisfy these criteria so well.
It's a long, narrow kayak, which means it's awesome to paddle, but less stable on the water, especially when getting in and out.
It has a fixed cockpit as well, so you need some flexibility to tuck your legs in.
The seniors I have sold it to in the past were experienced kayakers and could manage this, no problem.
So it's really up to you! If you are not very tall, the cockpit probably won't be an issue. If you give yourself some time and maybe lessons, the stability will come.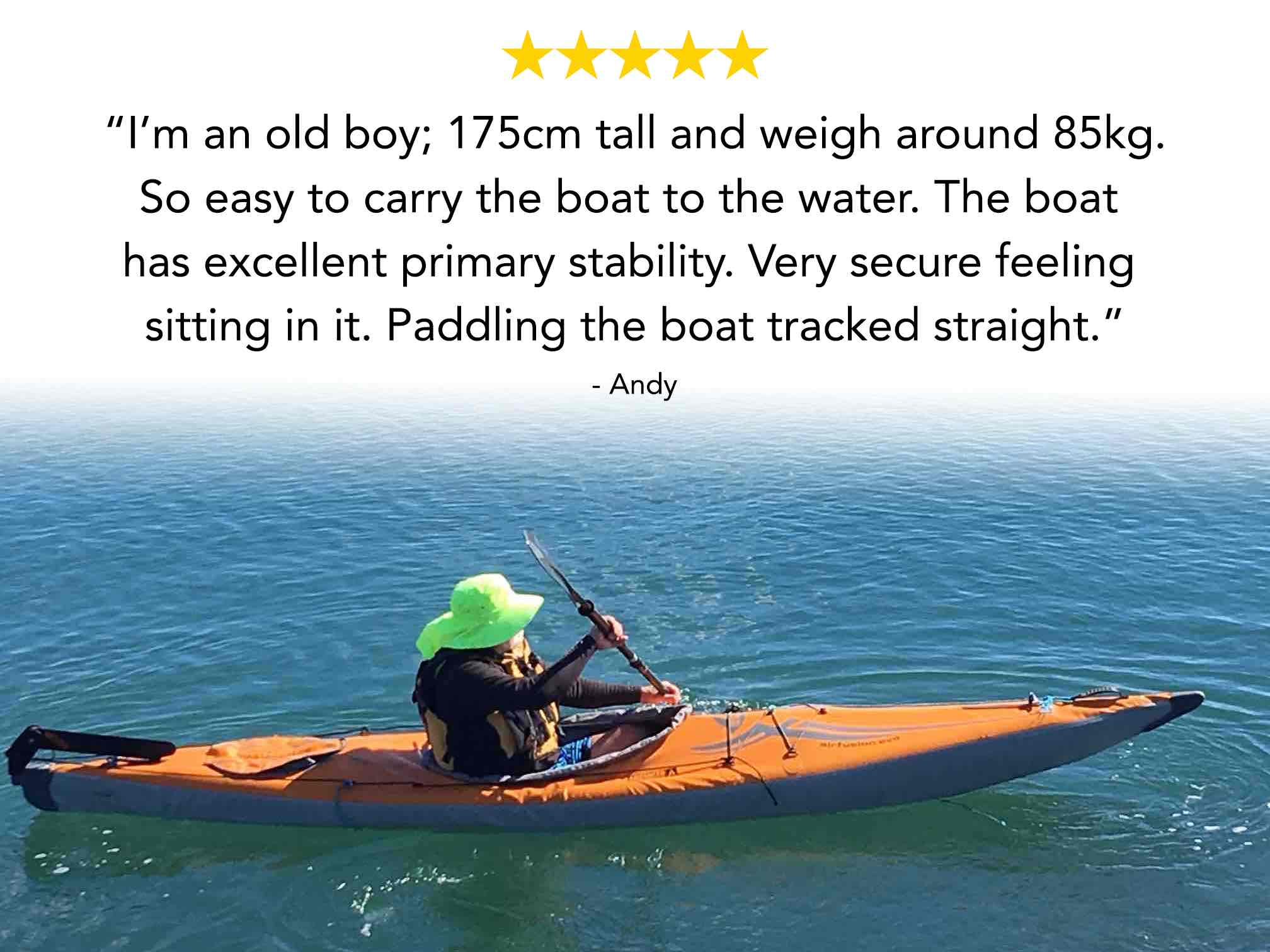 It's possible, but I would suggest going for a more stable kayak for your child.
It's not our easiest kayak for getting in and out of, but I don't think I would say it was difficult.
It's less stable than our others, so you have to be a bit more careful, and it has a fixed cockpit, so if you have very long legs, it might be a struggle to tuck them in there.
No.
It's good up to about 6'2″, but beyond that, it becomes a struggle to tuck legs into the cockpit.
The maximum capacity is 106kg / 235lbs.
About the AirFusion EVO Kayak
Advanced Elements have been making inflatable kayaks for well over 20 years – you don't have to worry about quality.
All kayaks are inflated at the factory and left for 24 hours to ensure there are no slow leaks.
The main hull material used is called PU tarpaulin and it is super thick and tough.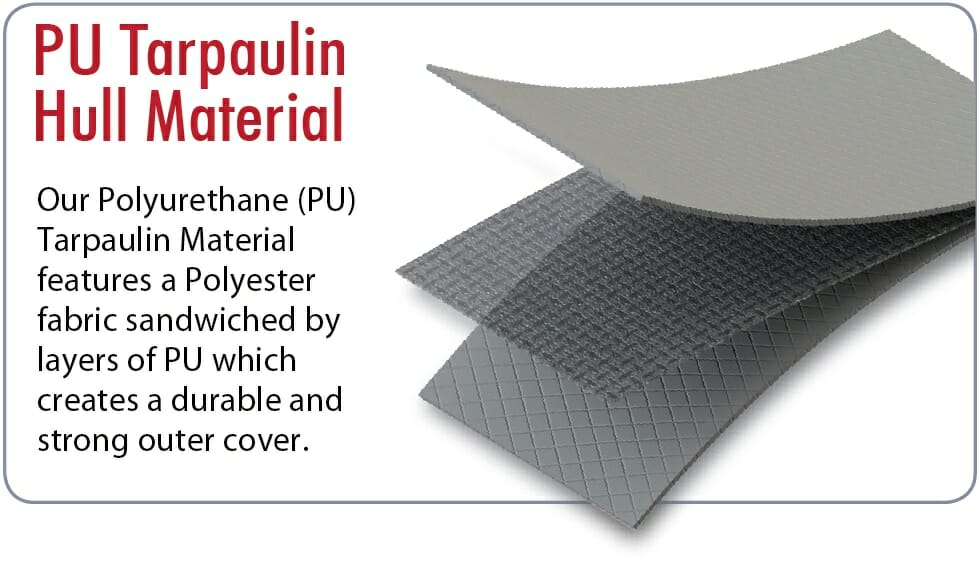 The sides are high quality drop-stitch, also extremely tough: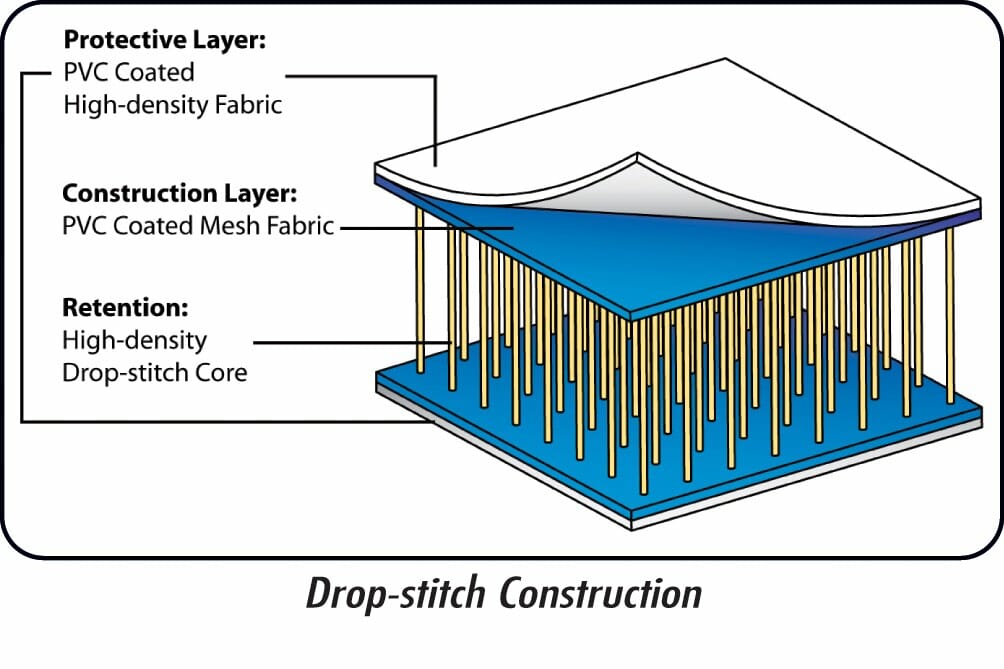 In the extremely rare case that you damage the hull, the kayak comes with a repair kit, so you can put on a patch.
The AirFusion EVO is a sit-in kayak.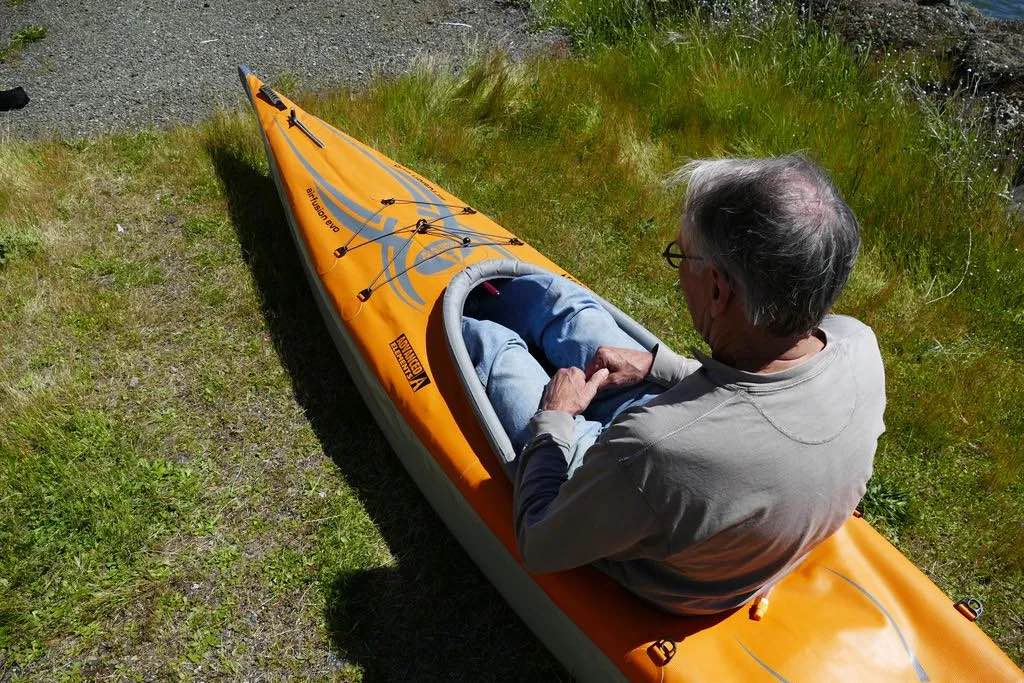 The cockpit has inflatable coaming so you can put on a spray skirt.
The AirFusion EVO kayak is not super stable but it's not super tippy either. It's somewhere in the middle.
It is not stable enough for dogs, fishing or kids.
It does not have a fin included, but you can (and should) buy the AirFusion Skeg which will enhance the tracking.
The Rudder Kit we sell is NOT compatible with the AirFusion EVO kayak.
Yes, the ePropulsion Vaquita can be used with the ratchet straps (included with the propeller).
Yes, the Touring Spray Skirt can be fitted over the inflatable coaming to keep you warm and dry.
• Bungee deck lacing
• Hybrid Aluminum Frame and High Pressure Drop-Stitch Air Chamber Design
• Inflatable Coaming for spray skirt attachment
• D-ring gear tie downs
• Roll-top rear storage access hatch
• Rubber molded handles
• Optional fixed skeg
The AirFusion EVO Kayak is manufacted by Advanced Elements (an American company), in their factory in Indonesia.
All kayaks are inflated and left overnight on the factory floor to ensure they are fully functional before shipping out.
Learn more about Advanced Elements. 
The AirFusion EVO Kayak is a custom model, manufactured only for Oz Inflatable Kayaks in Australia.
How to use the AirFusion EVO Kayak
• Carrying Duffel Bag w/ Shoulder Straps
• Folding Inflatable Seat
• Repair Kit
• Owner's Manual
Any double bladed kayak paddle will work.
Pretty well any pump on the market capable of 6 PSI will work, but I would strongly suggest you purchase our Double Action Hand Pump with Gauge because it has all the right adapters and comes with a 12 month warranty.