Want to have a comfortable, relaxing paddle together? The Cruising in Comfort Kayak Package will get you out on the water quickly and easily, so you can do some serious relaxing. It paddles like a dream, even if you have zero kayaking experience. See below for why the AdvancedFrame Convertible is a comfortable cruiser.
Who is the Cruising in Comfort Kayak Package for?
Paddlers who need (or want) a versatile kayak and
Uses a caravan to travel
Want a kayak that is easy to set-up and easy to paddle
Want something that is comfortable and spacious
Want a stable kayak so they can take a child or a dog paddling
Are apartment dwellers
Here's why this kayak is such a comfortable cruiser
At 4.5m long, the AdvancedFrame Convertible Kayak is one of the longest, and therefore fastest inflatable kayaks on the market.
This kayak glides along beautifully!
Even if you have never kayaked before in your life, you will easily be able to paddle this inflatable kayak in a straight line. It has been specially designed with ribs in the bow and stern and a tracking fin, so that you don't have to know what you are doing!
The AdvancedFrame Convertible Kayak has a wide flat hull, giving it excellent stability. This means you can relax and enjoy the paddle, you are not concentrating on balance the whole time.
The AdvancedFrame Convertible Kayak has a wide flat hull, giving it excellent stability. This means you can relax and enjoy the paddle, you are not concentrating on balance the whole time.
Although it has an open cockpit, the AdvancedFrame Convertible Kayak is still a sit-in kayak. If you are going kayaking in winter or on a cool day, you can all stay dry and sheltered from the wind.
Like all our inflatable kayaks, the AdvancedFrame Convertible Kayak packs up into a bag. This makes it easy to take camping, on your boat, in a caravan, or store in an apartment.
All of the Advanced Elements kayaks that we sell are ruggedly durable from the outside – you don't have to worry about punctures from submerged objects.
The AdvancedFrame Convertible Kayak is made of very high quality materials that are designed to take a beating.
With multiple air chambers, multiple layers covering the main chambers and the extra-tough PVC tarpaulin on the hull, you don't really have to worry about punctures.
All products are covered by the Advanced Elements 12 month's warranty.
Quick and Easy Set-up
Comes pre-assembled so there is no complicated set up – just inflate and paddle!
AdvancedFrame Convertible Inflatable Kayak
Included Accessories:
Carrying Duffel Bag
2 Folding Seats
Repair Kit
Owner's Manual
New advanced inflation valves
2 Adjustable padded back supports
D-ring tie downs
Moulded low-profile rubber handles
Reinforced bow and stern seams
Durable double-coated fabric
Paddle holders
Skeg tracking fin
6 Chambers
Deck lacing for quick access to gear
Rip-stop fabric
LENGTH: 15′ (4.57m)
WIDTH: 32″ (81cm)
WEIGHT: 56 lbs (25 kg)
MAXIMUM CAPACITY: 550 lbs (249 kg)
COLOUR: Red/Gray
DEFLATED AND PACKED DIMENSIONS: 36″ x 21″ x 11″ (91cm x 53cm x 28cm)
SELF-BAILING: No
COMPATIBLE WITH RUDDER KIT: Yes
SET-UP TIME: 7 minutes
2x Adventure Voyage 4-Part Paddle
These paddles are light, durable and fit-together snugly. And they break down into 4 small pieces so you can fit them where you store your kayak.
MODEL: AE2037
WEIGHT: 1.1kg
BRAND: Advanced Elements
BLADE: Glass-filled Nylon/Asymmetrical-Dihedral
LENGTH: 230 cm
SUITABLE FOR: Long distance touring
COLOUR: White blades, black shaft
PACKED LENGTH: 63.5cm
WARRANTY PERIOD: 12 months from purchase
SHAFT: Aluminum Alloy
CONFIGURATION OPTIONS: Unfeathered, 60 Degrees LHC, 60 degrees RHC
I love this pump! It allows you to stand upright to inflate the kayak, so you don't have to bend over.
DIMENSIONS: 36 x 25 x 8 cm (when secured with the clip)
WEIGHT: 0.93 kg
PRESSURE GAUGE: Not included, but compatible with Inline Valve Adaptor with gauge
DOUBLE OR SINGLE ACTION: Single Action
SUITABLE FOR: All Advanced Elements inflatable kayaks, except the AirFusion Elite (AE1041). NOT suitable for SUPs.
HAS A DEFLATE OPTION: Yes
MAX PRESSURE: 2.5 PSI
Inline Valve Adaptor with Gauge
The Inline Valve Adaptor screws directly into the spring valve of your Advanced Elements inflatable kayak so you can see the pressure building as you pump.
For all Advanced Elements Inflatable Kayak models 2006 and newer with a Spring Valve.
PackLite Roll Top Dry Bag Set
Car keys, phones, glasses, cameras, towels, shoes … this dry-bag set comes with 3 sizes so you can take your stuff on the kayak with you, and know that it is dry and secure.
Dry Bag Set Specifications
MODEL: AE3506
COLOUR: orange, yellow and red
SIZE: 3L, 5L, 10L
BRAND: Advanced Elements
WARRANTY PERIOD: 12 months
Why lift more than you have to? The kayak cart allows you to wheel the kayak to and from the water, so you don't have to carry it. It can be tucked under the bungee cords when you are paddling so it is handy when you come back to shore.
WEIGHT: 3.2kg
CARRYING CAPACITY: 91kg
Customer Reviews
06/10/2021
John B.

AU
Happy paddler
The kayak is great easy to inflate and moves well through the water. We thoroughly enjoyed the experience. Our first paddle was on the Maroochy river in Queensland. We launched from the boat ramp at the end of Nojoor road. The area has some great protected areas and beach access. The day we paddled was quit windy but the kayak handled well.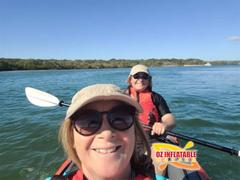 Cruising In Comfort Package Opened Up A Whole New World For Us
This package is excellent! You know when you're camped on a river and you think, "I wonder what's around that bend?" Well, now we can find out for ourselves. So easy to inflate, and to pack away. It tracks straight and cuts through the water beautifully. We love it!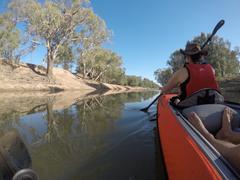 Great Kayak
Great Kayak. The wife and I have been looking for something to have some fun with and get some exercise in, an this is great. Very impressed with the build quality and ease of setup. We are in our 60's and we handle it fine.