Jacob and I went kayaking at Emerald Lakes on the Gold Coast.
Although it was a cloudy day, there was no wind so the water was beautifully calm – perfect for kayaking!
I was paddling the AdvancedFrame Sport inflatable kayak and Jacob was paddling the AdvancedFrame Expedition inflatable kayak. We love these two kayaks because they are so quick and easy to set up, very comfortable and reasonably fast on the water.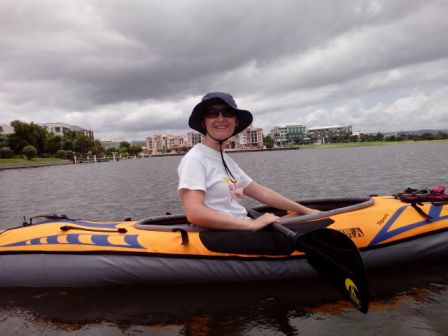 Although the Expedition is a faster kayak than the Sport, Jacob spends a lot of his time just gliding along, looking around, so it doesn't seem to matter.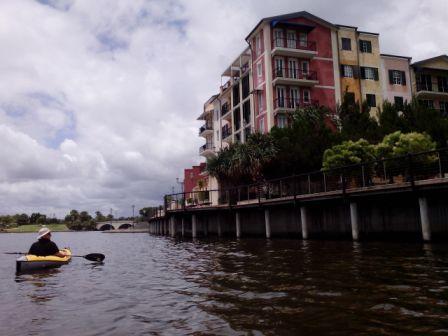 Emerald Lakes is a fairly recent property development on the Gold Coast and it has been designed to resemble various types of European architecture.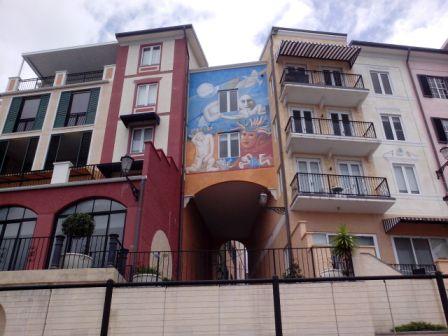 Kind of strange to see frescos and Michelangelo's David in the middle of Australian suburbia…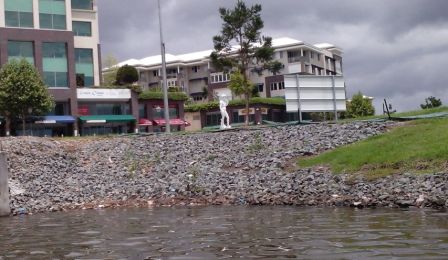 The lakes are designed with some nooks and crannies to explore. Here is me under the boardwalk: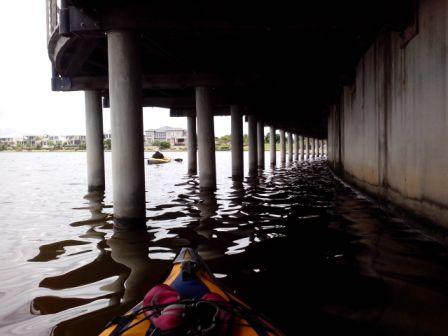 I love paddling under bridges and boardwalks, it's so eerie.
And here is Jacob about to go under the arched bridge to see what's on the other side. Like the proverbial chicken.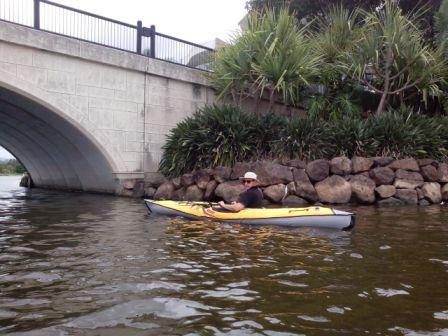 It was an easy and relaxing kayaking destination that I would definitely recommend.
Kayaking at Emerald Lakes on the Gold Coast
If you want to go kayaking at Emerald Lakes on the Gold Coast, here are the details:
Emerald Lakes is a property development in the Gold Coast suburb of Carrara. The lakes are open to public use, but there are no power boats allowed. The lakes do NOT connect to the Nerang River.
We launched from the boat ramp.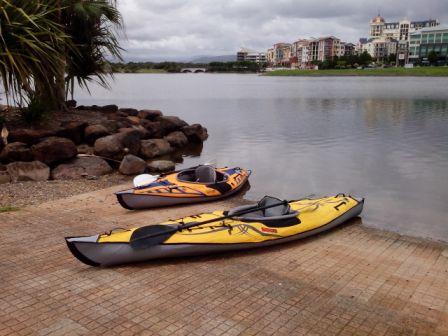 It's just off Lakeside Drive and there are parking spots right there.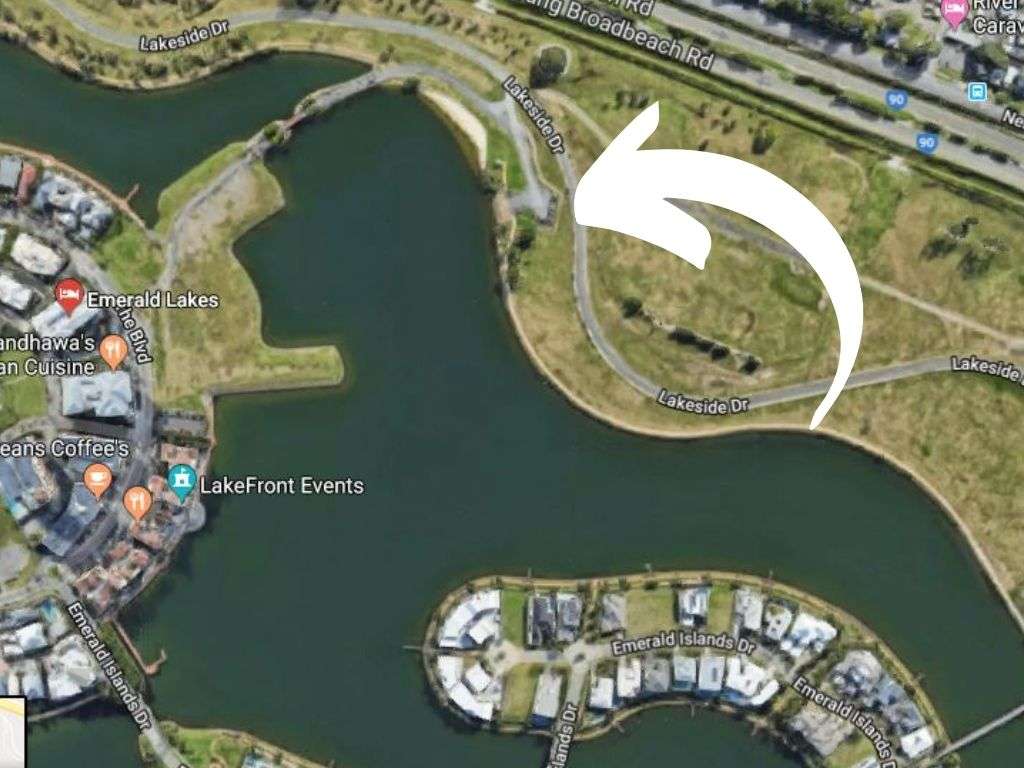 From there we just glided around. There are no tides to worry about, so there is no 'wrong way' to go.
The AdvancedFrame Sport is lightweight at 11.5kg – easy for me to handle on my own
They are both very comfortable with supportive back rests for relaxing
They are both simple and quick to set up – 4 minutes and 10 seconds for the Sport!
They are both wonderful for cruising along in the water – they track straight and go reasonably fast
BUT, they might not be the right kayaks for you.
It's a lot of money down the drain if you get the wrong model, so it's worth asking for my advice!
Click HERE to get your FREE personalised kayak recommendation
About Oz Inflatable Kayaks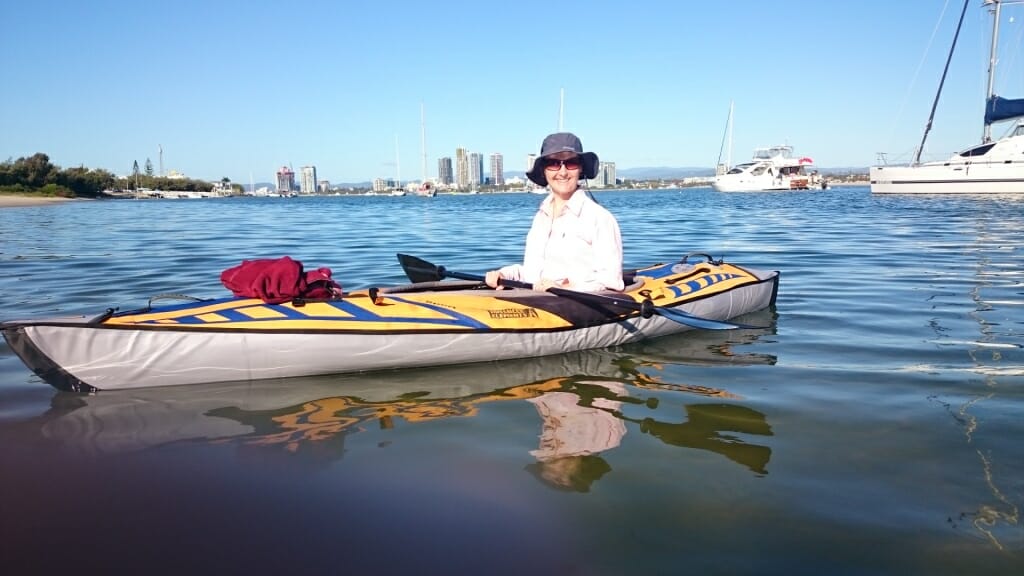 Hi, my name is Emily and over a decade ago I thought to myself "gee, I would really love to go kayaking … if only I had a big strong butler to help me get a kayak on and off roof racks. Oh, and several thousand dollars for the kayak and the roof racks (not to mention the cost of the butler)".
To find a way to go paddling without a heavy hard-shell kayak, I started looking into inflatable kayaks. But I did NOT want a pool toy.
The Advanced Elements range of inflatable kayaks really blew me away (excuse the terrible pun).
I realised that the quality was not just about durability, it also meant that the kayaks were comfortable and easy to paddle straight and fast.
It just so happens that I was also looking for a business opportunity at the same time…
Nowadays I specialise (and delight) in selling Advanced Elements inflatables to all kinds of people in Australia.
I know the range so well that I do personalised recommendation videos to help people choose the right kayak.
It's a no-obligation service that I enjoy doing AND it helps me in the long run because my customers that get a recommendation get the right kayak, first time. They are HAPPY customers!
So if you are even vaguely thinking about kayaking, get in touch or get your FREE personalised kayak recommendation now.
Click HERE to get your FREE personalised kayak recommendation
Enjoyed this story about Jacob and I kayaking at Emerald Lakes on the Gold Coast?