In stock in our Brisbane warehouse - ships within 1-2 business days.



 12 month warranty
Paddle & Pump included
Paddle & Pump included
Looking for a lightweight kayak that does not compromise on performance? The Lightweight Deluxe Kayak Package allows you to use proper paddling technique for a full day's paddle, but weighs in at only 13kg and sets up in under 5 minutes. Durable enough for dogs, kids and fishing.
Who is the Lightweight Deluxe Kayak Package for?
Paddlers who need (or want) a lightweight kayak and:
Here's why this is a top-notch lightweight kayak
The AdvancedFrame Sport Elite Kayak performs well on the water, thanks to the aluminium ribs inside the kayak . These ribs give the kayak a vertical bow and stern that prevent 'waggle' as you paddle.
It also has a built in fin on the hull that helps the kayak track straight.
Note that this kayak is designed for sheltered flat water – it is not suitable for whitewater and does not have an open water classification.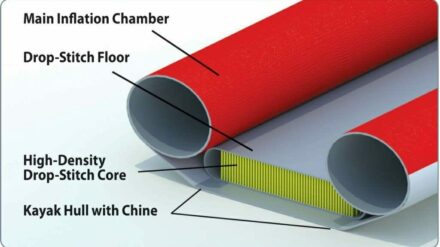 Drop-stitch is a chamber that is stitched top-to-bottom all the way through, so you can inflate it to very high pressure, but it maintains its shape.
The drop-stitch floor improves the performance of the kayak by giving you exceptional rigidity, especially when you are over 90kg.
The rigidity means the kayak travels through the water faster because there is less drag, AND it means the bow and stern stay IN the water, allowing the AdvancedFrame aluminium rib system to do its job.
It also gives you 'chines' in the hull – this is a fancy kayak word for corners. These corners help the kayak to track straight.
Stable and Wide-Open Cockpit
The AdvancedFrame Sport Elite is a sit-in kayak, but it has a much bigger cockpit than most sit-in kayaks. 
This wide-open cockpit makes it much easier to get in and out of.
If you are a beginner, you will love the Lightweight Deluxe Kayak Package – the stability and the straight tracking make it a doddle to paddle.
It's also great because it gives you plenty of room for dogs, small kids and for fishing gear.
The kayak is also STABLE enough for dogs, kids and fishing – sudden movements from an unpredictable element might cause you to capsize in a narrow kayak, but the AdvancedFrame Sport is wide enough to handle surprises!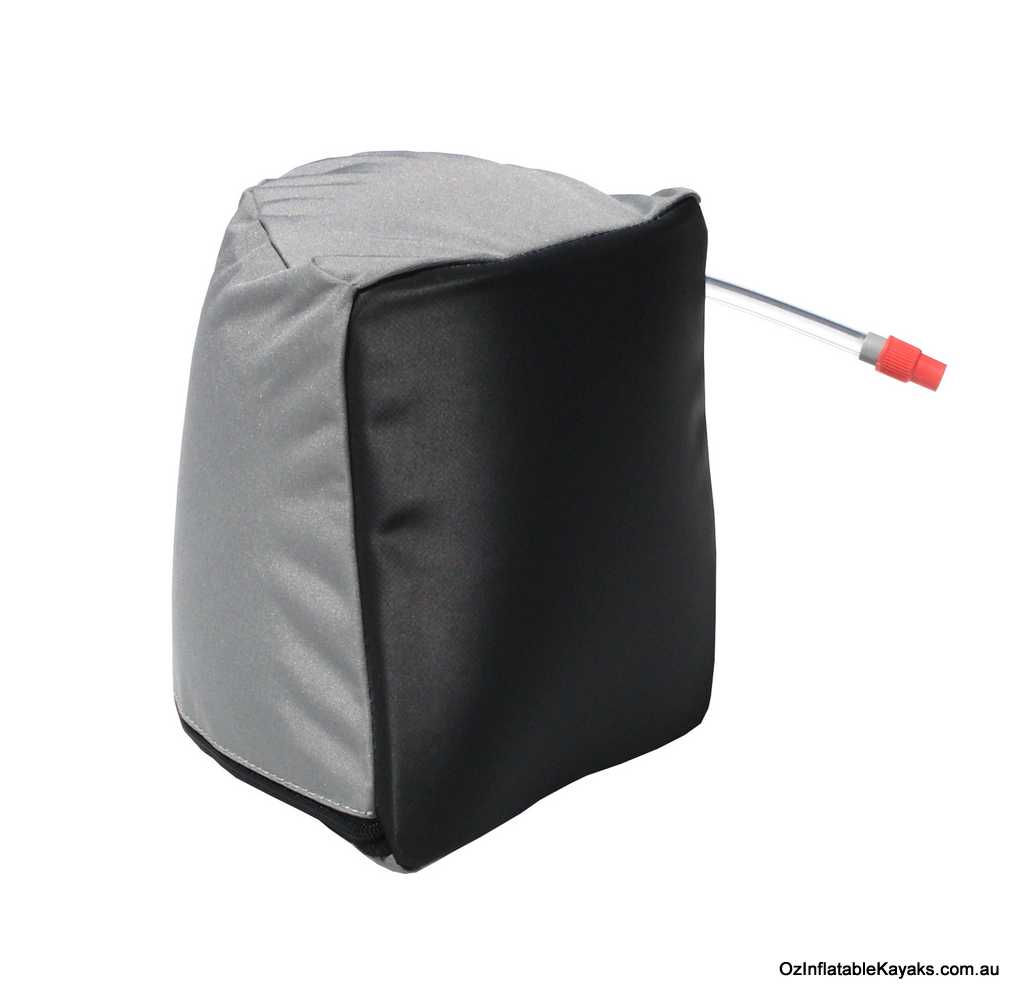 The Foot Brace that comes with the Lightweight Deluxe Kayak Package allows you to brace your feet so you can use proper paddling technique. This technique isn't just about going faster, it also gives you a better, full-body work out, and saves your back.
All of the Advanced Elements kayaks that we sell are ruggedly durable from the outside – you don't have to worry about punctures from submerged objects.
Not only does the AdvancedFrame Sport Elite Kayak have multiple layers protecting the inner tube, the outer hull is made from thick, multi-layered PVC Tarpaulin.
What sets the Lightweight Deluxe kayak package apart is the durability INSIDE the kayak. If you want to take your dog(s) or do a bit of fishing, the drop-stitch floor is tough as nails. No need to worry about claws or hooks!
All products are covered by the Advanced Elements 12 month's warranty.
Lightweight and Quick Set-up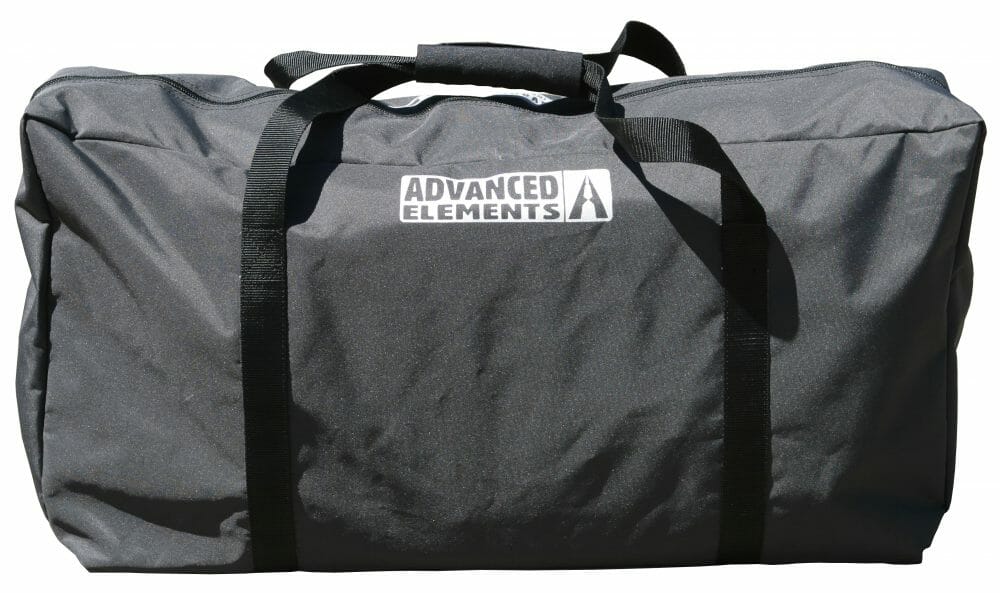 Many people contact me looking for a lightweight kayak, it just makes the process of going kayaking so much more appealing if you don't have to lift a really heavy boat.
It's appealing for people that want to go kayaking alone – if the kayak is lightweight and easy to set up, you're more likely to enjoy the peace and quiet of solo kayaking.
And then of course, there are those customers who need a portable kayak for travel and have a weight constraint.
With the Lightweight Deluxe Kayak Package, the kayak is 13kg, which is manageable for most people.
Bear in mind that you don't want your inflatable kayak to be too light, because you need a bit of weight for durability and performance.
The set-up time is 5 minutes from in-the-bag to on-the-water.
And if you're someone who struggles with instructions, it's REALLY simple!
AdvancedFrame Sport Elite Kayak Specifications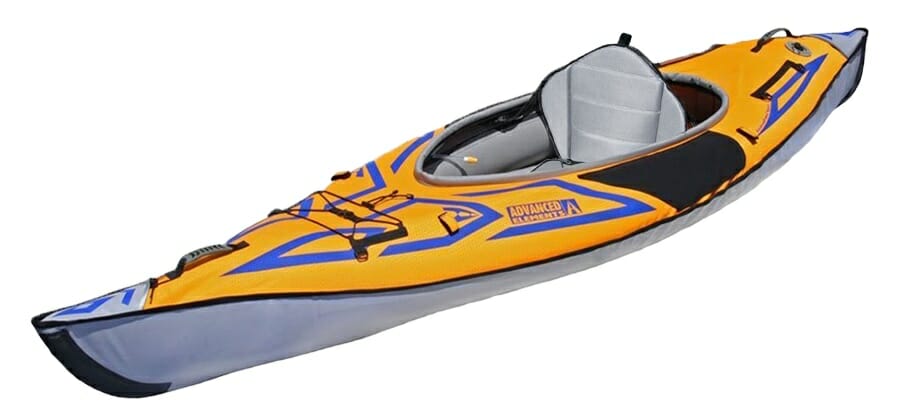 About the AdvancedFrame Sport Elite Kayak
Advanced Elements have been making inflatable kayaks for well over 20 years – you don't have to worry about quality.
All kayaks are inflated at the factory and left for 24 hours to ensure there are no slow leaks.
The main hull material used is called PVC tarpaulin and it is super thick and tough.
The floor is high quality drop-stitch, also extremely tough:
In the extremely rare case that you damage the hull, the kayak comes with a repair kit, so you can put on a patch.
There is a fin – it is part of the hull.
There is no rudder on the AdvancedFrame Sport Elite kayak.
Although the Rudder Kit we sell is technically compatible with this kayak, you would have to be exceptionally short for that to be viable.
Note that the AdvancedFrame Sport Elite kayak is easy to paddle, tracks very well and is not very wind affected, so you are not likely to need a rudder.
Yes, the ePropulsion Vaquita can be used with the ratchet straps (included with the propeller).
No.
The cockpit is too big and there is no inflatable coaming.
• Advanced Elements spring valves
• High-back adjustable seat with inflatable lumbar support
• Moulded rubber handles
• Hard edge bow and stern
• Welded seams
• Neoprene knuckle guard
• Storage compartment
• Bungee deck lacing
• Reinforced bow and stern
• Skeg/tracking fin
• Inflatable Foot Brace
• High-pressure drop-stitch floor
• D-ring tie downs
The hull is PVC tarpaulin – an extremely tough multi-layer material.
The floor is high quality drop-stitch.
The deck and inner tube covers are rip-stop polyester.
The inner tube is PVC.
There is an aluminium rib inside the bow and stern.
There are rubber moulded handles at each end and some elastic bungee lacing.
I think that covers everything!
The AdvancedFrame Sport Elite Kayak is manufacted by Advanced Elements (an American company), in their factory in Indonesia.
All kayaks are inflated and left overnight on the factory floor to ensure they are fully functional before shipping out.
Learn more about Advanced Elements. 
The AdvancedFrame Sport Elite is a custom model, manufactured only for Oz Inflatable Kayaks in Australia.
How to use the AdvancedFrame Sport Elite Kayak
What's included & what to buy
You need to purchase a life jacket as the minimum.
Check out our Fishing Gear section if you want to do some kayak fishing.