Does your pooch like to paddle? One or many, big or small, the Dog Lovers Kayak Package sets you up for a comfortable and safe paddle with your best friend(s), and allows you to take another human friend along as well. See below for why the AdvancedFrame Convertible Elite is such a great dog kayak.
Who is the Dog Lovers Kayak Package for?
Paddlers who need (or want) a rigid kayak and
Want to paddle with their dogs
Want a kayak that is easy to paddle solo (turns out, dogs don't paddle!)
Want the best speed and tracking
Use a caravan to travel
Need a lot of leg-room
Need a lot of back support
Are apartment dwellers
Here's why this kayak is such a great dog kayak
It's not just your dog going over board you have to worry about. If they are 'rocking the boat', you might be the one that falls out!
The AdvancedFrame Convertible Elite inflatable dog kayak can be paddled solo or tandem, which is great for multiple dogs and / or multiple people.
There is plenty of room for a couple of large dogs, or a couple of people and a large dog, without being squishy. Your dog will have room to manoeuvre and get comfortable.
Semi-Open Cockpit with Walls
You don't want your dog to be below the deck like they might be in a regular sit-in kayak.  But you also may not want them to be getting wet, like they would in a sit-on-top dog kayak.  So having a semi-open cockpit with walls gives you the best of both worlds.  They can see and smell what's going on, but stay dry.
Easy to Paddle (Especially Solo)
Although it is a 'dog kayak', your dog is not going to be doing any paddling, right?
But don't worry. The design of the AdvancedFrame Convertible Elite means it is easy to paddle straight, even when you are the only one paddling…
Durable - A Dog Kayak Needs to Handle Claws!
Sometimes your four-legged friends can get a bit excited, so it's good to know that your kayak can handle sharp claws!
The AdvancedFrame Convertible Elite from Advanced Elements has several layers of durable material to protect the inner tubes.
The floor is constructed from super heavy-duty drop-stitch.
Quick and Easy Set-up
Comes pre-assembled so there is no complicated set up – just inflate and paddle!
AdvancedFrame Convertible Elite Kayak
Included Accessories:
Duffel bag with padded backpack straps
2 Lumbar Seats
Drop-Stitch Floor
Repair Kit
Owner's Manual
High pressure drop-stitch floor
New advanced inflation valves
2 Adjustable padded back supports
D-ring tie downs
Moulded low-profile rubber handles
Reinforced bow and stern seams
Durable double-coated fabric
Paddle holders
Skeg tracking fin
6 Chambers
Deck lacing for quick access to gear
Rip-stop fabric
LENGTH: 15′ (4.57m)
WIDTH: 32″ (81cm)
WEIGHT: 56 lbs (25 kg)
MAXIMUM CAPACITY: 550 lbs (249 kg)
COLOUR: Red/Gray
DEFLATED AND PACKED DIMENSIONS: 36″ x 21″ x 13″ (91cm x 53cm x 33cm)
SELF-BAILING: No
COMPATIBLE WITH RUDDER KIT: Yes
SET-UP TIME: 8 minutes
2x Adventure Voyage 4-Part Paddle
These paddles are durable and light, and having two of them means you can take a human friend if you want to.
MODEL: AE2037
WEIGHT: 1.1kg
BRAND: Advanced Elements
BLADE: Glass-filled Nylon/Asymmetrical-Dihedral
LENGTH: 230 cm
SUITABLE FOR: Long distance touring
COLOUR: White blades, black shaft
PACKED LENGTH: 63.5cm
WARRANTY PERIOD: 12 months from purchase
SHAFT: Aluminum Alloy
CONFIGURATION OPTIONS: Unfeathered, 60 Degrees LHC, 60 degrees RHC
Double Action Hand Pump with Gauge
This pump offers quick inflation and helps you get the kayak to the right pressure so you get more time on the water and the best performance from your kayak.
MODEL: AE2011
WEIGHT: 2 lbs (1 kg)
BRAND: Advanced Elements
SUITABLE FOR: All Advanced Elements inflatable kayaks
COLOUR: Yellow
PACKED DIMENSIONS: 48 x 22 x 11 cm
WARRANTY PERIOD: 12 Months
The drop-stitch floor comes as standard with the kayak. It is extremely durable and gives your dog a firm surface to step in and out of the kayak.
It also makes the kayak go faster!
Drop-Stitch Floor Specifications
MODEL: AE-DS1007
COMPATIBLE WITH: AE1007 – AdvancedFrame Convertible Kayak
WARRANTY PERIOD: 12 months
COLOUR: Grey
BRAND: Advanced Elements
Packlite Roll Top Dry Bag Se
I've never met a dog that didn't like food!  Keep your snacks safe in this waterproof dry bag set. This set includes 3 dry bags of different sizes – 3L, 5L and 10L.
Dry Bag Set Specifications
BRAND: Advanced Elements
WARRANTY PERIOD: 12 months
COLOUR: Grey
BRAND: Advanced Elements
Customer Reviews
19/11/2021
Joanne T.

AU
Amazing Kayaks & Service
We absolutely love our kayak. It is easy to travel with, inflate & deflate. I must admit that I was worried that the kayak would get a puncture from our dogs toe nails as they are big dogs but due to the quality of the materials & the design, this will never happen. We have been out 3 times and have had an absolute blast and we can't wait for more kayaking adventures. The service from Emily & her team was fantastic. They were happy to answer any questions before, during & after the sale and delivery was very fast. I would highly recommend buying one of the OZ inflatable Kayaks!! Jo Whiteside, Brisbane
15/11/2021
Paul A.

AU
29/10/2021
Magnus L.

AU
Great way to experience Sydney Harbour
Fantastic! Easy to set up, very stable, so much fun!
26/10/2021
Rob P.

AU
Our only regret is not doing this sooner …
Everything about purchasing this Advanced Elements Elite Convertible Kayak has been brilliant The website provides excellent information , the pre sales discussion with Emily was brilliant, the purchase was straightforward, the courier delivery (from Qld to Sydney mid Covid) was super fast, the instructions and descriptions and complete and accurate … and now to the good stuff !! The kayak is easy to assemble, it does require some attention to detail but it's simple. The first time took about 15 mins, by the 4th trip I got it down to 8 minutes and wasn't rushing. It's brilliant on the water and takes my wife, myself and dog with ease. The drip stitch floor makes everything so stable. I've converted it to a single seater and it's awesome .. so fast and agile. Unpacking isn't a problem but you do need to spend time ensuring you clean any muck out. I think the pack down last time was about 15 mins. TBH getting it back into the bag is a bit fiddly but not a problem. All in all I couldn't recommend it more highly - and our experience isn't unusual as we've met 2 other of Emily's customers on the water (the kayaks are distinctive on the water) who both said the same about the experience. Don't wait - you won't be disappointed !!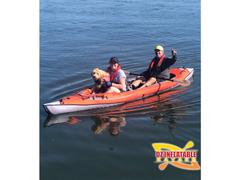 25/10/2021
David C.

AU
Great kayak, now all we need is the dog...
This seems to be a very stable double kayak. It handles very well in the water - it's fast, nimble, and it stays pretty true to the heading even with just one person paddling. The high-pressure floor is great for stability and comfort (although the high pressure valve can be a bit interesting to close under pressure). The seats are super comfy, compared to a hard shell kayak. With the large volume pump, it's actually pretty quick to inflate - less effort than I expected. The best bit about this kayak is the ability to fit it in our boot! The worst bit is ... um, not much really! Probably that it takes a bit of time and effort to really dry properly, which is obviously necessary if you want to fully fold it back up into it's bag to store (but is not necessary just to half fold it up and stick into your car boot to unfold and/or dry at home later). Definitely happy with this purchase, would recommend. Delivery time was also pretty impressive - delivered to Sydney metro just 2 days after purchase ... well before we'd got around to getting our life jackets.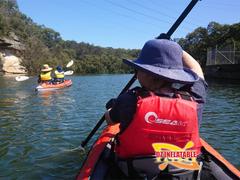 11/09/2021
Jessica C.

AU
Easy set up and great quality!
We love our kayak and have already taken it out 4 times in the three or so weeks of having it. It is such an easy set-up, (roughly 10mins) and is great quality. I was very pleasantly surprised. Easy to clean as well and we can very comfortably fit my partner and I, some towels and food (as well as our small dog!).
16/03/2021
Leone M.

AU
Great Kayak - takes a while to dry though
The Kayak was easy to assemble and get in the water and loads of fun once we got the dog to settle down. We didn't realise how long it takes to dry - at least 2 days in Sydney in Autumn........
26/09/2020
Kristin H.

AU
Advanced Elite Review
Great - I love it - I did a lot of research to decide on the best kayak and I couldnt be happier. So easy to set up and pack down. 10 mins and I am on the water. Easy to paddle with one or two paddlers. the package is great value, I cant find any negatives. I have have a list of places to paddle and cant wait to get on the water again. Kristin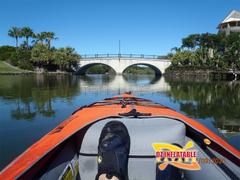 29/08/2020
Reza P.

AU
Delighted with our new kayak
This company deserves nothing short of 5 stars. The kayak wr bought is Advanced Elements expedition pro. It is fantastic. The purchase and post-sales services are great, and we also learned everything we needed about the kayak from Emily's informative videos on Youtube. Strongly recommend this company if you are after an inflatable kayak. There are online reviews that talk about this kayak and its fabric bits, and note that drying out the fabric is hard and messy. We applied a bit of water repellent spary on all the fabrics before getting into water. At the end, drying was no hassle at all. We just wiped around with a towel and after getting home, left the kayak in the afternoon sun for an hour or so. It was easy and really no drama. Overall, we feel like it was money well-spent.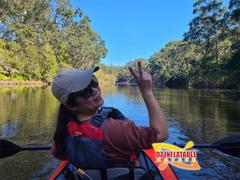 11/07/2020
DAVID P.

AU
Doggo loves it, wife loves it, I love it!
I'm super stoked to have bought my (our!) kayak from Oz Inflatable Kayaks. I was considering buying 2x 1 seaters, but glad I bought this double seater. My wife and fur baby absolutely love this kayak. Life's definitely better with it. I really like the firm drop stitch floor which is great for our doggo's claws. The kayak feels very sturdy and stable. Highly recommended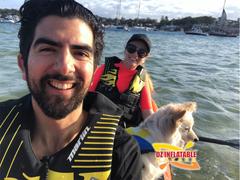 23/01/2020
Tim B.

AU
I Bought My Dog a Kayak!
So I was looking for the perfect Christmas present for my dog (Ripley). Since we had recently moved to Tewantin on the Noosa River we made a decision to buy her a Kayak. Noosa River and the surrounding lakes and creeks are perfect for calm water kayaking. I did my research and contacted Emily from Oz Inflatable Kayaks whom recommended an AdvancedFrame Convertible Elite Kayak. This is a tandem kayak with plenty of room for Ripley. We have been out quite a few times since Christmas and it has been fantastic. Ripley prefers to sit in the front where she can keep a lookout on the wildlife on the shore. We get a lot of attention from passing boats whom appear surprised at having a dog on "her" kayak. We have been impressed with how easy the kayak is to inflate and paddle. The ability to put the kayak in the back of our car and transport to different locations is one of the attractions of an inflatable kayak. So if you are looking for a gift for your dog? I can recommend one of these kayaks. Tim
30/09/2019
Brett H.

AU
What do you think of the Dog Lovers kayak package?
Hi Emily, We finally managed to get the kayak out on Port Phillip Bay last weekend! We ended up paddlingabout 20kms and it was fantastic! We didn't take our dog out this time but we're hoping to next time out. Meanwhile, here is my review: This kayak is fantastic! Moves beautiful through the water, so much better than any inflatable kayak I've experienced before. Even in ocean waters it's so smooth. It's also so easy to inflate and deflate. It takes us about 10 minutes to go from in the bag to in the water! Packing it up is even quicker! I highly recommend this kayak, it's a ripper! Please excuse my wife's terrible hat in the picture. I'll send more pics across once we get the dog on board. Kind Regards, Ben