In stock in our Brisbane warehouse - ships within 1-2 business days.



Does your pooch like to paddle? One or many, big or small, the Dog Lovers Kayak Package sets you up for a comfortable and safe paddle with your best friend(s), and allows you to take another human friend along as well. See below for why the AdvancedFrame Convertible Elite is such a great dog kayak.
Who is the Dog Lovers Kayak Package for?
Paddlers who need (or want) a rigid kayak and
Want to paddle with their dogs
Want a kayak that is easy to paddle solo (turns out, dogs don't paddle!)
Want the best speed and tracking
Use a caravan to travel
Need a lot of leg-room
Need a lot of back support
Are apartment dwellers
Here's why this kayak is such a great dog kayak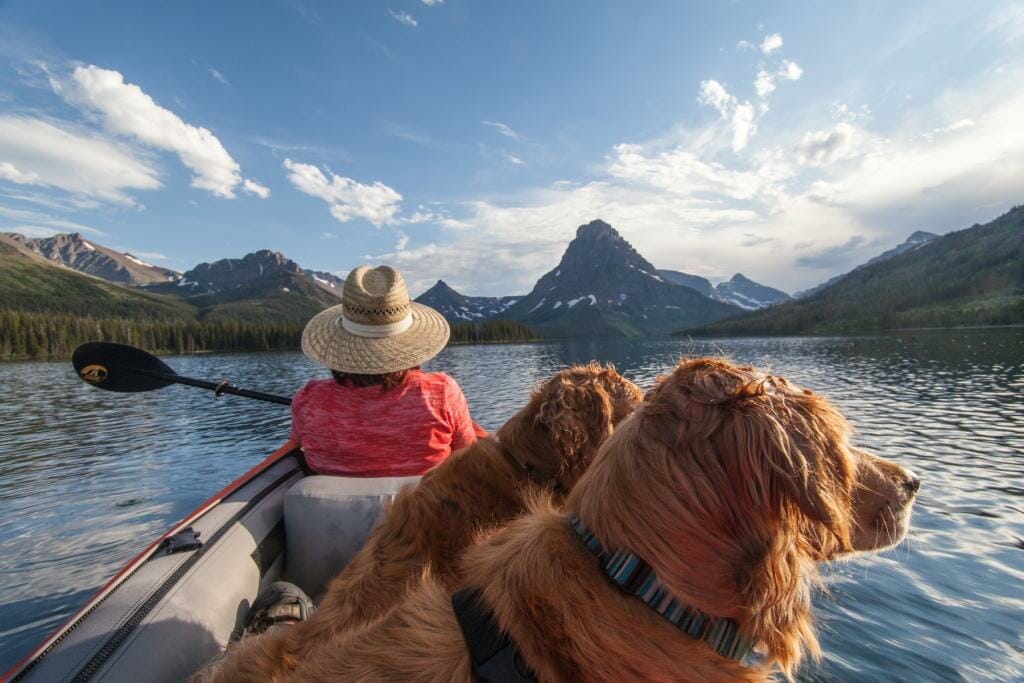 It's not just your dog going over board you have to worry about. If they are 'rocking the boat', you might be the one that falls out!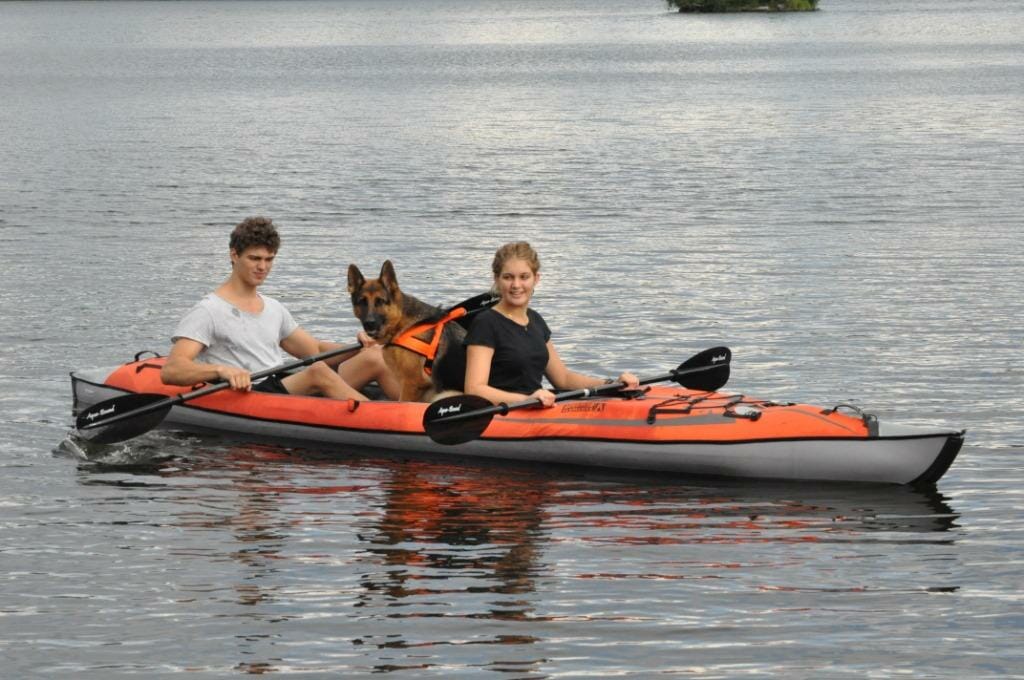 The AdvancedFrame Convertible Elite inflatable dog kayak can be paddled solo or tandem, which is great for multiple dogs and / or multiple people.
There is plenty of room for a couple of large dogs, or a couple of people and a large dog, without being squishy. Your dog will have room to manoeuvre and get comfortable.

Semi-Open Cockpit with Walls
You don't want your dog to be below the deck like they might be in a regular sit-in kayak.  But you also may not want them to be getting wet, like they would in a sit-on-top dog kayak.  So having a semi-open cockpit with walls gives you the best of both worlds.  They can see and smell what's going on, but stay dry.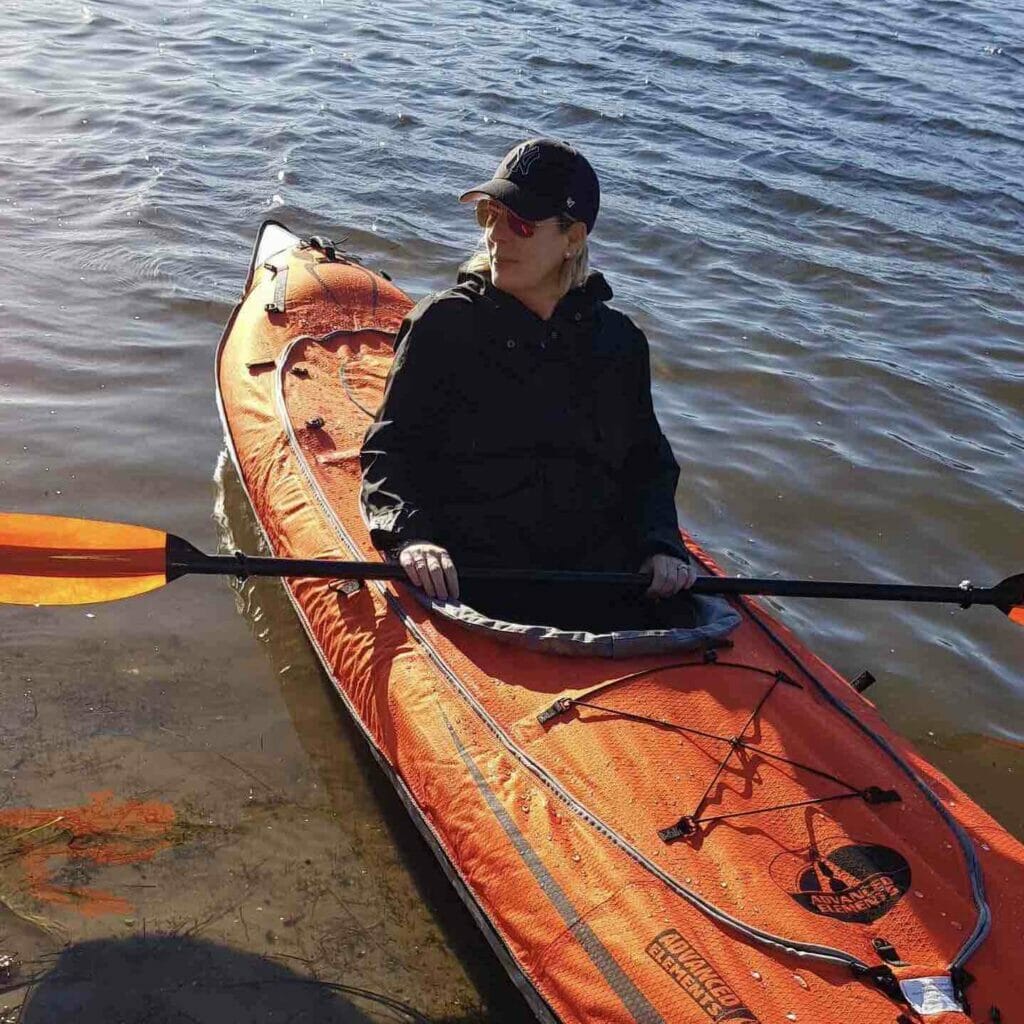 Easy to Paddle (Especially Solo)
Although it is a 'dog kayak', your dog is not going to be doing any paddling, right?
But don't worry. The design of the AdvancedFrame Convertible Elite means it is easy to paddle straight, even when you are the only one paddling…
Durable - A Dog Kayak Needs to Handle Claws!
Sometimes your four-legged friends can get a bit excited, so it's good to know that your kayak can handle sharp claws!
The AdvancedFrame Convertible Elite from Advanced Elements has several layers of durable material to protect the inner tubes.
The floor is constructed from super heavy-duty drop-stitch.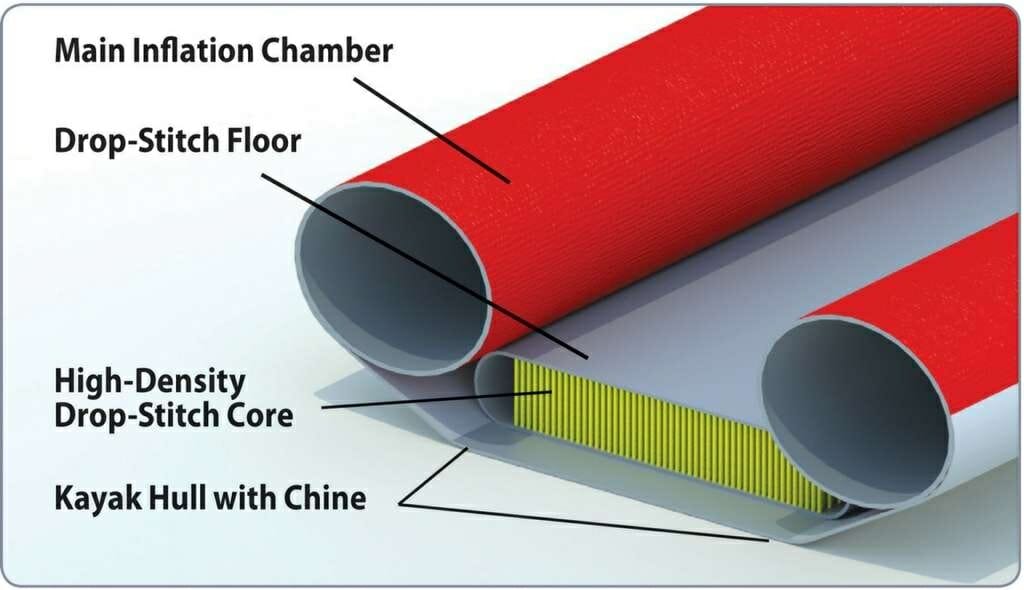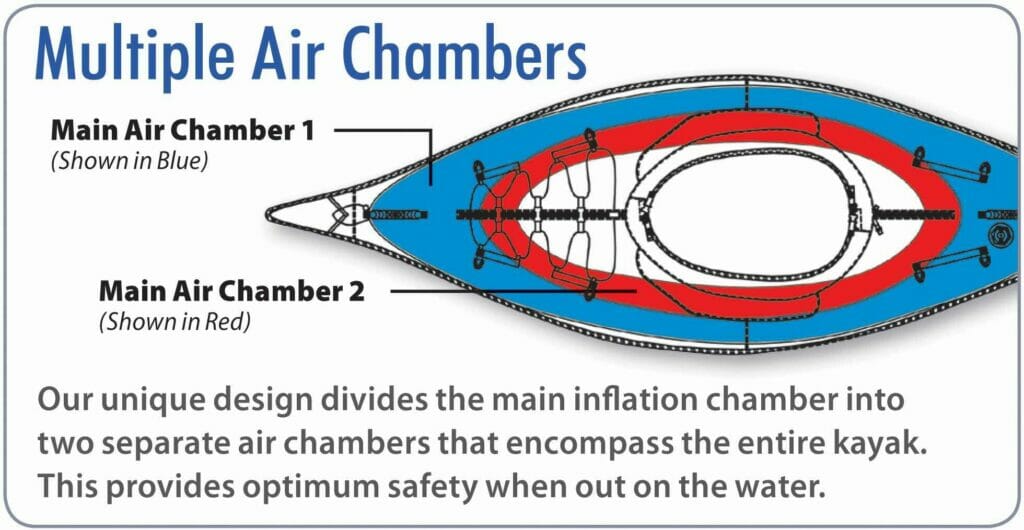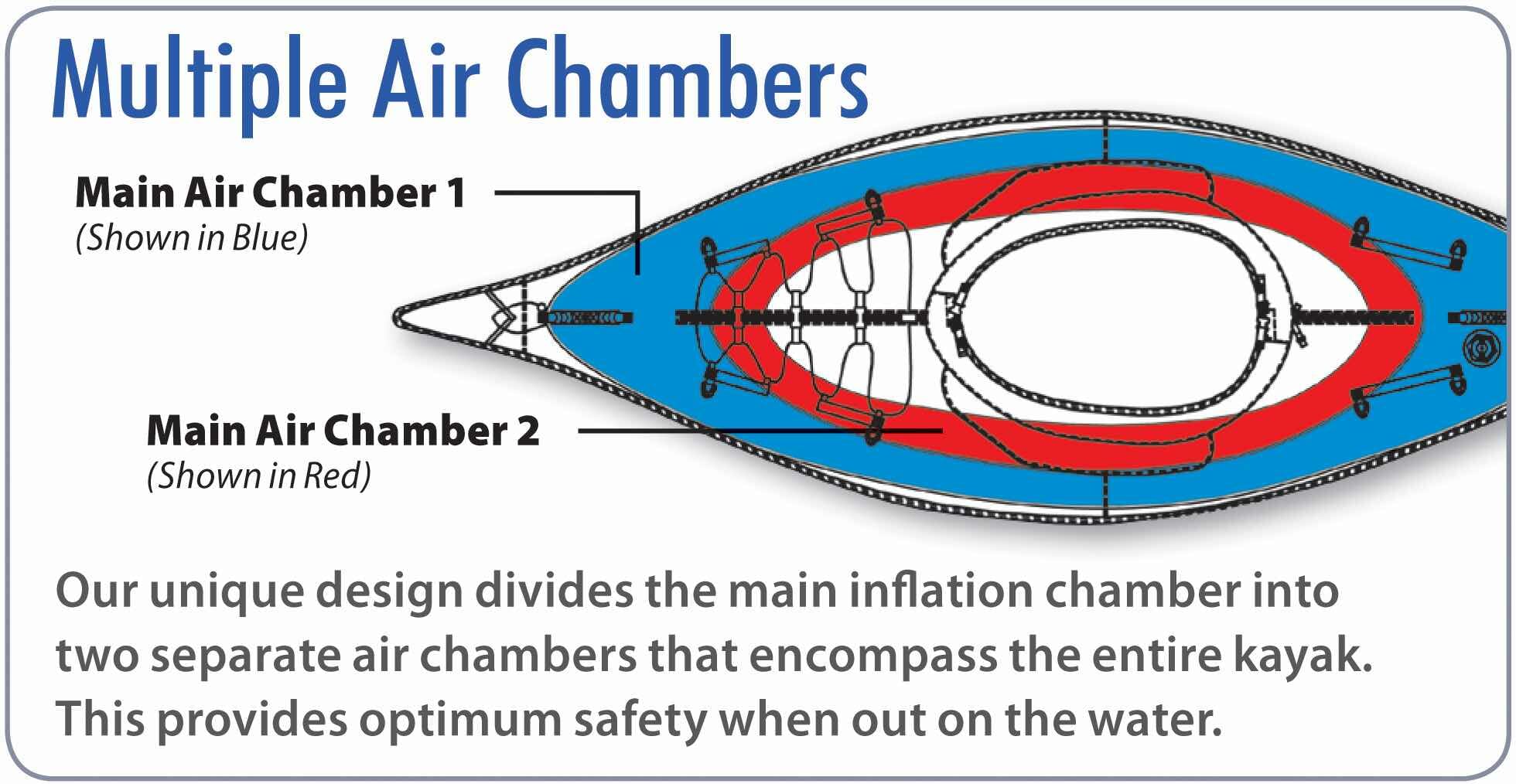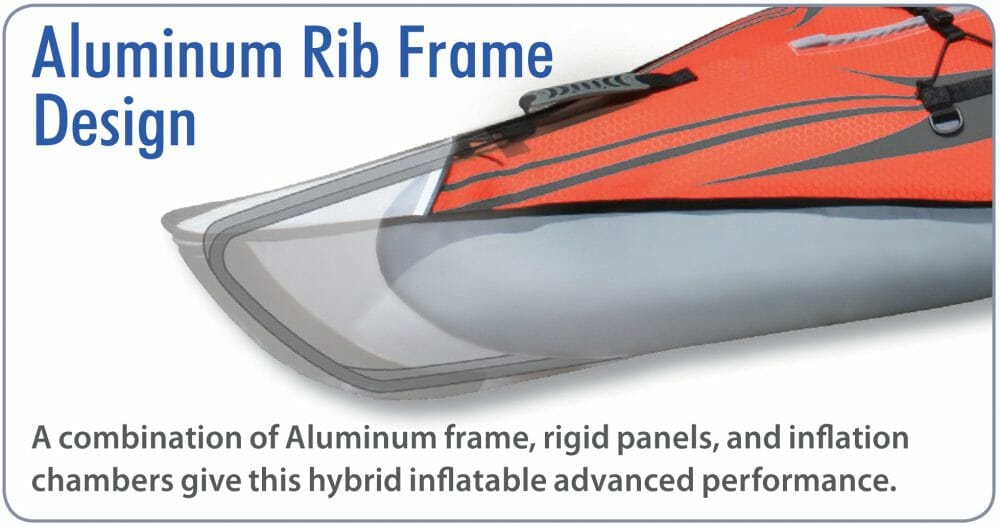 Quick and Easy Set-up
Comes pre-assembled so there is no complicated set up – just inflate and paddle!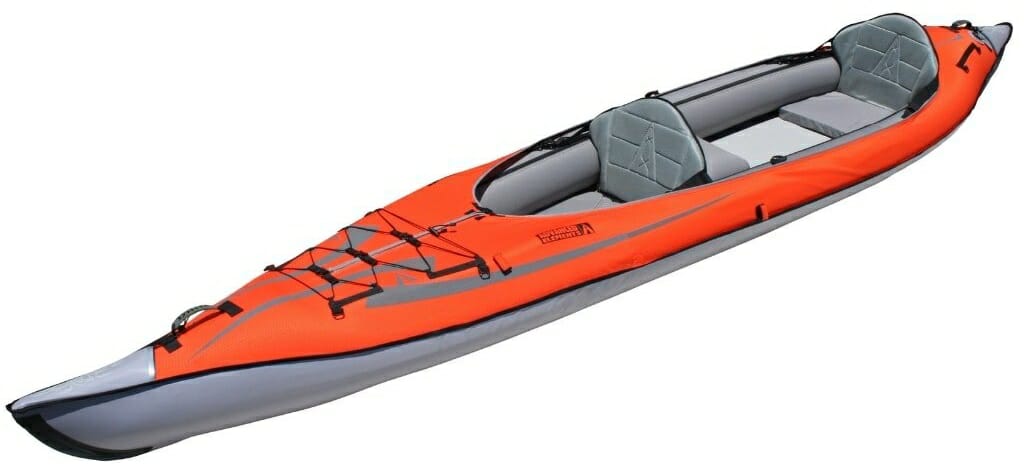 AdvancedFrame Convertible Elite Kayak
Included Accessories:
Duffel bag with padded backpack straps
2 Lumbar Seats
Drop-Stitch Floor
Repair Kit
Owner's Manual
High pressure drop-stitch floor
New advanced inflation valves
2 Adjustable padded back supports
D-ring tie downs
Moulded low-profile rubber handles
Reinforced bow and stern seams
Durable double-coated fabric
Paddle holders
Skeg tracking fin
6 Chambers
Deck lacing for quick access to gear
Rip-stop fabric
LENGTH: 15′ (4.57m)
WIDTH: 32″ (81cm)
WEIGHT: 56 lbs (25 kg)
MAXIMUM CAPACITY: 550 lbs (249 kg)
COLOUR: Red/Gray
DEFLATED AND PACKED DIMENSIONS: 36″ x 21″ x 13″ (91cm x 53cm x 33cm)
SELF-BAILING: No
COMPATIBLE WITH RUDDER KIT: Yes
SET-UP TIME: 8 minutes
2x Adventure Voyage 4-Part Paddle
These paddles are durable and light, and having two of them means you can take a human friend if you want to.


MODEL: AE2037
WEIGHT: 1.1kg
BRAND: Advanced Elements
BLADE: Glass-filled Nylon/Asymmetrical-Dihedral
LENGTH: 230 cm
SUITABLE FOR: Long distance touring
COLOUR: White blades, black shaft
PACKED LENGTH: 63.5cm
WARRANTY PERIOD: 12 months from purchase
SHAFT: Aluminum Alloy
CONFIGURATION OPTIONS: Unfeathered, 60 Degrees LHC, 60 degrees RHC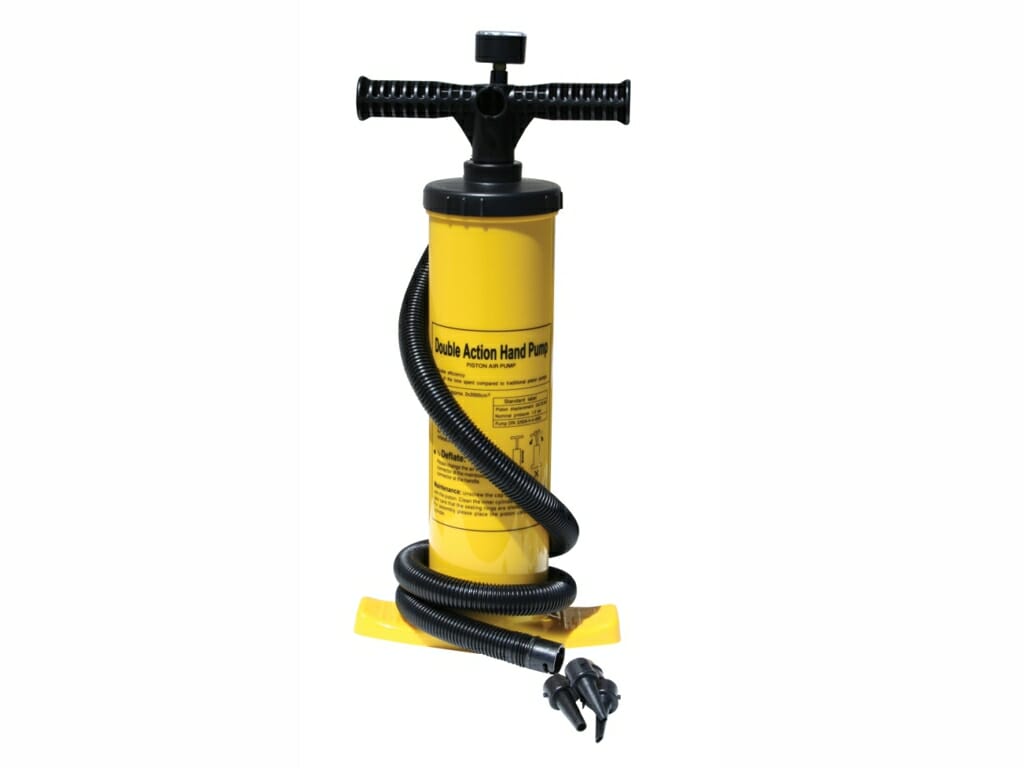 Double Action Hand Pump with Gauge
This pump offers quick inflation and helps you get the kayak to the right pressure so you get more time on the water and the best performance from your kayak.
MODEL: AE2011
WEIGHT: 2 lbs (1 kg)
BRAND: Advanced Elements
SUITABLE FOR: All Advanced Elements inflatable kayaks
COLOUR: Yellow
PACKED DIMENSIONS: 48 x 22 x 11 cm
WARRANTY PERIOD: 12 Months

The drop-stitch floor comes as standard with the kayak. It is extremely durable and gives your dog a firm surface to step in and out of the kayak.
It also makes the kayak go faster!
Drop-Stitch Floor Specifications
MODEL: AE-DS1007
COMPATIBLE WITH: AE1007 – AdvancedFrame Convertible Kayak
WARRANTY PERIOD: 12 months
COLOUR: Grey
BRAND: Advanced Elements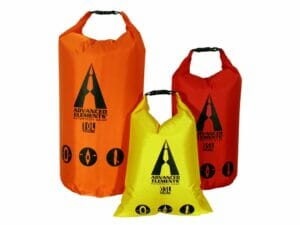 Packlite Roll Top Dry Bag Se
I've never met a dog that didn't like food!  Keep your snacks safe in this waterproof dry bag set. This set includes 3 dry bags of different sizes – 3L, 5L and 10L.
Dry Bag Set Specifications
BRAND: Advanced Elements
WARRANTY PERIOD: 12 months
COLOUR: Grey
BRAND: Advanced Elements
[Woo_stamped_io type="widget"]