Qualifies for Free Shipping

Get even better speed and tracking from your inflatable kayak with the Backbone. The BackBone is a lightweight frame that is quick and easy to install under your kayak's inflatable floor. It creates a keel in the hull of the kayak that improves the speed and tracking of the kayak.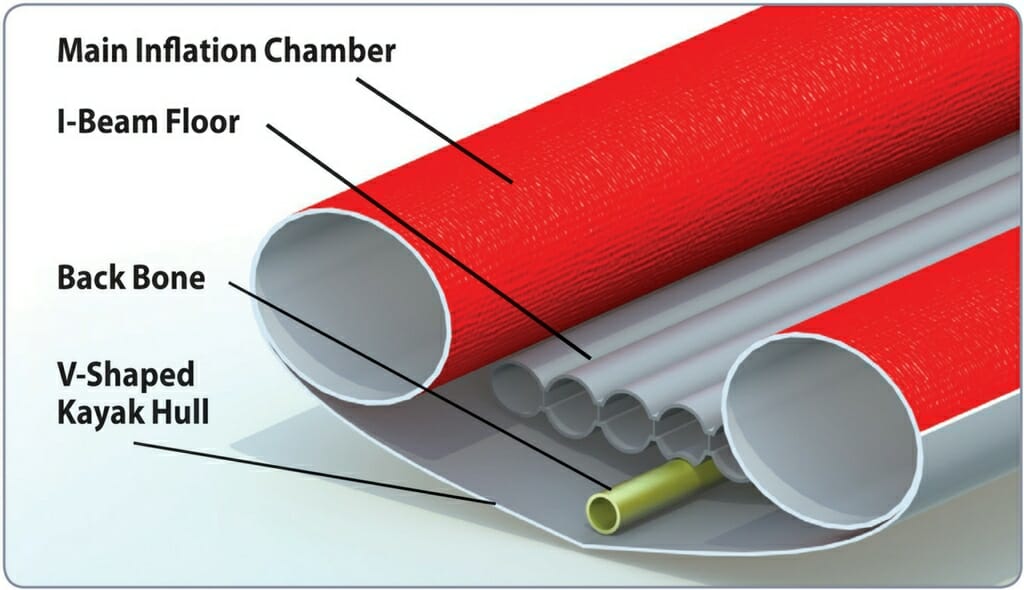 The backbone creates a keel along the hull of your inflatable kayak.
The V-shaped kayak hull helps the kayak glide straighter and faster through the water.
How do I install the Backbone into my kayak?
The Backbone sits under the inflatable floor of your kayak.
It has specially shaped ends that slot under the inner tubes so it stays fixed in place.
You insert the ends first (before inflating), then connect the pieces together, then inflate the main chambers of the kayak.
Then, you put the inflatable floor on top and inflate it.
What does it feel like?
You shouldn't feel it at all!
The Backbone sits under the inflatable floor of the kayak, so you have a cushion between it and your bum.
If you can feel it, try inflating your main chambers to slightly higher pressure and switch positions with the other paddler so the heavier person is in the front.
Storage and Transport
The Backbone breaks down into sections, the longest of which is only 90cm, so it's easy to store with your kayak.
You even get a mesh bag with a draw string so you can keep all the sections together.
Durability
The Backbone is extremely durable and lightweight. It is made of high strength anodized aluminum alloy and impact resistant plastic.
Quality is guaranteed with a 12 month manufacturer's warranty from Advanced Elements
How does the Backbone for AdvancedFrame Kayaks compare to the Drop-Stitch Floor?
Excellent question! This awesome article from Advanced Elements explains the differences.
Click here for a review of the Backbone vs Drop-Stitch Floor
COLOUR: Black
WARRANTY PERIOD: 12 Months
BRAND: Advanced Elements
Backbone for AdvancedFrame Convertible Specifications
COMPATIBLE WITH: AE1007-R – AdvancedFrame Convertible
WEIGHT: 7 lbs (3 kg)
PACKED DIMENSIONS: 90cm x 18cm x 11cm
SKU: AE2023-AFC
Backbone for AdvancedFrame Expedition Specifications
COMPATIBLE WITH: AdvancedFrame Expedition Kayak
WEIGHT: 7 lbs (3 kg)
PACKED DIMENSIONS: 90cm x 18cm x 11cm
SKU: AE2023-AFX
Backbone For AdvancedFrame Specifications
COMPATIBLE WITH: AdvancedFrame, AdvancedFrame Sport
WEIGHT: 3 lbs (2 kg)
PACKED DIMENSIONS: 71cm x 18cm x 11cm
SKU: AE2023-AF1
[Woo_stamped_io type="widget"]