Hear what these adventurous women have to say about their inflatable kayaks in these kayaks for women reviews!
There are plenty of kayak reviews online, but it's hard to find reviews by women on kayaks for women. So here is a collection of my favourite reviews from my female customers.
These kayaks for women reviews will inspire you to get out on the water and will highlight some awesome kayaks for women.
Tricia and Bertie Bear in the AdvancedFrame Inflatable Kayak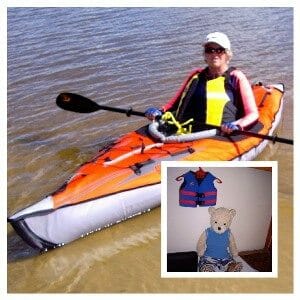 Hi Emily
At last I have a photo for you of me paddling in Cockatoo Lake near Lucindale, SA last April. We were at Theresa Creek Dam about 3 months ago and the kayaking was brilliant.
Also, I have just been up to Venus Bay kayaking. The kayak handles well in 1 half foot waves and I also tried a bit of surfing (near the shore as we have the sharks around here a bit).
Here is Bertie Bear I told you about. I made him his life jacket as he's not too good a swimmer. He comes out with me if it's not too rough and we certainly get attention!!!!!!!
Tricia
Angela Enjoying Nature in the AdvancedFrame Sport Inflatable Kayak

Hi Emily,
I have been kayaking every day in this brilliant kayak. My arms are sore but I feel like I am glowing. I can't believe how peaceful and restful it feels just sitting on the lake watching the fog lift off the water, the birds mucking about and the fish frolicking.
The kayak is very comfortable and moves ever so easily and quickly when I want it to.
I also like the paddles – light and easy to use since I am a beginner.
I am taking the kayak to Narooma on the NSW South Coast this weekend for some inlet paddling and can't wait.
Regards, Angela, Canberra
Kathy Relaxing in the AdvancedFrame Inflatable Kayak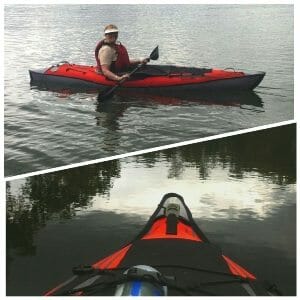 Hi Emily,
Have taken my kayak out 3 times in the last 2 weekends now… it's quite addictive… I could stay out ALL day if the weather permitted. It has been quite overcast and a little windy this weekend and today we got a little rained on at the nearby lake but it was still very relaxing.
I really love this kayak and can't wait to get out paddling again.
I love my little kayak and have given hubby a few goes to see if he'd like one but he is still undecided whether to go hard-shell or not. I'll keep you posted.
Take care.
Cheers, Kathy.
Adventurous Victoria in the AdvancedFrame Expedition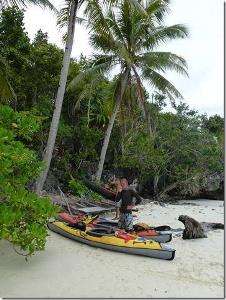 Hello Emily,
Finally managed to find some pictures for you of my partner and my kayaks on some of our adventures.
We circumnavigated the Indonesian island of Gam (just west of Papua) in January, which was extraordinary. Gliding over fantastic unspoilt corals just under the surface, using the tides to whisk us up channels to Hidden Bay with limestone caverns, coral and completely alone…..
Completely different but still exhilarating was kayaking the Thames river through the heart of London earlier this month.
Often use the Advanced Frame Expedition kayaks to explore the Pembrokeshire coast, near where I now live.
Have a lot more adventures planned with them. Great kayak and very dependable.
Cheers, Victoria
Phillippa and the Seal in the Friday Harbor Adventure Inflatable Kayak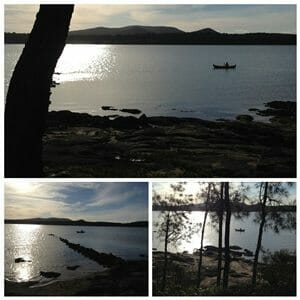 Hi Emily
Here are a few long-shots of the Friday Harbor kayak in action at Port Stephens.
I have to say, it was a great buy. We all (three generations) loved it and the conditions were perfect. At one point a seal popped his nose out of the water to breathe next to me. It even survived being launched off an oyster-encrusted creek bed.
Thanks, Phillippa
Carolyn is Ready in a Flash in her Lagoon Inflatable Kayak
Hi Emily,
My sister just put an order in for a Lagoon. She was so impressed with how quick and easy my Dragonfly (old version of the Lagoon) is to inflate compared to the inflatable she owned. In this photo here is my kayak all ready to go and she's still trying to get hers ready.
Ailsa Going Solo in the AdvancedFrame Convertible Inflatable Kayak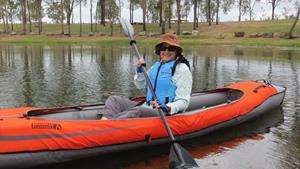 Hello Emily,
We enjoyed fun times with the kayak over the last week in both the Stanley River below Somerset Dam and Lake Wivenhoe in the vicinity of the Lumley Hill campsite. We're very pleased with the kayak and our purchase. I've attached a photo of Ailsa fully enjoying her first solo.
Regards, Greg
The Girls Setting off in the AdvancedFrame Convertible Inflatable Kayaks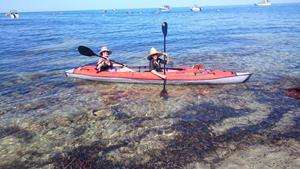 Hi Emily,
Here are a couple of snaps of us in the kayak over at DUNSBOROUGH the other day.
Lorraine
Any of these could be you, so what are you waiting for?
Well, first you need the right kayak. Although these kayaks for women reviews all show women using different kayaks, there is a pattern.
A good kayak for women has different features to tandem kayaks and kayaks for men.
Check out the criteria I developed to help all those keen paddling ladies out there get a great kayak