"Early days, as we have only just had our first opportunity to take our new AdvancedFrame Kayak out for a paddle.
A weekend at Hilton Denarau with a garden view (and nice view of the beach) was our chance.
We inflated and carried our kayak down to the beach, approximately 50m with little effort, and slipped it into the water.
My first paddle and it felt so much more enjoyable than hard plastic kayaks usually available at resorts.
I was totally sold.
The test though would be my partner.
She loved it too, felt totally safe and as a smaller person had no issues handling and maneuvering.
It was actually a surprise to see her so far in the distance as usually she would not be so adventurous.
We will now be purchasing at least one more for my partner, and possibly more for when friends stay.
I wish Advanced Elements kayaks had been around when growing up, life would have been filled with so much more adventure.
We once had a two piece aluminium paddle which came with a yacht tender.
Sure it was lighter than a one piece wood paddle, but eventually broke.
Not so this paddle.
Strong, light, easy to assemble and so convenient.
We requested Emily deliver, with a new kayak, to our hotel in Adelaide while in town for work (we live in Fiji).
It fitted into our check in luggage with no issues, and now when staying at various locations it will easily travel with us and take up very little space.
Thank you Emily!"
– Mark
Kayaking on Nadi Bay, Fiji
If you want to go kayaking on Nadi Bay, Fiji, here's a map of the area:
It's fast and glides straight and fast through the water
It's lightweight with a weight of 16.3kg
The clip-in seat is very comfortable and supportive for his back
It's very durable and reliable – he didn't have to worry about submerged obstacles
It packs into a bag so it's easy to store and transport
BUT, it might not be the right kayak for you.
It's a lot of money down the drain if you get the wrong model, so it's worth asking for my advice!
Click HERE to get your FREE personalised kayak recommendation
About Oz Inflatable Kayaks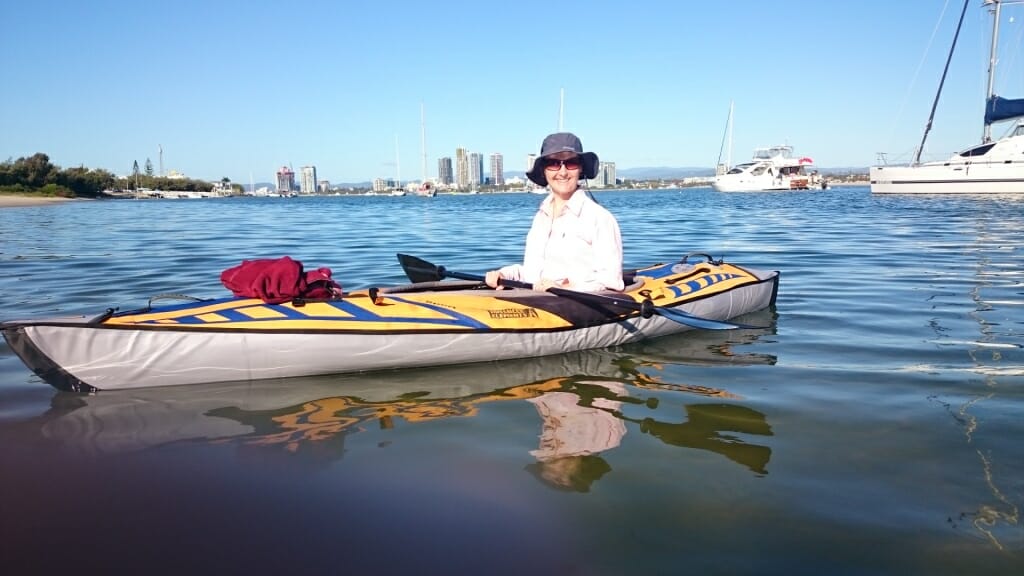 Hi, my name is Emily and over a decade ago I thought to myself "gee, I would really love to go kayaking … if only I had a big strong butler to help me get a kayak on and off roof racks. Oh, and several thousand dollars for the kayak and the roof racks (not to mention the cost of the butler)".
To find a way to go paddling without a heavy hard-shell kayak, I started looking into inflatable kayaks. But I did NOT want a pool toy.
The Advanced Elements range of inflatable kayaks really blew me away (excuse the terrible pun).
I realised that the quality was not just about durability, it also meant that the kayaks were comfortable and easy to paddle straight and fast.
It just so happens that I was also looking for a business opportunity at the same time…
Nowadays I specialise (and delight) in selling Advanced Elements inflatables to all kinds of people in Australia.
I know the range so well that I do personalised recommendation videos to help people choose the right kayak.
It's a no-obligation service that I enjoy doing AND it helps me in the long run because my customers that get a recommendation get the right kayak, first time. They are HAPPY customers!
So if you are even vaguely thinking about kayaking, get in touch or get your FREE personalised kayak recommendation now.
Click HERE to get your FREE personalised kayak recommendation
Enjoyed this story about Mark kayaking on Nadi Bay, Fiji?