"I know I left it a bit late in life to get into kayaking.
Better late than never.
For the first half of this year I spent most of my time at Tweed Heads helping out my sister in law, who was diagnosed with cancer.
She lived across the road from the Tweed River, so it was ideal for me to go out and buy an inexpensive inflatable kayak with which I had lots of early morning paddles.
Until a leak developed in a faulty seam.
I took the faulty product back and replaced it with a hard shell kayak and got strap on soft roof racks to get it home to my sister in law's unit.
This served me well for the time I remained, but I had no intention of carrying it back to Sydney on my car roof.
Before we left Tweed Heads I was so keen to continue with the kayaking that I researched and went out and bought an AdvancedFrame Sport Kayak.
When I easily got this home I had many great paddles on the Nepean River near Camden, but also occasionally near Menangle. This venue involves going down and up a fairly steep bank.
For a 78 year old with heart problems the return journey up the bank with 11Kgs on my shoulder was a bit daunting.
So I got my AdvancedFrame Ultralite Kayak.
Both kayaks are comfortable and a delight to paddle.
I can wholeheartedly recommend either of these."
– Roger

Kayaking at Tweed Heads, NSW
If you want to go kayaking at Tweed Heads, here is the map of where Roger launched:

"I launched just off the corner of Keith Compton Dr and Island Drive.

I went around Ukerebagh Island (not possible at low tide)  or around the river past the main traffic bridge and back through the canals.

My sister in law's unit was on the corner I mentioned.

It is a really great spot to go kayaking at sunrise."

It's nice and compact – a great kayak for travelling
The high-backed seat is very comfortable and supportive for her back
It's very durable – she didn't have to worry about submerged obstacles
It's a delight to paddle! Cuts through the water with a wonderful glide.
It's a super-lightweight kayak, weighs only 8kg
It tracks straight and is a delight to paddle
Packs away into a duffel bag the size of a small suitcase
His back is supported by the clip-in seat so he was comfortable all day
The foot brace (included) supported his back as well while he was paddling
BUT, they might not be the right kayak for you.
It's a lot of money down the drain if you get the wrong model, so it's worth asking for my advice!
Click HERE to get your FREE personalised kayak recommendation
About Oz Inflatable Kayaks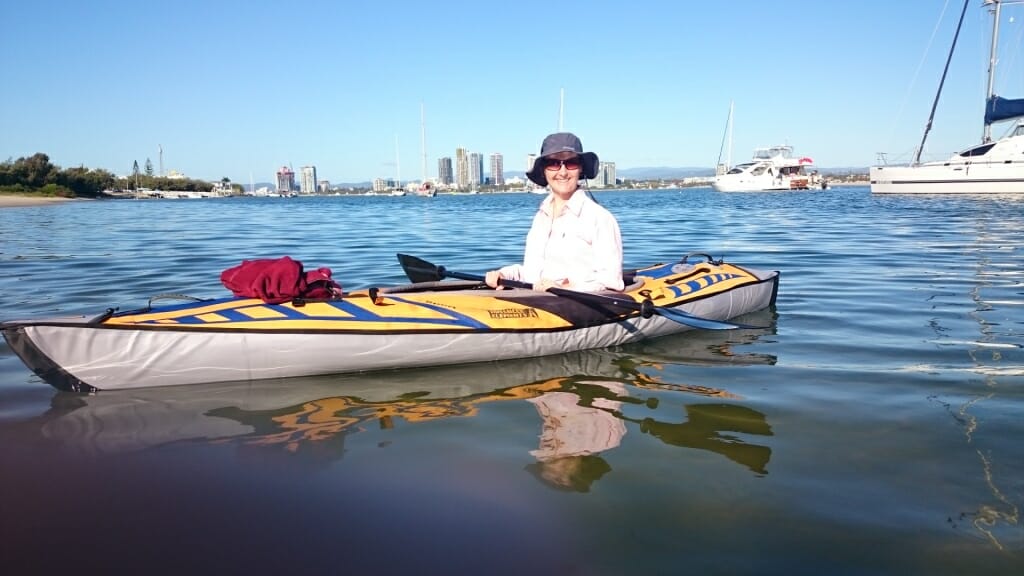 Hi, my name is Emily and over a decade ago I thought to myself "gee, I would really love to go kayaking … if only I had a big strong butler to help me get a kayak on and off roof racks. Oh, and several thousand dollars for the kayak and the roof racks (not to mention the cost of the butler)".
To find a way to go paddling without a heavy hard-shell kayak, I started looking into inflatable kayaks. But I did NOT want a pool toy.
The Advanced Elements range of inflatable kayaks really blew me away (excuse the terrible pun).
I realised that the quality was not just about durability, it also meant that the kayaks were comfortable and easy to paddle straight and fast.
It just so happens that I was also looking for a business opportunity at the same time…
Nowadays I specialise (and delight) in selling Advanced Elements inflatables to all kinds of people in Australia.
I know the range so well that I do personalised recommendation videos to help people choose the right kayak.
It's a no-obligation service that I enjoy doing AND it helps me in the long run because my customers that get a recommendation get the right kayak, first time. They are HAPPY customers!
So if you are even vaguely thinking about kayaking, get in touch or get your FREE personalised kayak recommendation now.
Click HERE to get your FREE personalised kayak recommendation
Enjoyed this story about Roger kayaking at Tweed Heads?