"Dear Emily, I can't tell you how much I love the AdvancedFrame Convertible Elite Kayak!
It is awesome.
Opened it on Xmas and used it for the first time on Boxing Day. 
Thanks for your tips on estimating pressure within the kayak chambers – I probably under filled the main chamber a bit, but the drop stitch floor was spot on
I am thinking of getting another kayak one day – a single one which is a bit lighter than the convertible elite.
I have just been using the convertible elite on Sydney Harbour but I am hoping to go into coastal waters some time."
– Damian
"Here is an awesome picture – my son and I out on the harbour at sunset:"

Kayaking at Sydney Harbour
If you want to go kayaking at Sydney Harbour, here is the map of where Damian launched:

We parked out the front of the Woollahra boat club and then inflated the kayak and put it in on their boat ramp – a very quiet Sunday morning and I got a park around 10m from the boat ramp!

Great spot and no sand! The water was calm and glassy.

It was a magical morning.
It's easy to paddle straight as it has an Aluminum Rib Frame Design.
It has the best speed, tracking and stability.
It has plenty of leg room with a capacity of 249kg.
The high-backed seat and soft inflatable floor are both very comfortable and supportive of his back and bum.
It's very durable – he didn't have to worry about submerged obstacles in creeks
It's quick and easy to set-up and pack away.
BUT, it might not be the right kayak for you.
It's a lot of money down the drain if you get the wrong model, so it's worth asking for my advice!
Get your FREE personalised kayak recommendation NOW!
About Oz Inflatable Kayaks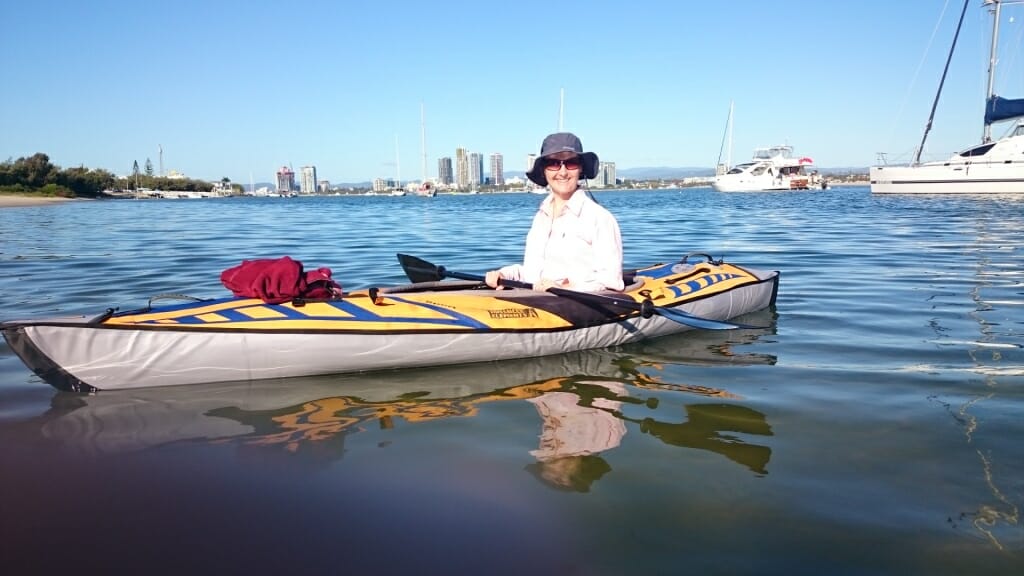 Hi, my name is Emily and over a decade ago I thought to myself "gee, I would really love to go kayaking … if only I had a big strong butler to help me get a kayak on and off roof racks. Oh, and several thousand dollars for the kayak and the roof racks (not to mention the cost of the butler)".
To find a way to go paddling without a heavy hard-shell kayak, I started looking into inflatable kayaks. But I did NOT want a pool toy.
The Advanced Elements range of inflatable kayaks really blew me away (excuse the terrible pun).
I realised that the quality was not just about durability, it also meant that the kayaks were comfortable and easy to paddle straight and fast.
It just so happens that I was also looking for a business opportunity at the same time…
Nowadays I specialise (and delight) in selling Advanced Elements inflatables to all kinds of people in Australia.
I know the range so well that I do personalised recommendation videos to help people choose the right kayak.
It's a no-obligation service that I enjoy doing AND it helps me in the long run because my customers that get a recommendation get the right kayak, first time. They are HAPPY customers!
So if you are even vaguely thinking about kayaking, get in touch or get your FREE personalised kayak recommendation now.
Click HERE to get your FREE personalised kayak recommendation
Enjoyed this story about Damian kayaking at Sydney Harbour?