"I liked the AdvancedFrame Convertible Elite Kayak a lot to begin with, and the inflatable foot braces have transformed it.
They're very easy to fit as you inflate the boat, and they're surprisingly stable in holding their position against foot pressure even when not done up very tightly.
I can now use a much more powerful stroke than without the braces.
I've been paddling now for nearly fifty years and it took me a while to learn the value of foot braces, so I'm wondering if your customers might like to know about the benefits and how to use them.
Bracing your feet allows the upper body to make the stroke rather than the arms – pulling with your arms seems natural, but in the end it will do in your elbows as happened to me.
The correct stroke uses the arms as a kind of semi-rigid frame to hold the paddle, and the stroke is taken by rotating at the waist.
This engages the core.
You brace the leg opposite the paddle blade that's in the water, so your thigh and calf muscles then get engaged as well.
The foot braces turn paddling into a whole-body exercise, so it's much better for you as well as being more powerful.
Once you get the hang of it you can paddle much further without tiring.
You probably knew all this, but I got the impression that not many people have bought foot braces from you so far.
Personally, I think you should recommend them to everybody – especially people new to kayaking.
I'm finding the boat very pleasant to use.
It isn't fast, but I don't much care.
I've recently developed arthritis in my hip, so I'm not even sure I could get into or out of a rigid kayak any more.
The open boat is much more suitable for me at this age.
Having to inflate and deflate the boat takes a little more time than getting a rigid boat on and off a roof rack, but I'm getting quicker as I learn.
The relief of not having to worry about what mayhem a roof racked boat could cause in an accident is a great relief.
As I think I told you, my roof rack system had (I thought) multiple redundancy and was good for nearly 40,000km of interstate travel before a bird strike at highway speed took it and my kayak out.
I suspect many people don't think through their arrangement carefully enough.
Anyway, I'm enjoying the boat very much, although conditions here with the bushfires have been too horrible to use it much yet."
– Michael
Kayaking at Lake Burley Griffin
If you want to go kayaking at Lake Burley Griffin, here are the details from Michael:

It's easy to paddle straight as it has an Aluminum Rib Frame Design.
It has the best speed, tracking and stability.
It has plenty of leg room with a capacity of 249kg.
The high-backed seat and soft inflatable floor are both very comfortable and supportive of his back and bum.
It's very durable – he didn't have to worry about submerged obstacles in creeks
It's quick and easy to set-up and pack away.
BUT, it might not be the right kayak for you.
It's a lot of money down the drain if you get the wrong model, so it's worth asking for my advice!
Get your FREE personalised kayak recommendation NOW!
About Oz Inflatable Kayaks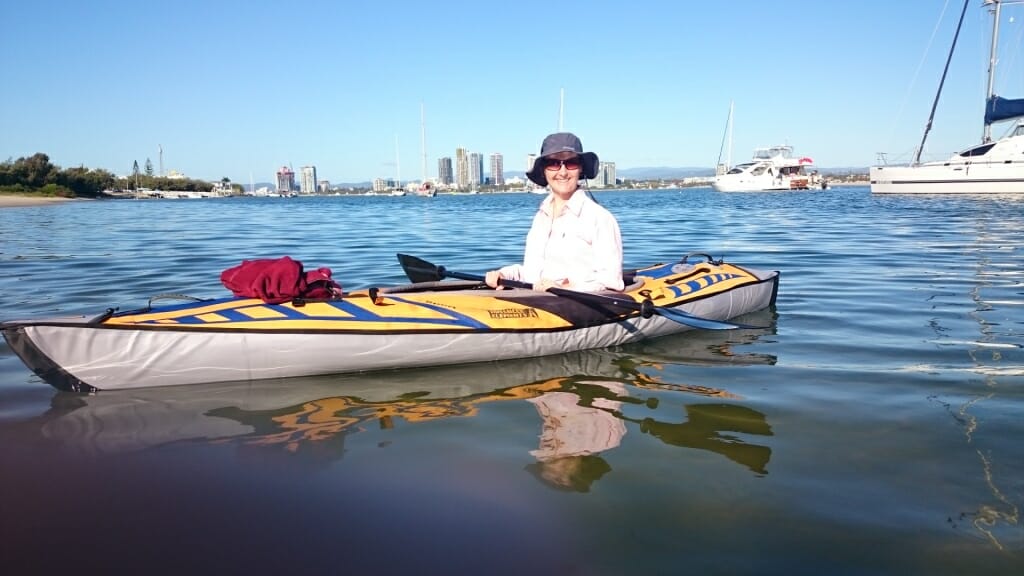 Hi, my name is Emily and over a decade ago I thought to myself "gee, I would really love to go kayaking … if only I had a big strong butler to help me get a kayak on and off roof racks. Oh, and several thousand dollars for the kayak and the roof racks (not to mention the cost of the butler)".
To find a way to go paddling without a heavy hard-shell kayak, I started looking into inflatable kayaks. But I did NOT want a pool toy.
The Advanced Elements range of inflatable kayaks really blew me away (excuse the terrible pun).
I realised that the quality was not just about durability, it also meant that the kayaks were comfortable and easy to paddle straight and fast.
It just so happens that I was also looking for a business opportunity at the same time…
Nowadays I specialise (and delight) in selling Advanced Elements inflatables to all kinds of people in Australia.
I know the range so well that I do personalised recommendation videos to help people choose the right kayak.
It's a no-obligation service that I enjoy doing AND it helps me in the long run because my customers that get a recommendation get the right kayak, first time. They are HAPPY customers!
So if you are even vaguely thinking about kayaking, get in touch or get your FREE personalised kayak recommendation now.
Click HERE to get your FREE personalised kayak recommendation
Enjoyed this story about Michael kayaking at Lake Burley Griffin?