Want to do some kayak fishing?
Or maybe a LOT of kayak fishing?
We have fishing kayaks for the serious angler, but most of our kayaks are stable and durable enough for occasional kayak fishing.
If you are going to be kayak fishing most of the time, check out our StraitEdge line. They are all:
self-bailing sit-on tops – any water that comes over while you are fishing will drain out through ports,
very stable,
extremely durable and
they all have either rod-holders or a rail to attache rod-holders.
StraitEdge Inflatable Kayak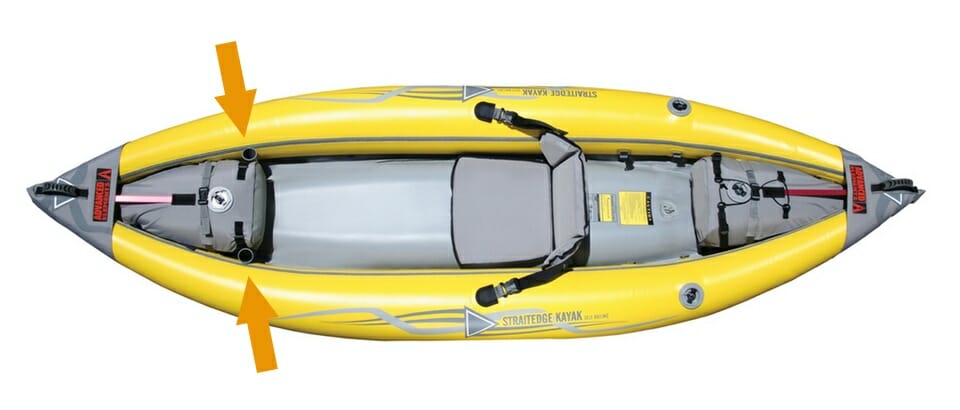 StraitEdge2 Inflatable Kayak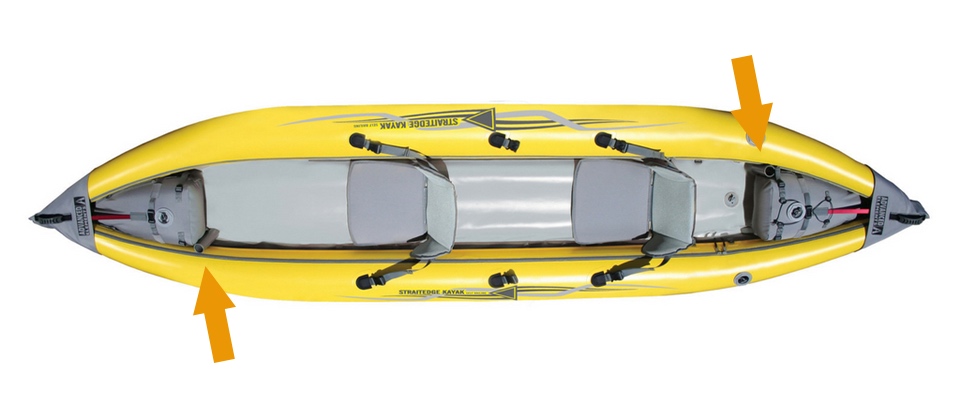 StraitEdge Angler Pro Kayak
The StraitEdge Angler Pro Kayak has an accessory frame rail system at the front and back which allows you to attach rod holders, and EPIRB, a GoPro, a fish finder… whatever you like when you're fishing.
The StraitEdge Angler Pro in particular has been customised for fishing with reinforcements on the side.
It's also got a high-pressure Drop-Stitch Floor, which allows you to stand up and has made the aluminium folding frame seat possible.
This is a wonderful seat. It's very supportive and gives your bum some lift.
There is an optional deep fin that comes with this kayak that fits into a U.S. Fin Box which is compatible with a lot of propellers on the market.
If you are only going to be kayak fishing occasionally and don't need rod holders, you have more options, including some of our sit-in kayaks.
Sit-in kayaks allow you to stay warm and dry, and they go faster and straighter than sit-on-top kayaks. 
Most of our sit-in kayaks are stable enough and durable enough for fishing.
Our sit-in kayaks do not have rod holders, but most have velcro paddle holders on the side that can be useful when fishing.
They also have deep pockets behind the seat – not designed for a fishing rod, but it might work.
If you want to attach rod-holders, you can get the Accessory Frame System.
This system works with any kayak, as long as the width of the deck is at least 59cm.
If the deck of your kayak is fabric, like our AdvancedFrame line, you actually have to cut the holes in the fabric to glue the grommet onto the inner tube.
It's in the instruction manual and it's covered by warranty.
To know more, check out WorthPoint's post here.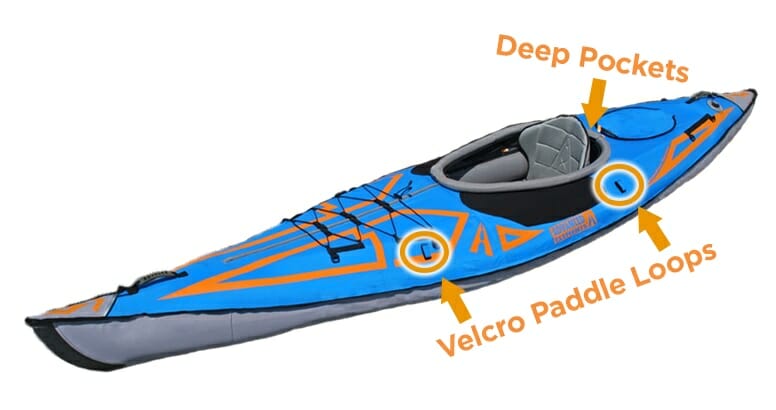 These models: AdvancedFrame Kayak, AdvancedFrame Sport Kayak and AdvancedFrame Convertible Kayak they all come with a lovely softly lilo floor. Feels beautiful under your bum but if you're going fishing a lot, you may wish to get the Dura-Floor.
The Dura-floor is essentially a mat that goes over the soft floor to protect it.
Alternatively, you can switch out your soft floor for the Drop-Stitch Floor, which is the high pressure floor.
Not only is this one tough as nails, it also gives you a performance enhancement. So it's a great option if you want to go a bit faster a bit straighter.